Get the party started with these big puffy, super soft pretzel balls. You can serve them with your favorite dipping sauces or use the included beer cheese recipe. I would serve these for game day, or a family movie night. Whatever the occasion, everyone will love them!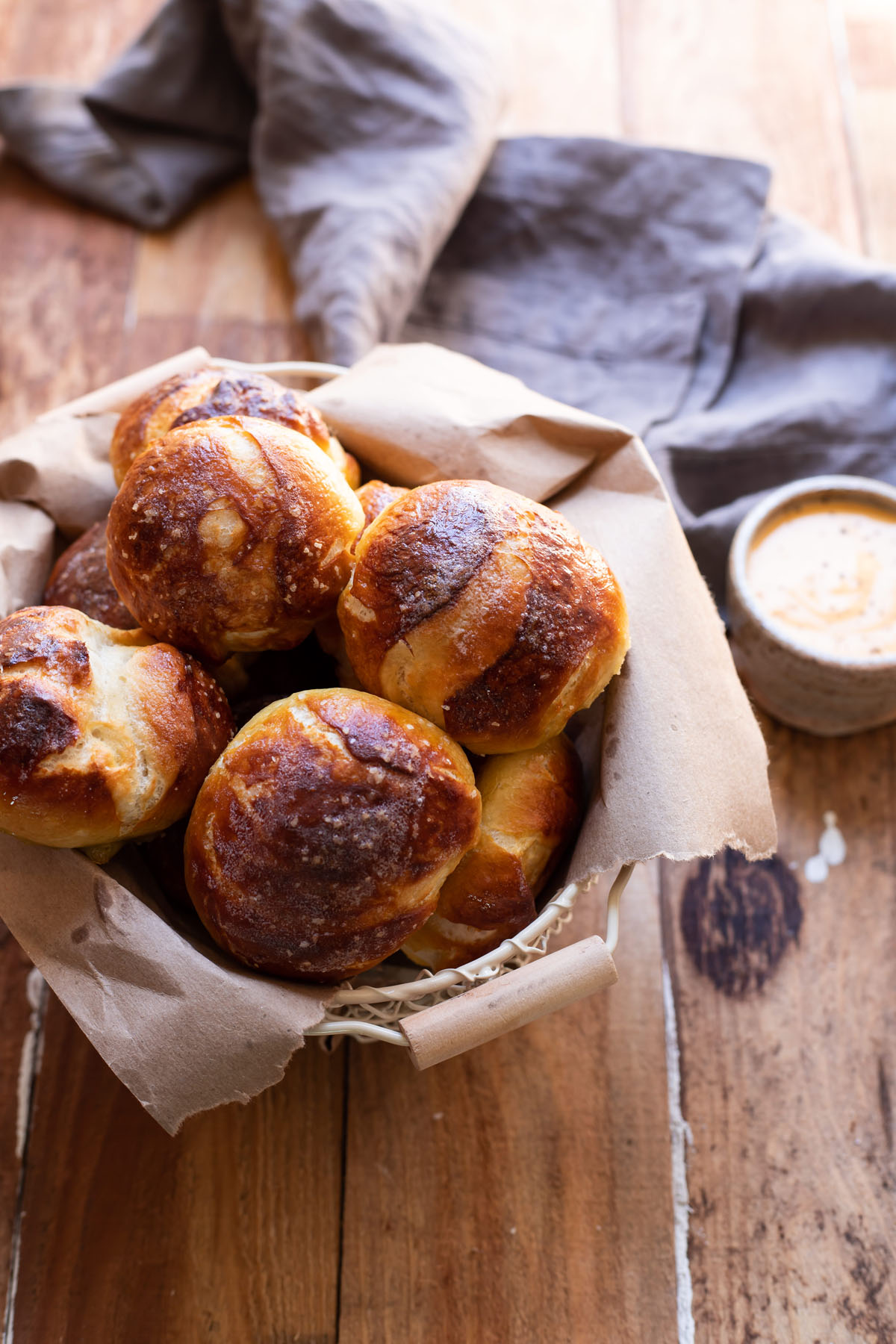 These pretzel balls are big enough that they maintain a super soft inside. They have a beautiful golden shell and are seasoned with butter and chunky salt on the outside.
What is a soft pretzel ball without salt? A sad naked pretzel.
This recipe for soft pretzel balls came to be because I was a tad bit lazy in the pretzel department and I didn't want to roll and shape them. Pretzel balls, pretzel bites, whatever you want to call them really.
I also didn't want to do the normal bite size ones because, well, that would take forever to dip in a baking soda bath, creating a big mess. So I rolled them the largest I thought I could get away with, on a whim.
Jump to: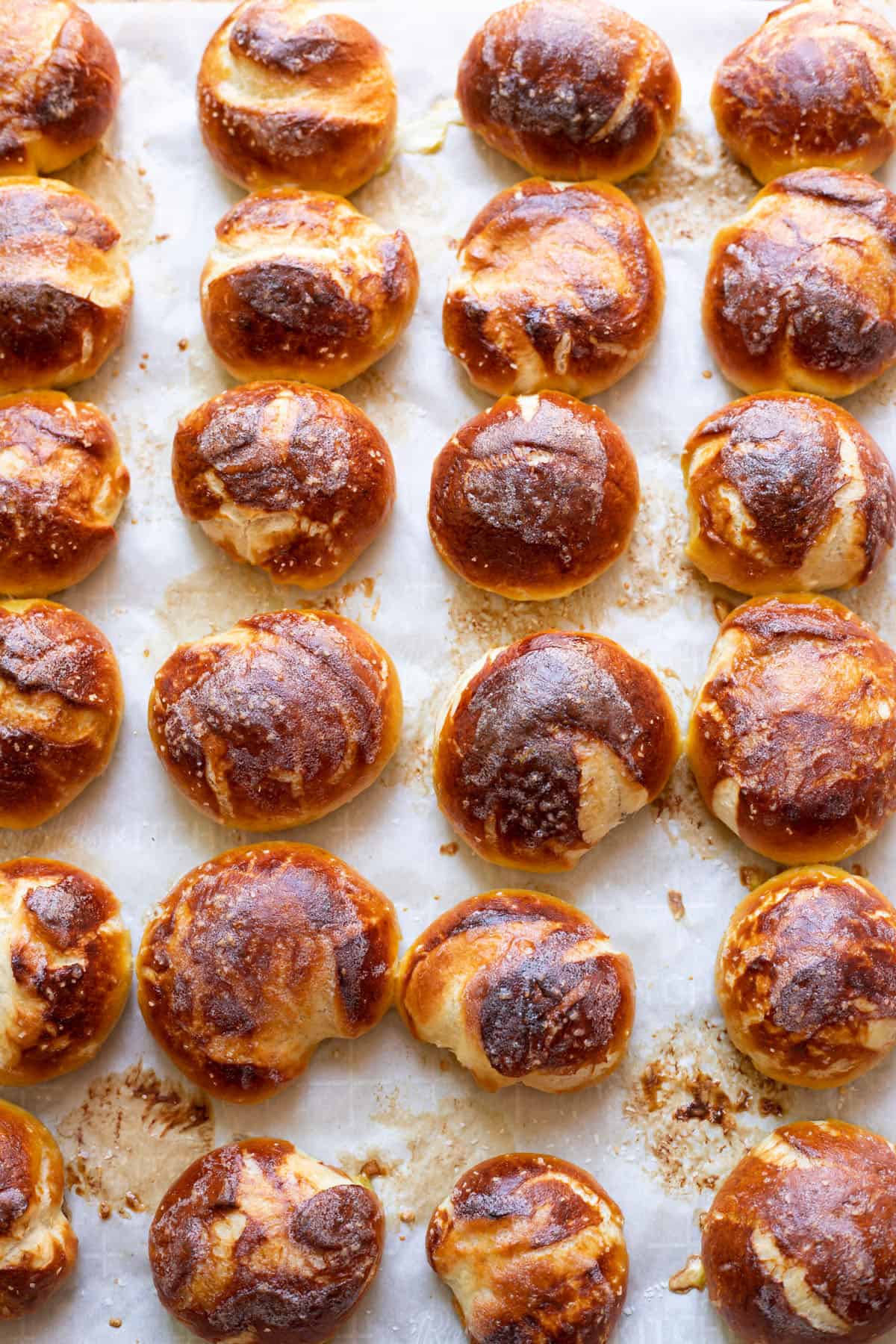 It turned out to be one of my favorite ways to make soft pretzels and really reminded me of something I'd get at a restaurant.
If you're really looking for a workaround to save time on soft pretzels this recipe for soft pretzels without a baking soda bath is a must make.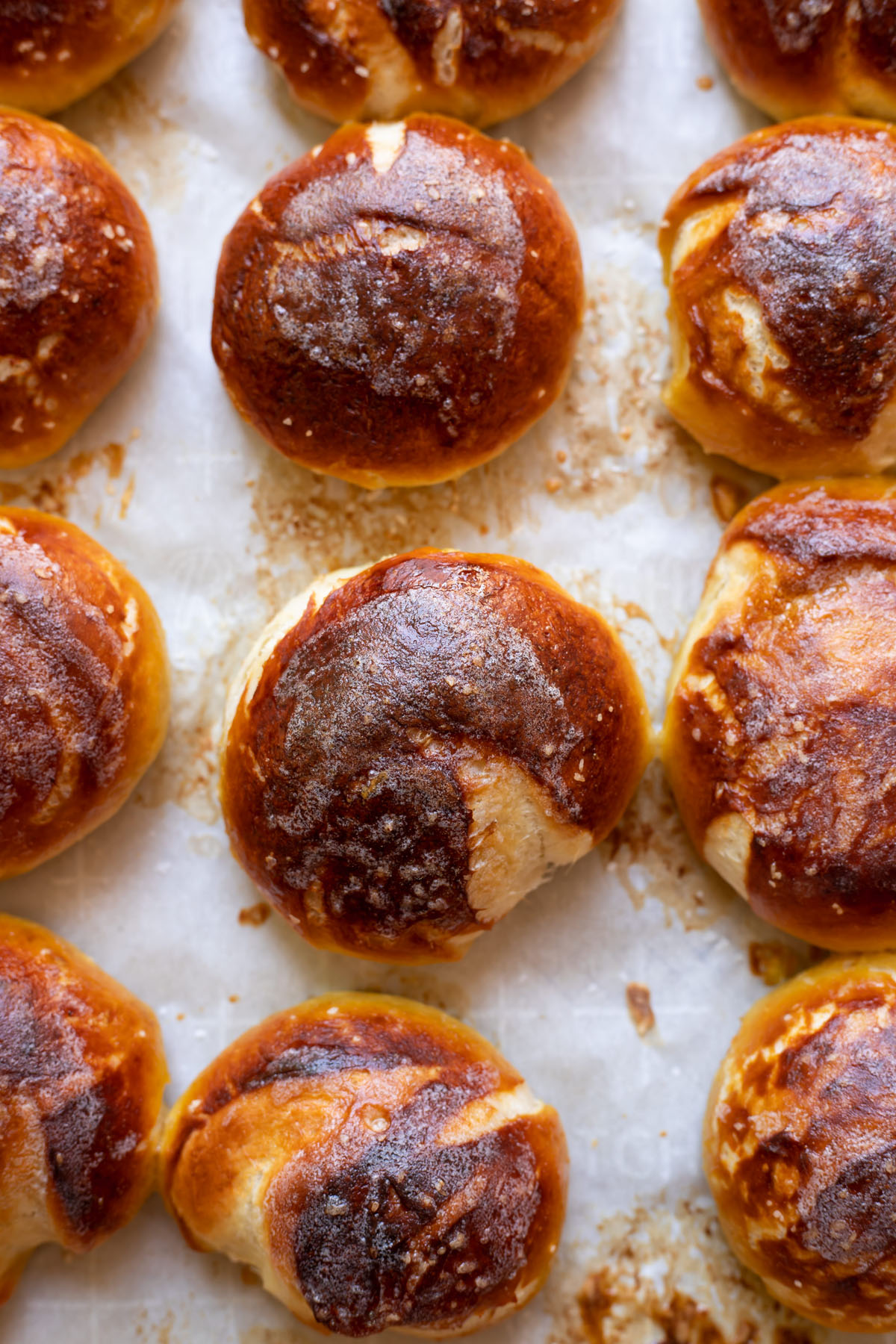 About this cheese business. Sometimes dipping cheese doesn't get as smooth as you would like. It's just a fact, especially when you are working sharp cheddar (vs like an American cheese or processed).
If you want super smooth cheese for dipping, blend it in your blender or use a blender stick. I know it sounds a bit silly but it works and you avoid the clumps. Totally silky smooth and perfect.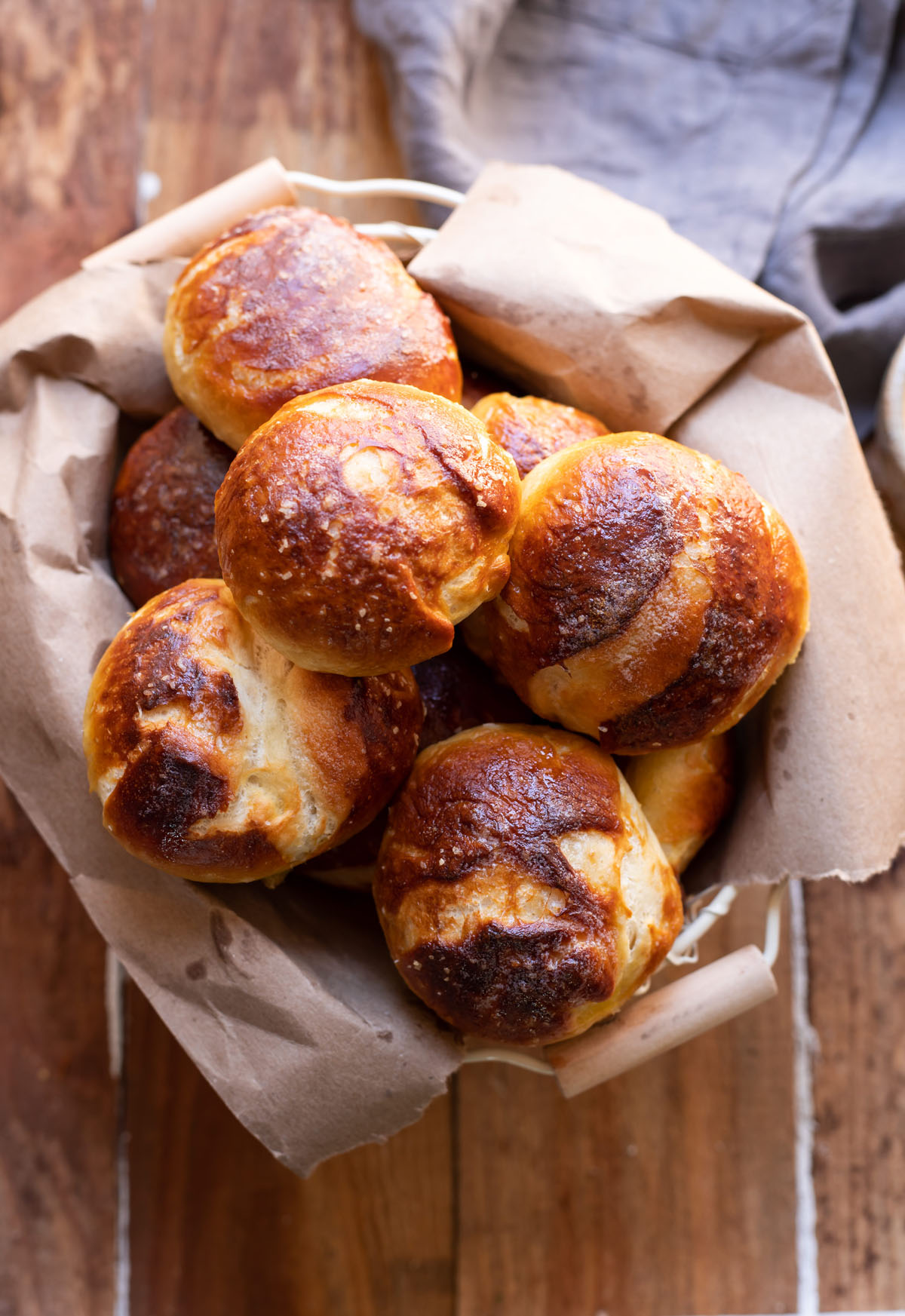 Pretzel Ball Ingredients
water - warm water, but not hot (for activating the yeast)
active dry yeast
all purpose flour
kosher salt
sugar
melted butter
You'll also need 4 cups of water and ⅓ cup of baking soda to dip the pretzels in. Additionally you will need an egg to wash over the top of the pretzels and some extra melted butter and salt for when they come out of the oven.
Beer Cheese Ingredients
6 ounces beer - any kind you want but a light beer works well
sharp cheddar cheese - you can use medium or mild also
fresh garlic
Worcestershire
mustard powder
If the cheese gets lumpy just blend it so it's silky smooth.
How To Make Pretzel Balls
Get the dough together, it only needs to rise one time. Separate the dough into two equal size balls and let it rise for 2 hours. Then roll each into a long rope and cut a total of 24 pieces from those 2 long ropes.
Gently boil 4 cups of water and ⅓ cup of baking soda. Submerge each ball in the baking soda bath (you can do a couple at a time depending on the size of your pot) for 20 seconds. Using a slotted spoon, transfer them over to a baking sheet lined with parchment paper.
Note: try to get any excess water off the pretzel balls when you take them out of the baking soda bath. I like to keep a paper towel nearby and touch the bottom of my slotted spoon to it then put the pretzels on the baking sheet. It gets off excess water dripping.
Brushed with the egg wash and bake for 15-20 minutes, until golden. As soon as they come out of the oven brush them with melted butter and salt.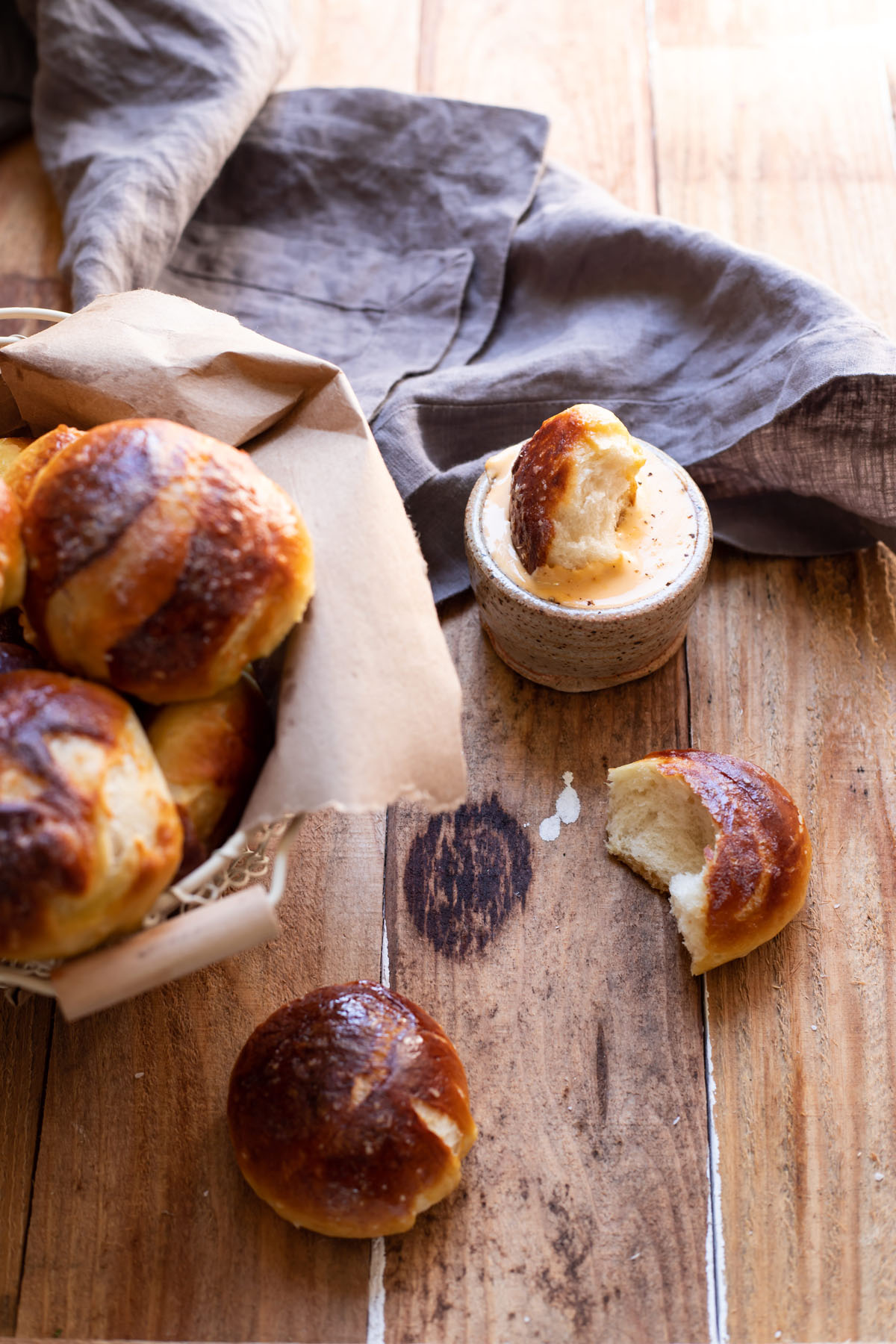 If you really love cheese and pretzels then you have to try this recipe for three cheese stuffed pretzels, they are a bit time consuming (actually you'll swear you are never making them again amidst) but so good you definitely will make them again.
One little tip. I love garlic cheese dip and if you don't, perhaps cut back on the garlic in the recipe. But if you are feeling adventurous today, then go for the full garlic experience.
Another favorite pretzel recipe are these copycat Mellow Mushroom pretzels. You can actually use the same dough to make a pizza!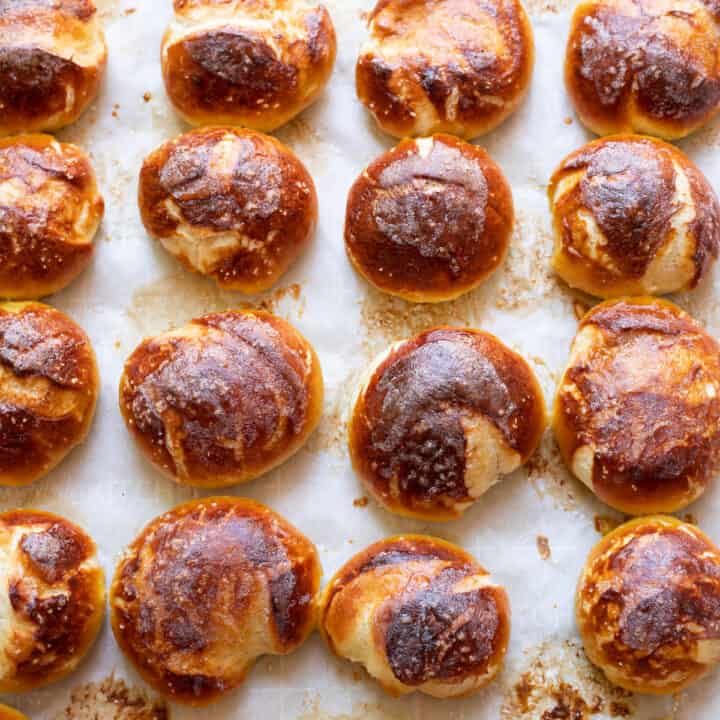 Soft Pretzel Balls and Beer Cheese
Total Time:
3 hours
15 minutes
Get the party started with these big puffy, super soft pretzel balls. You can serve them with your favorite dipping sauces or use the included beer cheese recipe.
Ingredients
pretzel balls
1 ½ c water
1 tbsp yeast + a pinch of sugar
4 ¼ c flour
2 ½ tsp salt
1 tbsp sugar
3 tbsp butter, melted
4 c water
⅓ c baking soda
1 egg yolk + 1 tbsp water, egg wash
kosher salt
1 tbsp butter, melted
beer cheese
6 oz beer
8 oz sharp cheddar, grated and tossed with flour until coated
4 garlic cloves, minced
3 splashes Worcestershire
4 dashes mustard powder
Instructions
Heat 1 ½ cups of water until warm, add the yeast and pinch of sugar and let this sit for 10 minutes
In a stand mixer add flour, 2 ½ tsp salt and sugar
Add the 3 tbsp melted butter to the yeast water and pour that into the flour mixture
Mix with a dough hook attachment on low speed for 3 minutes, until the dough is soft and pliable (alternatively use a large bowl, wooden spoon and then knead on a counter)
Roll the dough out on a floured counter top, separate into two pieces and cover with cling wrap that has been sprayed with cooking spray on one side to avoid sticking
Let this rise for 2 hours
Preheat oven to 375
Roll the dough into two long strands and cut 24 pieces total, rolling each piece into a ball
Dip each pretzel in to a baking soda bath, with 4 cups of water and ⅓ cup baking soda on a low boil, for 20 seconds
Transfer to a baking sheet lined with parchment paper
Brush with the egg wash mixture and sprinkle with kosher salt
Bake for 15-20 minutes
Immediately upon pulling the pretzels out of the oven, brush with melted butter
On low heat add the garlic and beer
To this add the cheese, mustard powder and worcestershire whisking until combined
Transfer the cheese sauce to a blender and blend until silky smooth
Add fresh cracked pepper to the cheese and serve!
Nutrition Information:
Yield:

12
Serving Size:

2
Amount Per Serving:
Calories:

328
Total Fat:

11g
Saturated Fat:

6g
Trans Fat:

0g
Unsaturated Fat:

4g
Cholesterol:

29mg
Sodium:

710mg
Carbohydrates:

46g
Fiber:

2g
Sugar:

2g
Protein:

11g
This information comes from online calculators. Although moderncrumb.com attempts to provide accurate nutritional information, these figures are only estimates.