Seriously the most amazing soft pretzel balls with silky smooth cheddar cheese beer fondue.  There are no words, they are SO good.  However, I'll manage to rustle some up today.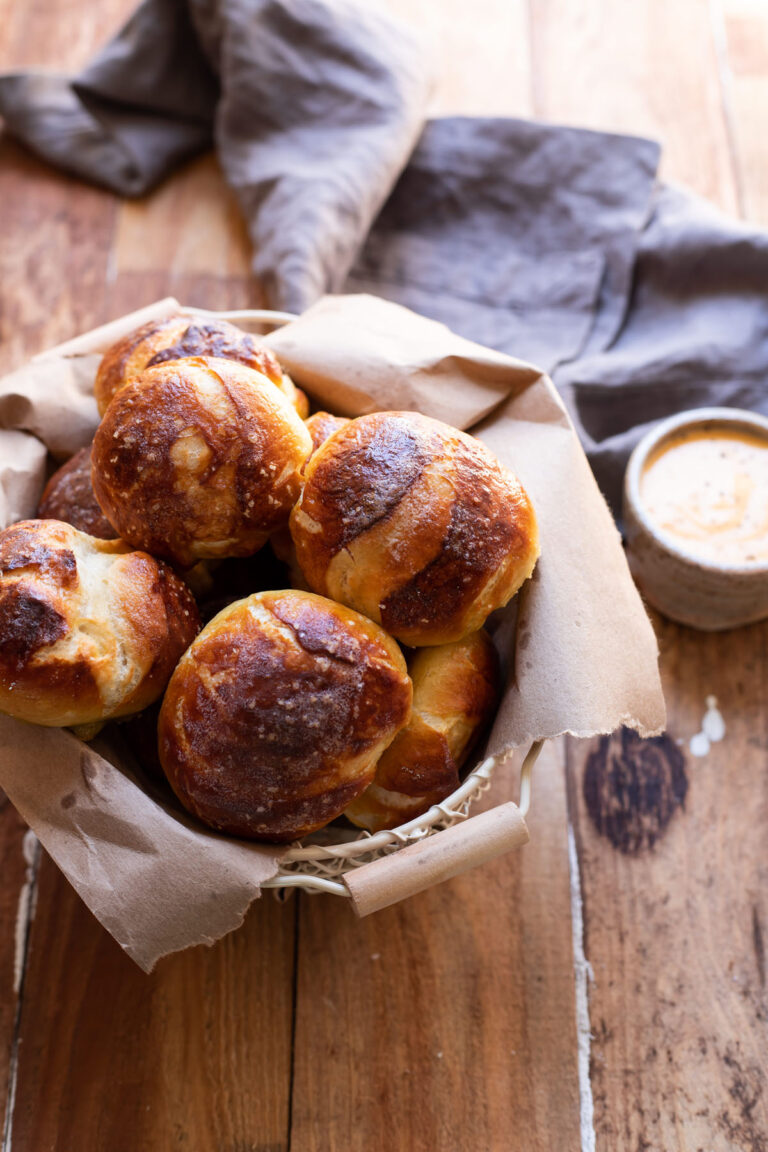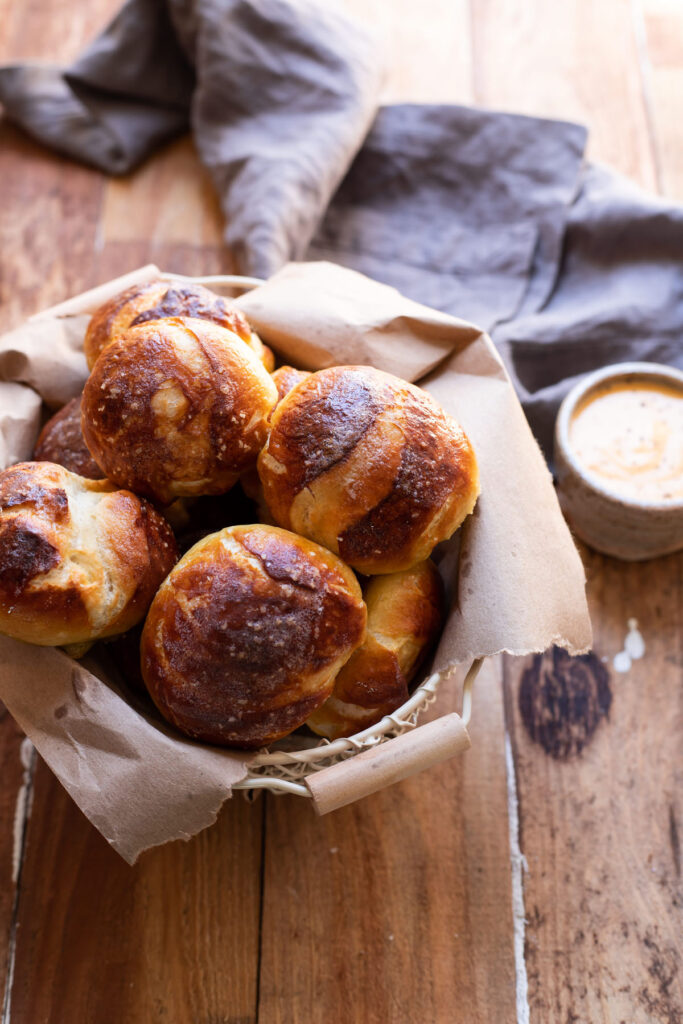 Soft pretzel balls came to be because I was a tad bit lazy in the pretzel department and I didn't want to roll and shape them. 
I also didn't want to do the normal bite size ones because, well, that would take forever to dip in a baking soda bath, creating a big messy mess.  So I rolled them the largest I thought I could get away with, on a whim.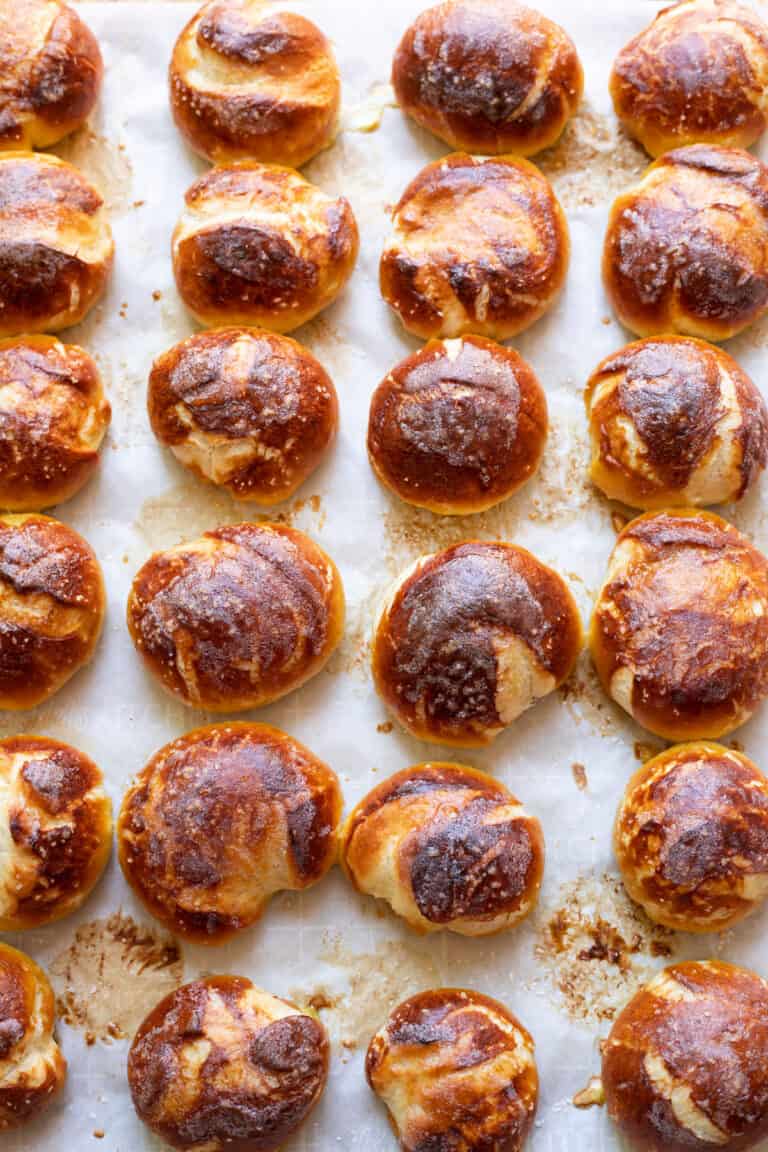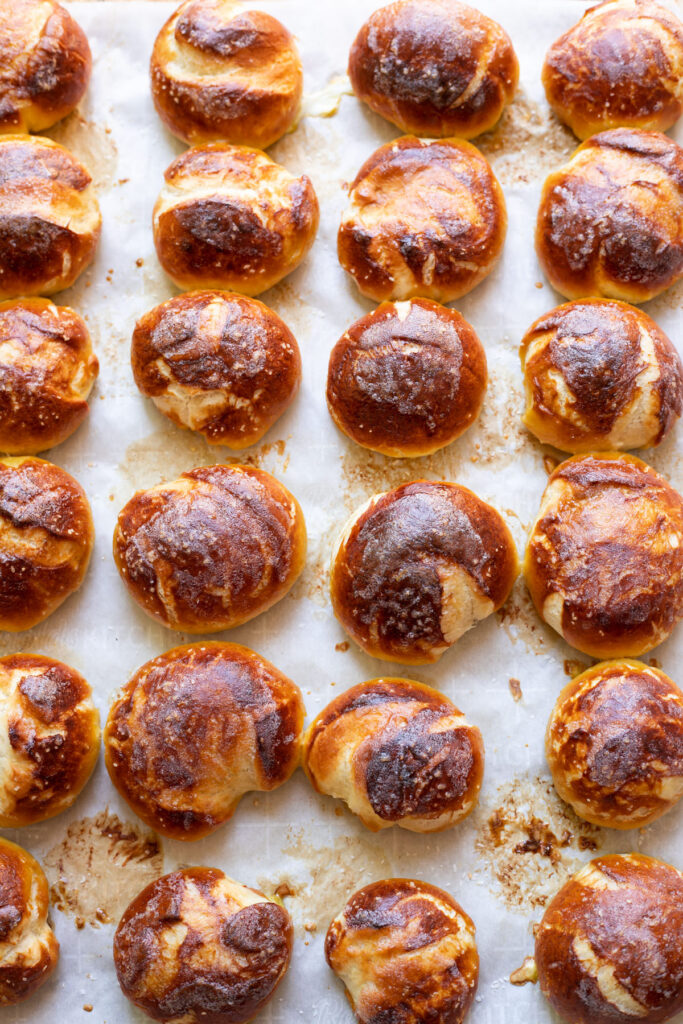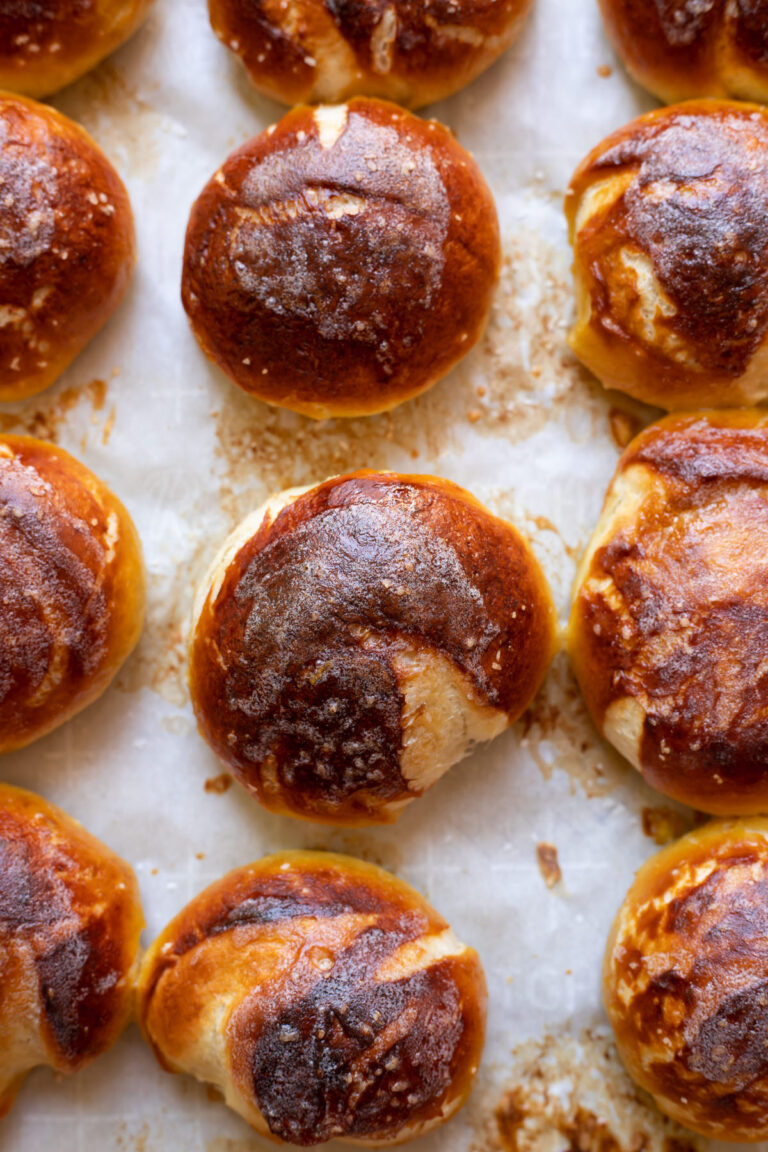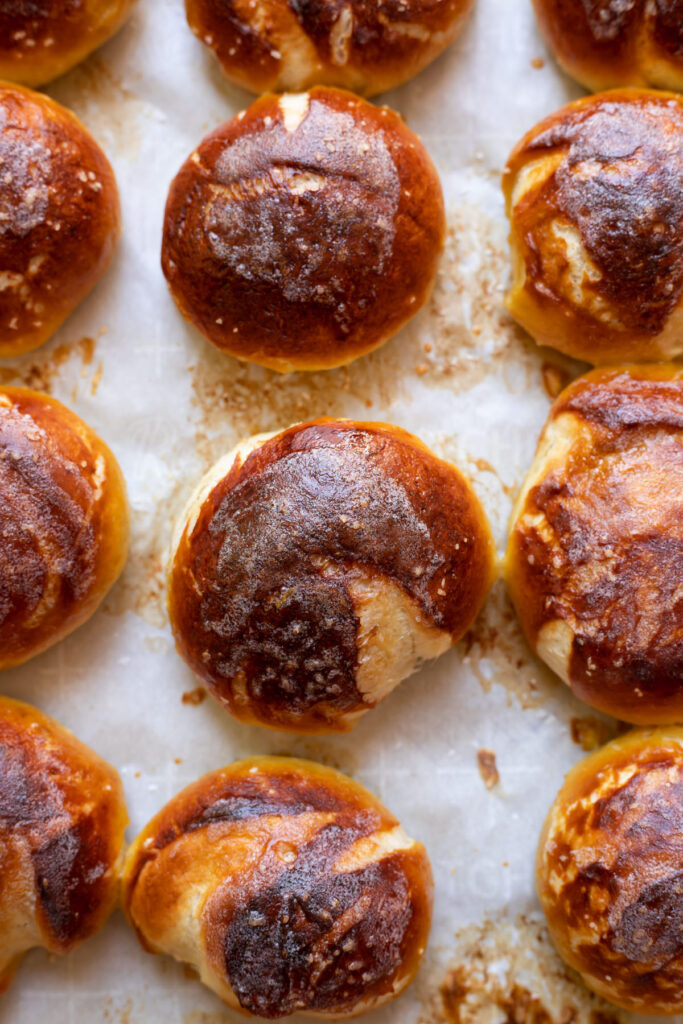 Much to my happiness, they turned out awesome.  Big enough that they maintained a super soft inside and then they had that beautiful golden shell and a tad bit of kosher salt for taste.  What is a soft pretzel ball without salt?  A sad naked pretzel.
About this cheese business.  Sometimes cheese doesn't get as smooth as you would like.  It's just a fact, especially when you are working sharp cheddar (vs like an American cheese or processed).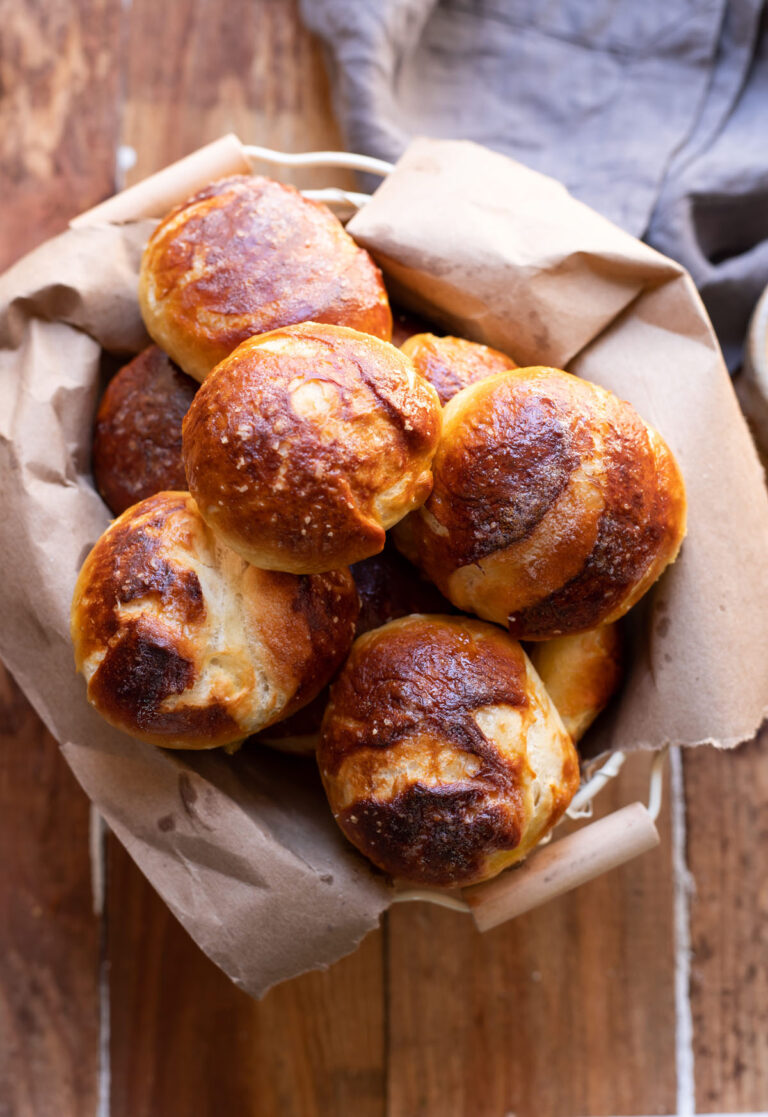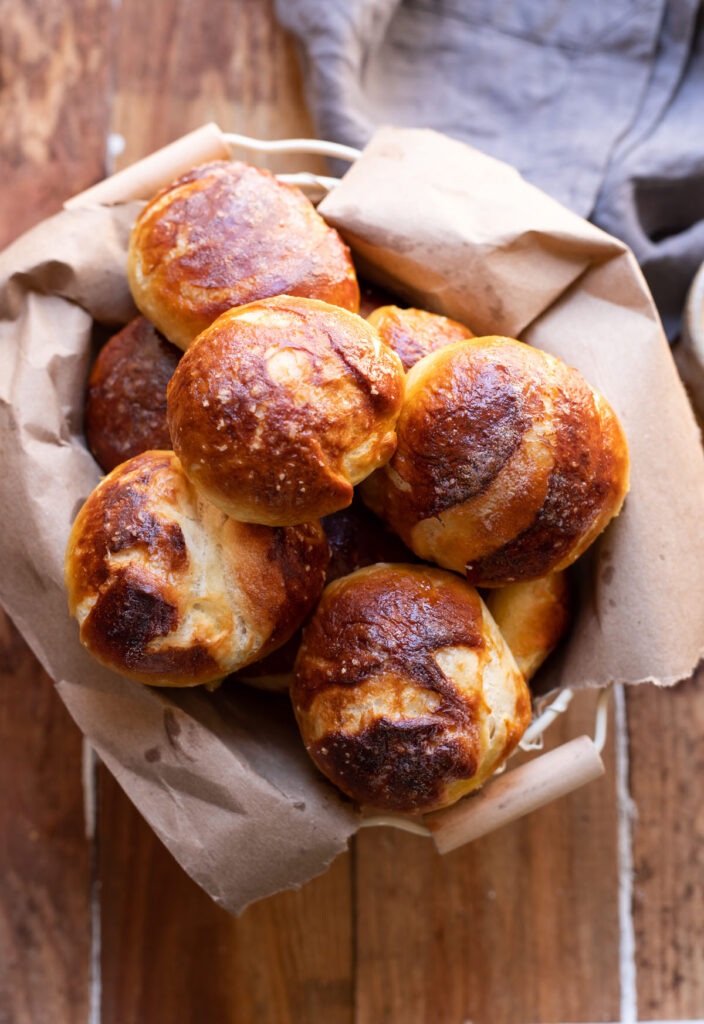 So in an attempt to salvage my cheese gone wrong, I threw it in my blender and gave it a whirl.  Totally silky smooth and perfect.  No lumps or clumps just velvetty goodness.
Actually one little tip.  I love garlic cheese dip and if you don't, perhaps cut back on the garlic in the recipe.  But if you are feeling adventurous today, then go for the full garlic experience.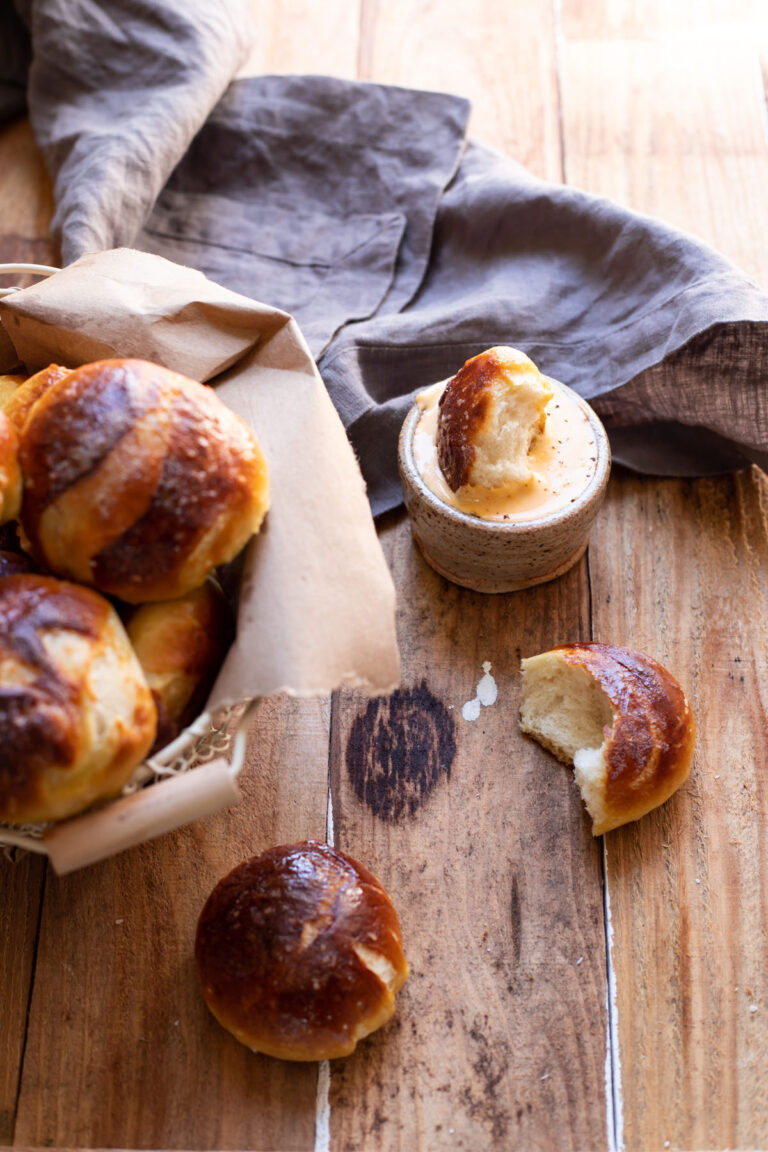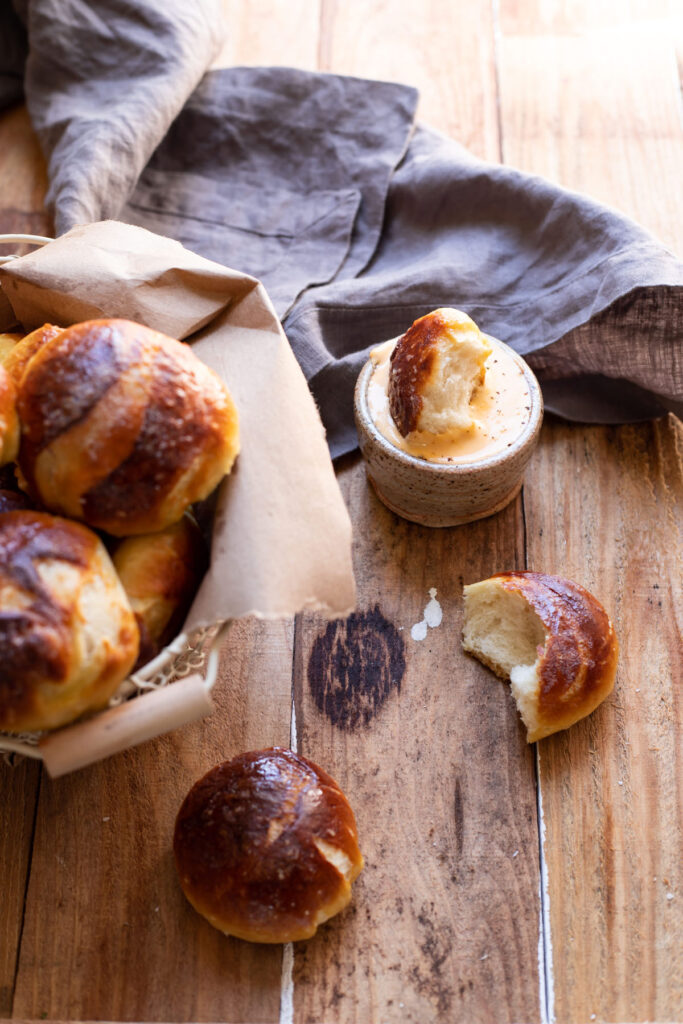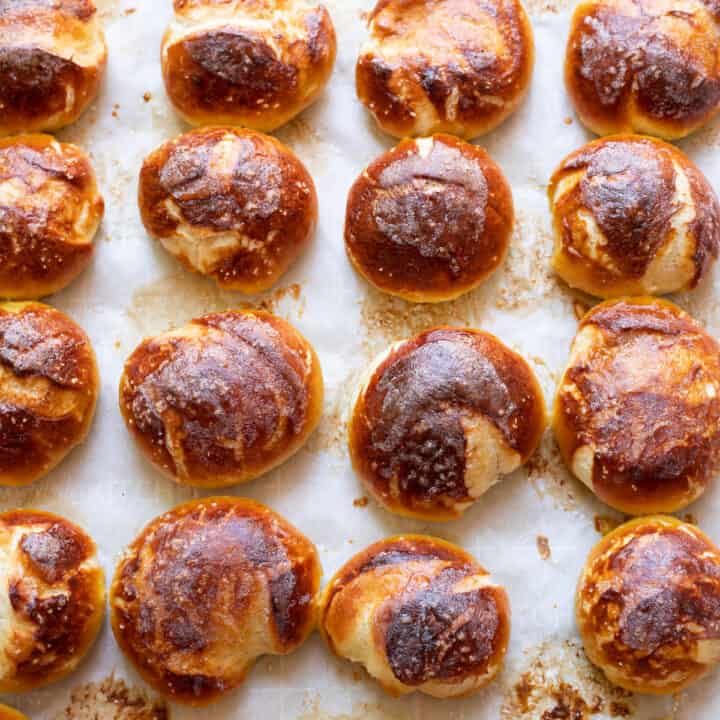 Soft Pretzel Balls and Beer Cheese Fondue
Pretzel balls are the quick and easy way to make soft pretzels! Paired with a yummy beer cheese dip.
Ingredients
1 1/2 c water
1 tbsp yeast + a pinch of sugar
4 1/4 c flour
2 1/2 tsp salt
1 tbsp sugar
3 tbsp butter, melted
4 c water
1/3 c baking soda
1 egg yolk + 1 tbsp water, egg wash
kosher salt
1 tbsp butter, melted
cheese
6 oz beer
8 oz sharp cheddar, grated and tossed with flour until coated
4 garlic cloves, minced
3 splashes Worcestershire
4 dashes mustard powder
Instructions
Heat 1 1/2 cups of water until warm, add the yeast and pinch of sugar and let this sit for 10 minutes
In a stand mixer add flour, 2 1/2 tsp salt and sugar
Add the 3 tbsp melted butter to the yeast water and pour that into the flour mixture
Mix with a dough hook attachment on low speed for 3 minutes, until the dough is soft and pliable (alternatively use a large bowl, wooden spoon and then knead on a counter)
Roll the dough out on a floured counter top, separate into two pieces and cover with cling wrap that has been sprayed with cooking spray on one side to avoid sticking
Let this rise for 2 hours
Preheat oven to 375
Roll the dough into two long strands and cut 24 pieces total, rolling each piece into a ball
Dip each pretzel in to a baking soda bath, with 4 cups of water and 1/3 cup baking soda on a low boil, for 20 seconds
Transfer to a baking sheet lined with parchment paper
Brush with the egg wash mixture and sprinkle with kosher salt
Bake for 15-20 minutes
Immediately upon pulling the pretzels out of the oven, brush with melted butter
On low heat add the garlic and beer
To this add the cheese, mustard powder and worcestershire whisking until combined
Transfer the cheese sauce to a blender and blend until silky smooth
Add fresh cracked pepper to the cheese and serve!
Nutrition Information:
Serving Size:

1 grams
Amount Per Serving:
Unsaturated Fat:

0g