Silky cheesecake layered between moist chocolate cake, salted caramel and pecans.  I'll give you a minute to process all that goodness.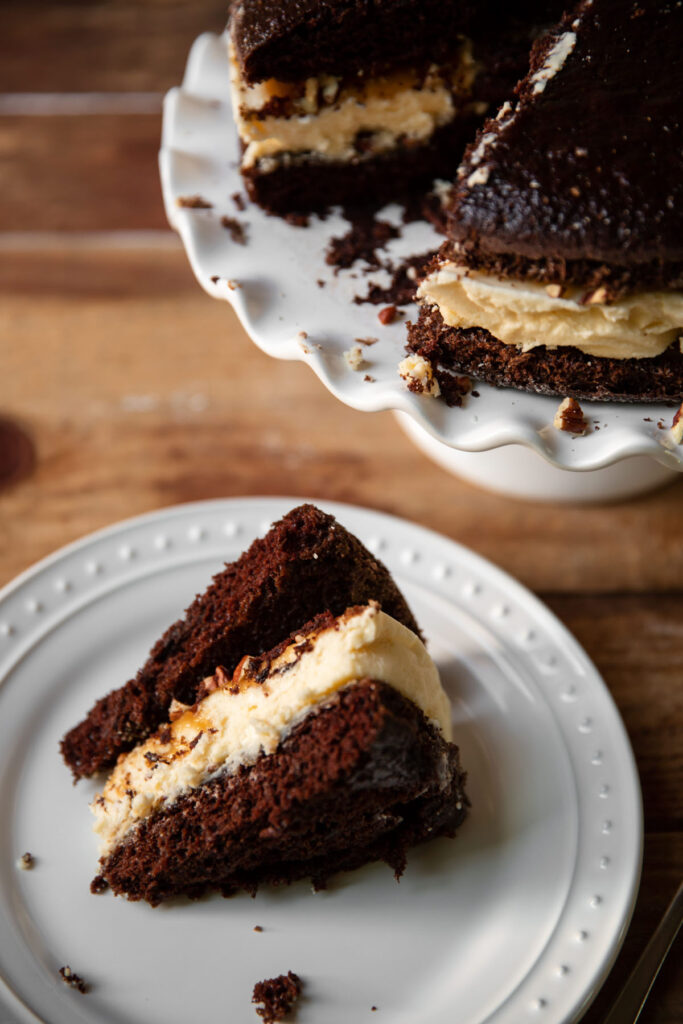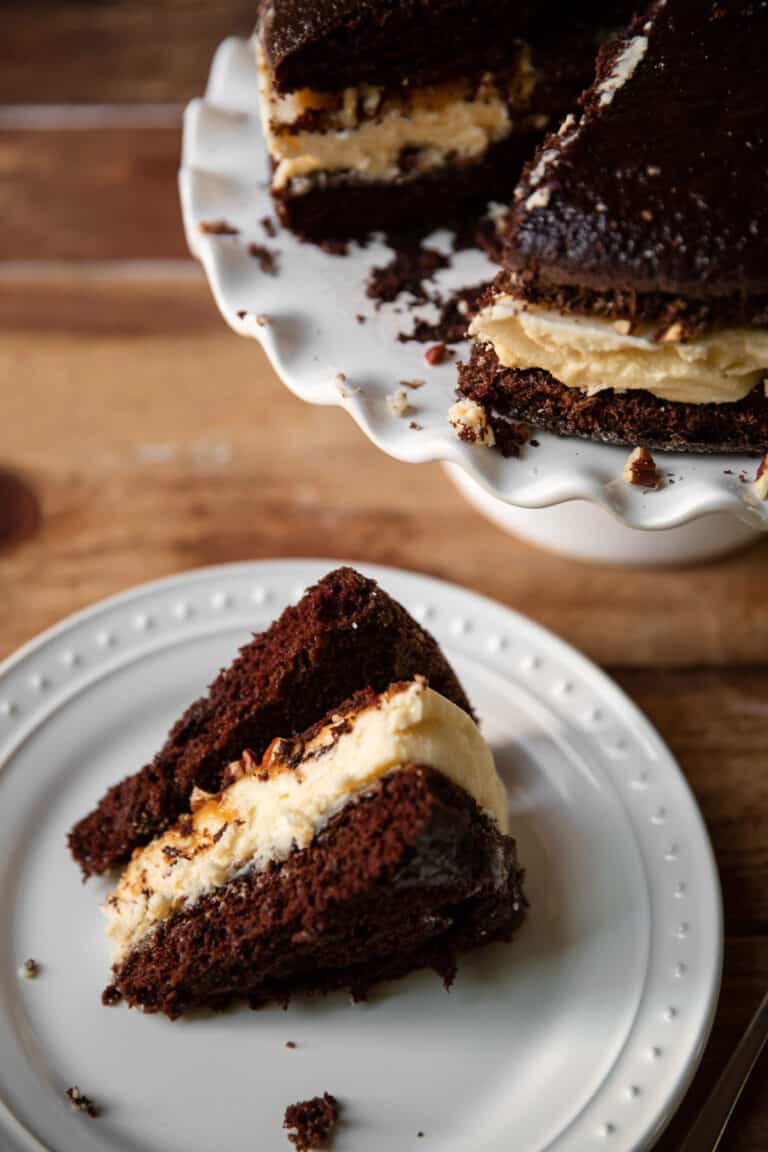 I'm not playing with you.  Today, we're making the worlds most delicious chocolate cake layered with caramel and cheesecake.
Now before you give me credit for being an uber genius, this cake is influenced by a few different things.
A spinoff of a cake I used to have as a kid (instead of cheesecake we had it with whipped cream)
Ina Garten's chocolate cake recipe (because there is nothing better in the chocolate cake realm!)
Cheesecake factory 30th anniversary cheesecake
Our pure love and devotion to cheesecake in general, chocolate and all things salted caramel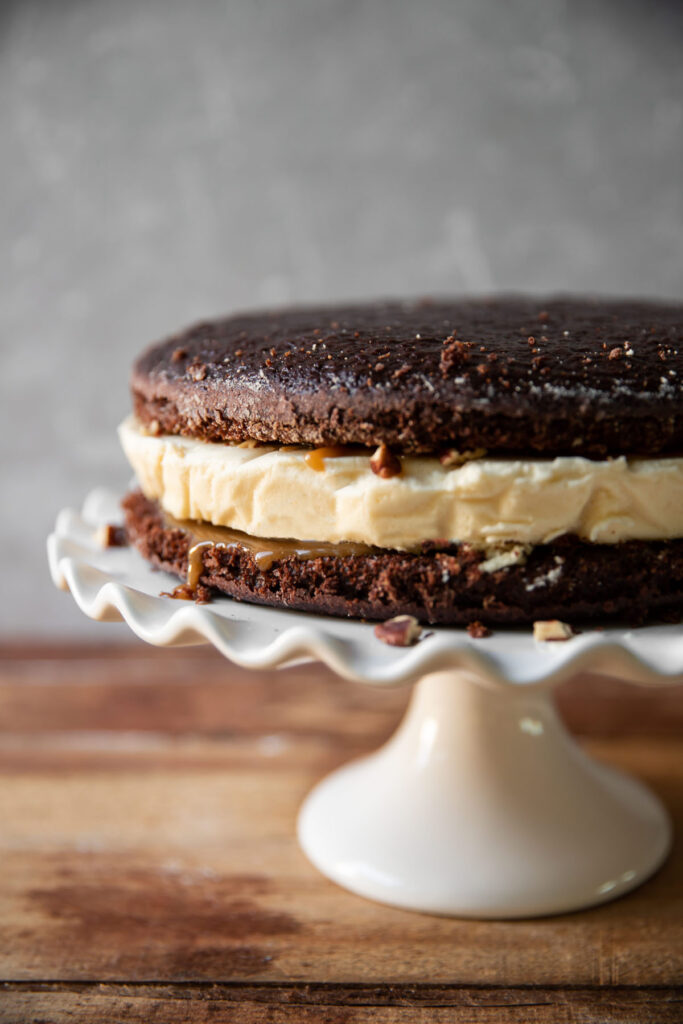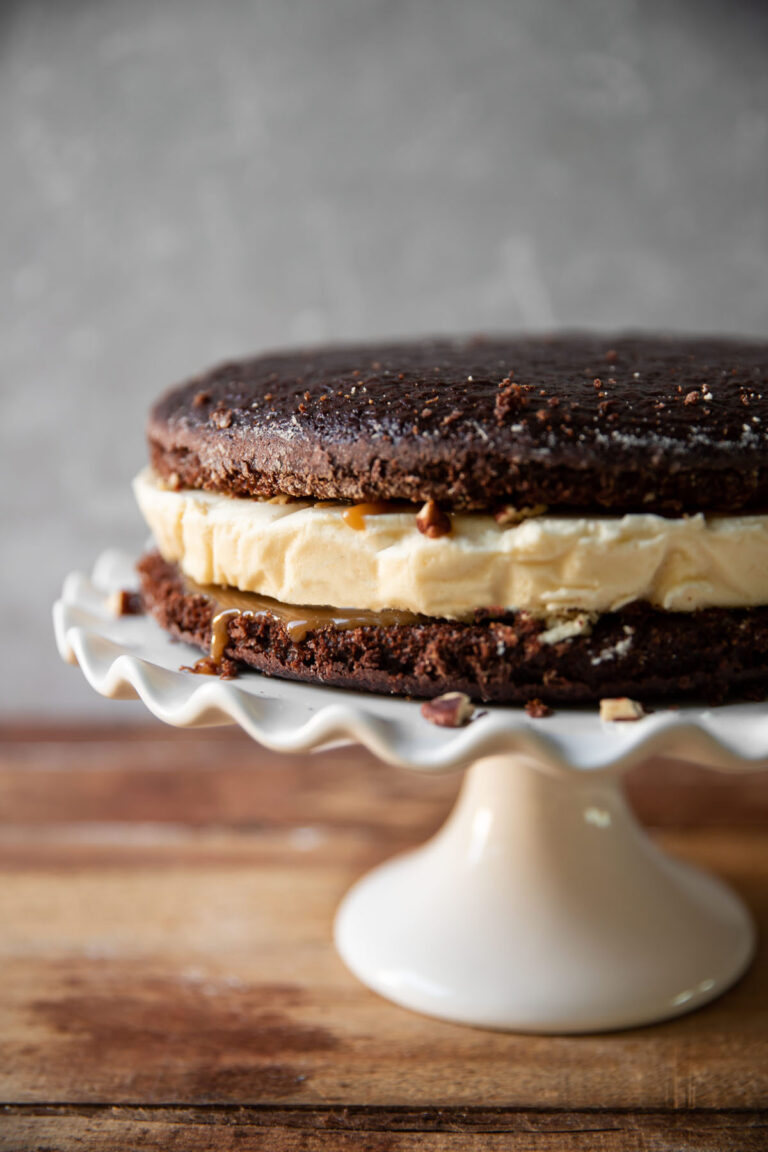 So all of these things contributed to this beauty. I actually saw a picture of a cake one day that I thought was chocolate/cheesecake and it was actually chocolate and frosting (it was a ton of frosting) so without knowing it wasn't what I was thinking, I text my husband a picture and said "I am so making this!". So I ran with what I really thought the picture was! And i've been making it on repeat since.
I knew it needed the perfect chocolate cake. And I have always used Ina Garten's chocolate cake recipe because it's super moist, has coffee in it for that oomph in flavor and keeps well in the fridge even days after baking.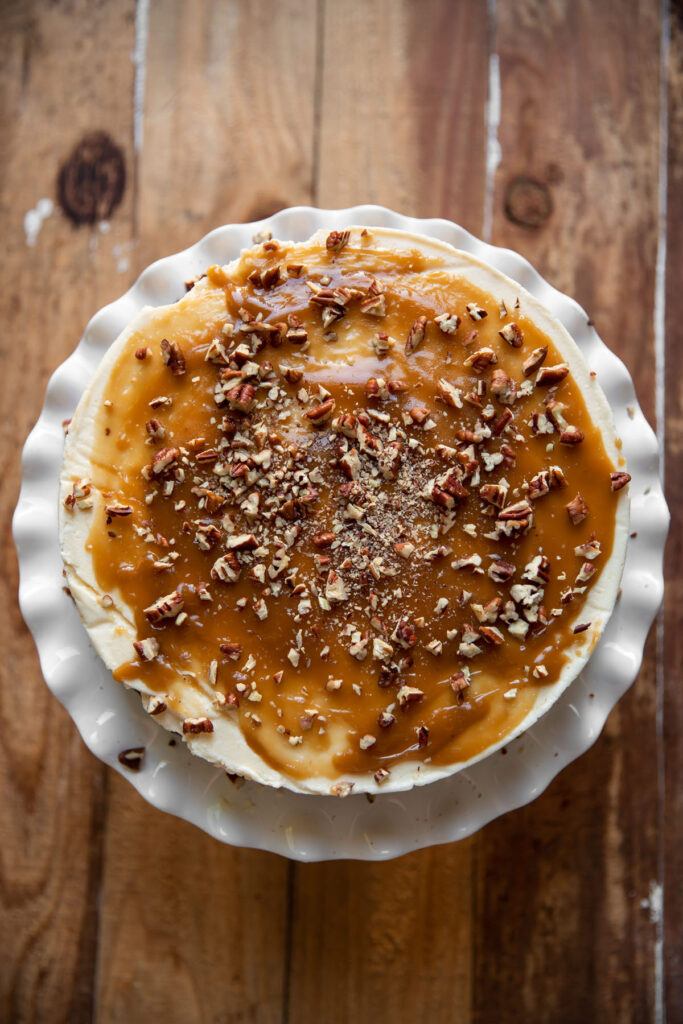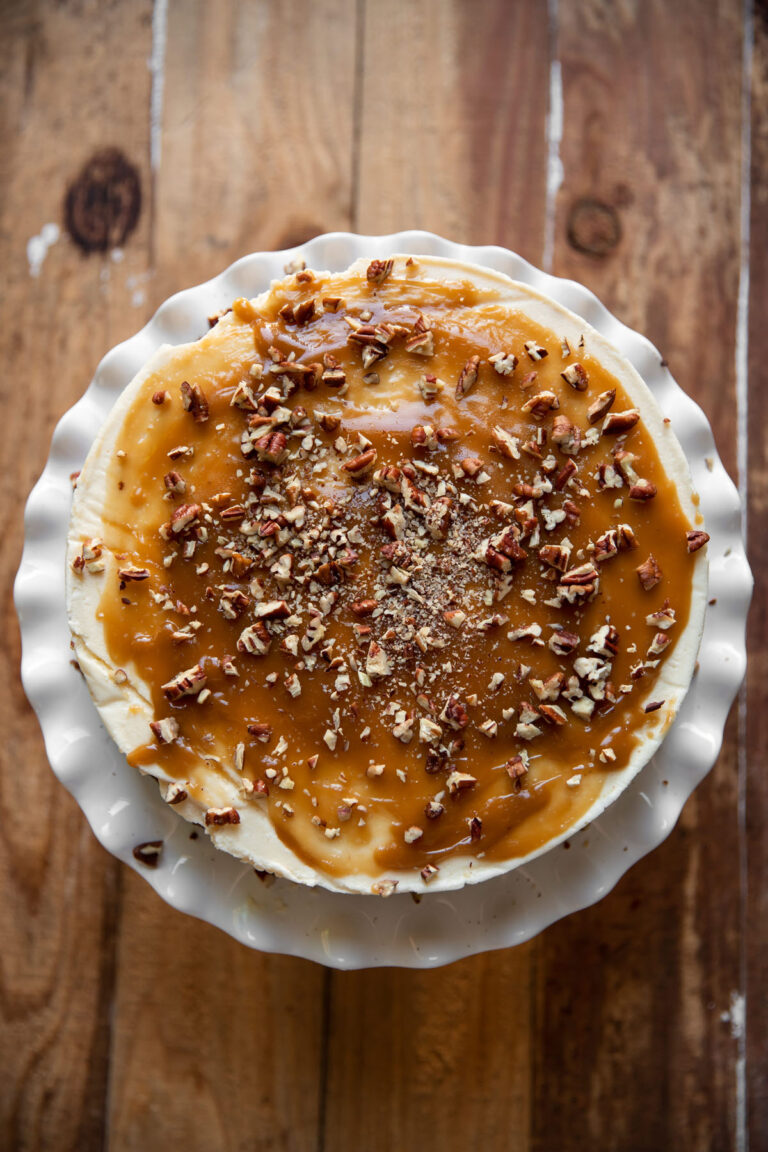 I already had a killer cheesecake recipe.  Which is mine from my creme brûlée cheesecake two years ago on here.  It's the easiest, best textured cheesecake you can make at home.  Each bite just melts in your mouth.
And the last part of the equation was just some homemade salted caramel and chopped pecans.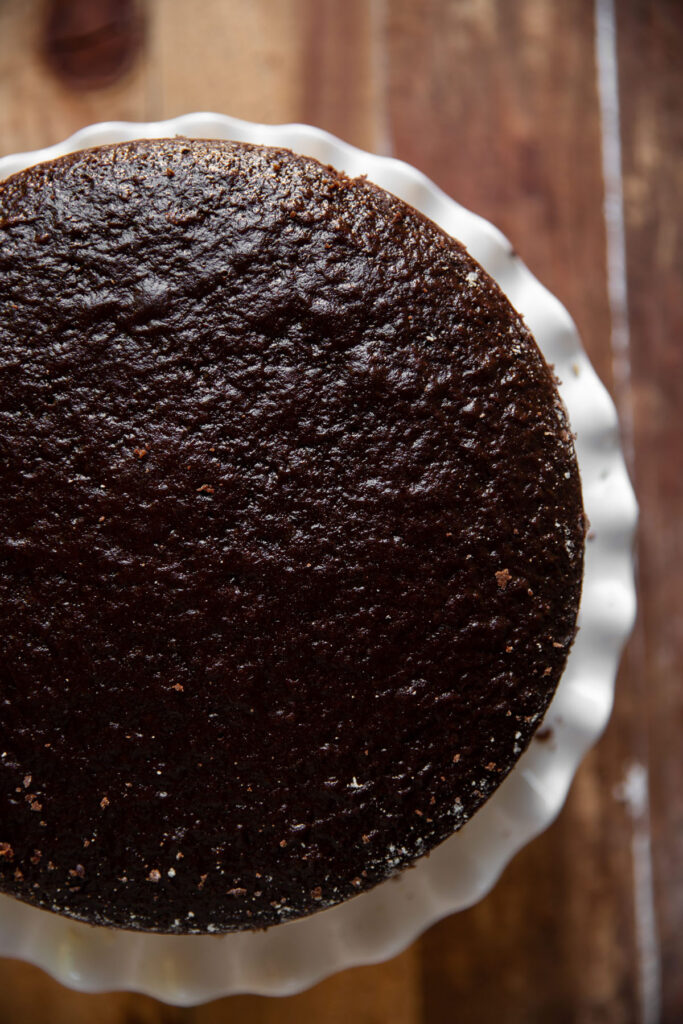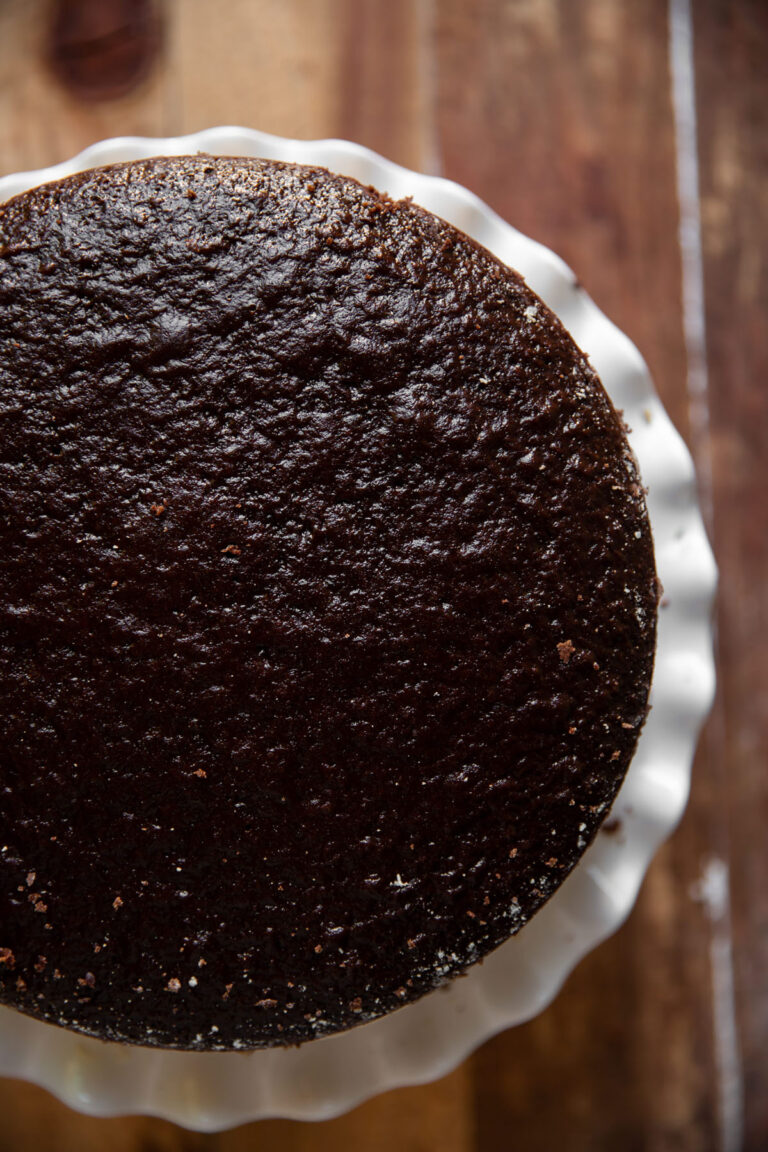 I know there's a few ways to make caramel but I always just go with the easiest approach, which is brown sugar, butter, cream and vanilla. Plus some kosher chunky salt. You just have to make sure you stir it long enough so that all the sugar granules dissolve, otherwise the caramel will be gritty.
What I actually like to do for this cake is make the cheesecake the day before I want to serve it because cheesecake is best if you let it chill for 24 hours. All the flavors meld together. It's way better. After it's chilled you can assembled everything and serve it right away!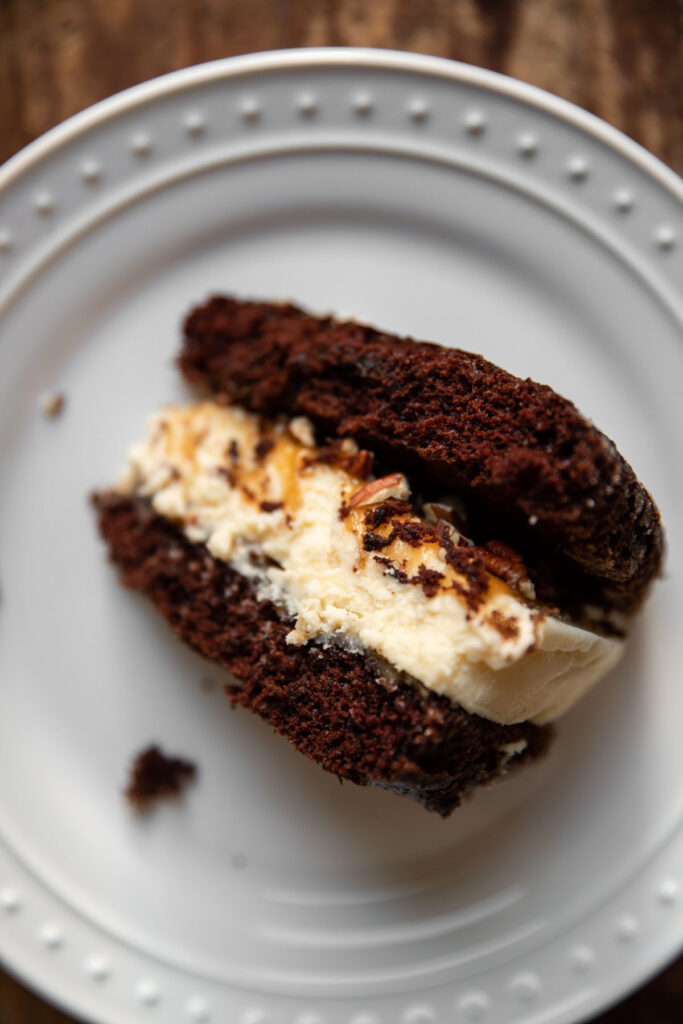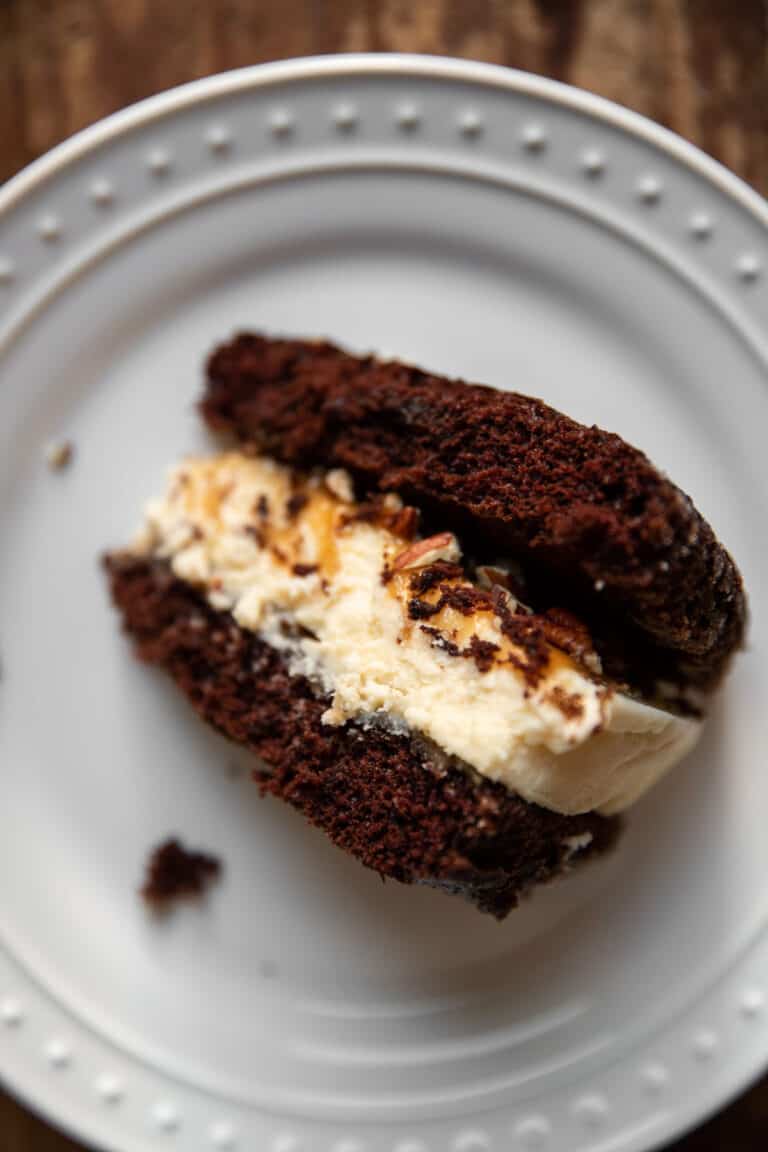 To assemble the cake it goes: 
chocolate cake
salted caramel & pecans
cheesecake
salted caramel & pecans
chocolate cake
The cheesecake part is actual super easy.  You don't even have to fuss with a crust!  Just line a springform pan with parchment paper and pour in the batter.  I suggest getting a springform pan if you don't already have one.  It's so much easier to get it out of the pan then if you were to use a cake pan.  You can snag one for around $10.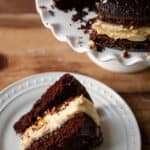 Print Recipe
Cheesecake Layered With Chocolate Cake and Salted Caramel
Silky cheesecake layered between moist chocolate cake, salted caramel and pecans.
Ingredients
cheesecake
2

blocks Philadelphia cream cheese

room temperature

1/2

tsp

pure vanilla extract

small pinch of salt

1

tbsp

cornstarch

3/4

c

sugar

1/4

c

sour cream

3

eggs
Ina Garten's chocolate cake (half a recipe, alternatively you could make a full recipe by doubling this for a bigger cake)
3/4

c

+ 2 tbsp flour

1

c

sugar

1/4

c

+ 2 tbsp cocoa powder

1

tsp

baking soda

1/2

tsp

baking powder

1/2

tsp

kosher salt

1/2

c

buttermilk

1/4

c

vegetable oil

1

egg

1/2

tsp

vanilla extract

4

oz

coffee
caramel
1/2

c

brown sugar

1/4

c

butter

1/4

c

heavy cream

1/4

tsp

vanilla extract

1/4

tsp

salt

pecans

1/2 c
Instructions
Preheat oven to 325

Beat together the cream cheese, vanilla, salt, cornstarch, sugar and sour cream

Add in three eggs, one at a time, blending well

Beat this for 3 minutes until light, fluffy and smooth

Wrap the bottom of a springform pan with tin foil, and line the inside with parchment paper

Place the pan on a high rimmed baking sheet

Fill the springform pan with cheesecake batter

Place the pan in the oven and fill the baking sheet halfway up with water

Bake for 35-45 minutes, until the outside has set and the middle is just barely wiggly

Remove from the oven, let it come to room temperature and chill for 24 hours if possible

*Next make the chocolate cake*

Turn the oven up to 350

Sift together the flour, sugar, cocoa, baking soda, baking powder and salt into a bowl, stir to combine

To another bowl add the buttermilk, oil, eggs and vanilla extract, stir together

Add the wet ingredients to the dry

Combine on low speed

Add in the coffee and stir until just combined

Line two cake pans with parchment paper and pour the chocolate cake batter evenly in to each of them

Bake in the oven for 20 min, until a toothpick comes out clean

Cool on a wire rack

*Next make the caramel*

Heat a sauce pan over medium heat, add in the butter and brown sugar stirring constantly

Let this come to a boil only on medium heat no hotter, boil for 3-4 minutes

Add in the heavy cream and whisk vigorously

Stir the caramel for at least 5 minutes, you'll want to taste it (carefully it's hot!) and make sure its smooth, and not grainy

Turn the heat down to low

Add in the vanilla, whisking, and the salt

*Time to assemble*

Place a layer of chocolate cake down, next drizzle on the caramel and half of the chopped pecans

Now the cheesecake and another layer of caramel and chopped pecans

End with the other layer of chocolate cake

Serve
Notes
*Chocolate cake recipe is from Ina Garten's Beatty's Chocolate Cake