Silky cheesecake layered between moist chocolate cake, salted caramel and pecans. I'll give you a minute to process all that goodness. It's the perfect special dessert to make for a birthday, anniversary or baby shower!
If chocolate and caramel are your thing then you'll also love these double chocolate fudge salted caramel brownies.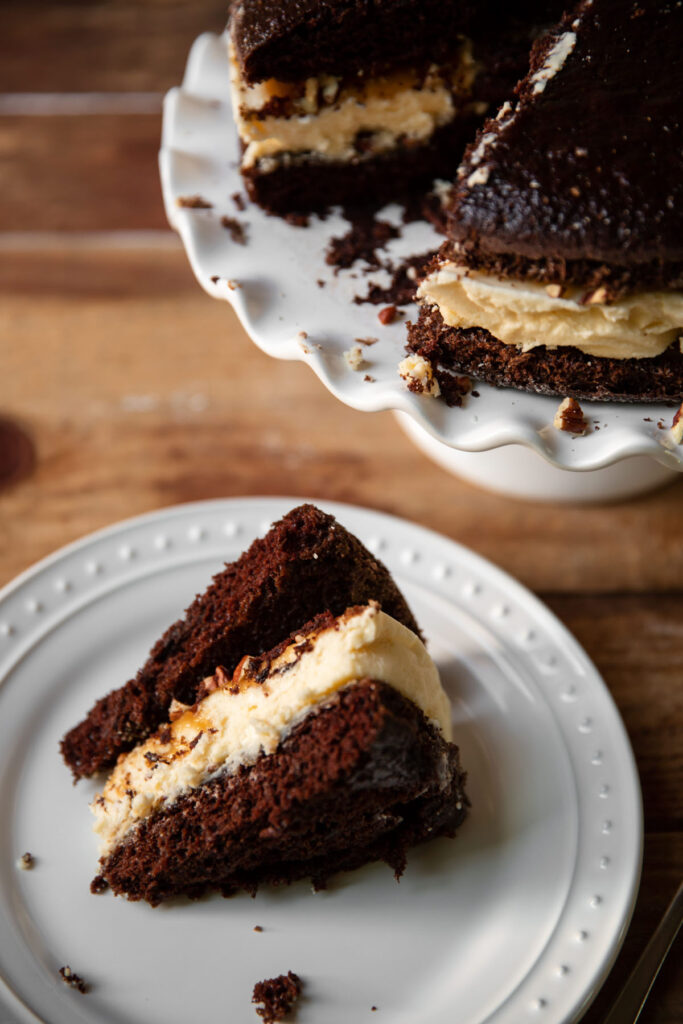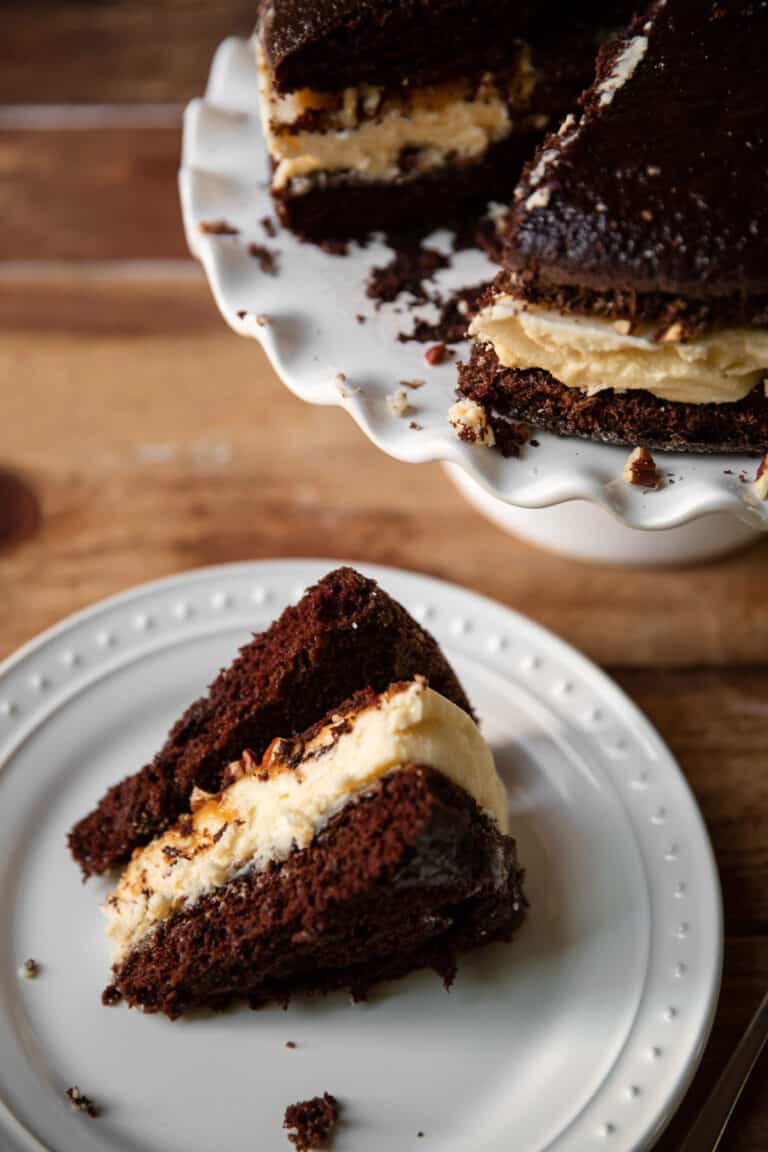 I'm not playing with you. Today, we're making the worlds most delicious chocolate cake layered with caramel and cheesecake.
I have a few main inspirations for this crazy cake. Crazy good, that is.
I go nuts for Cheesecake Factory's 30th anniversary chocolate cake cheesecake. You know the person that get's the exact same thing every single time at a restaurant?
Yeah, that's me, but always with this cheesecake!
Another thing that influenced it was a cake I used to have as a kid (instead of cheesecake we had it with whipped cream). I would make the same one for my husband.
So all of these things played a part to the creation of this beauty.
A tip is to make the cheesecake the day before the rest of the cake, so it has time to chill in the fridge.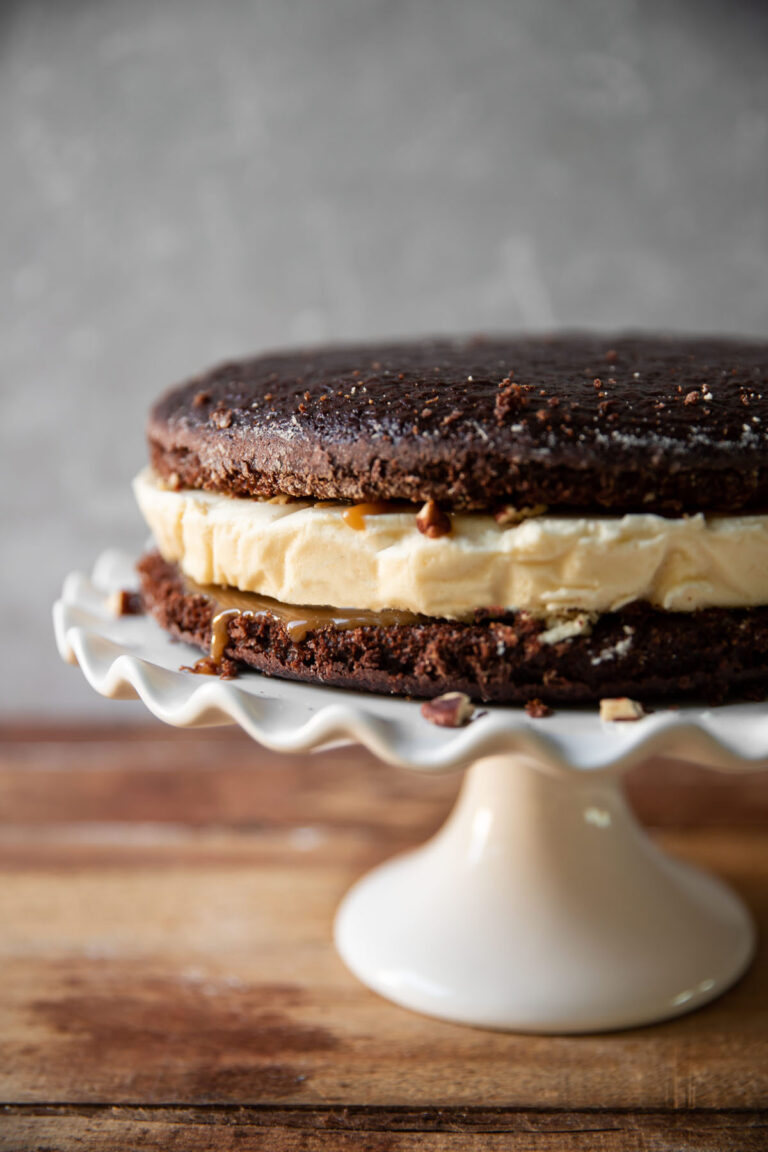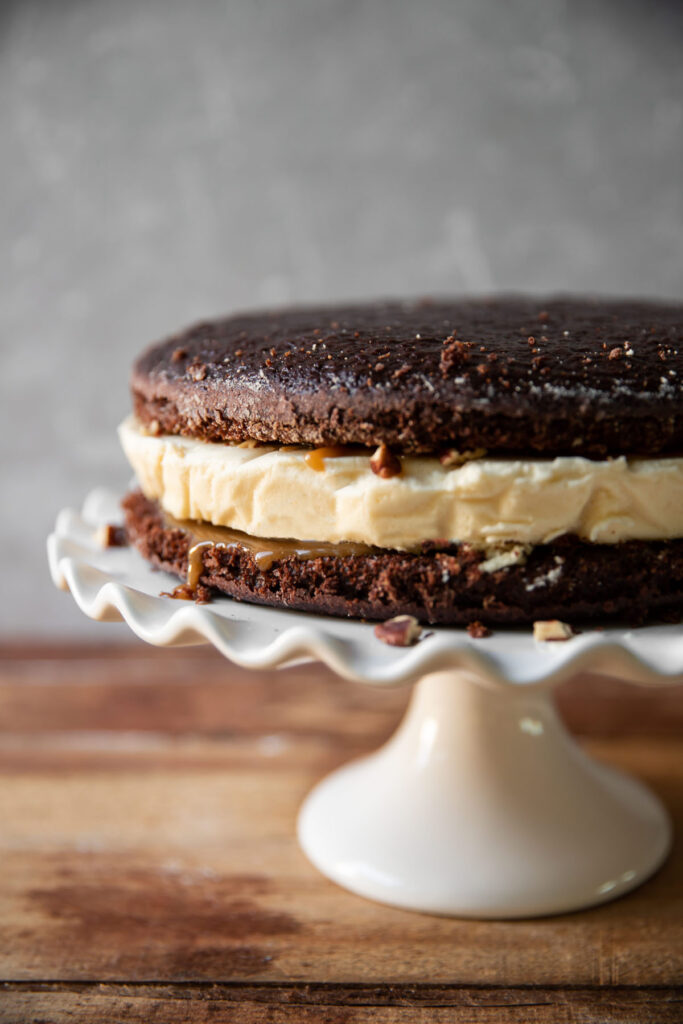 Making The Perfect Chocolate Cake
The secret to a perfect chocolate cake is coffee.
Adding some cooled coffee to the batter gives the chocolate the most intense, amazing flavor. It brings it to life.
Having a fluffy cake is also so crucial. A dense cake tastes dry and it does dry out faster.
I use buttermilk in this chocolate cake recipe. Buttermilk is one of my favorite ingredients for baked goods, like these fluffy buttermilk pancakes.
We'll be making thin layers of chocolate cake, so you need to pay attention to the baking time. It's going to cook very fast. Don't over bake your cake, it will be dry.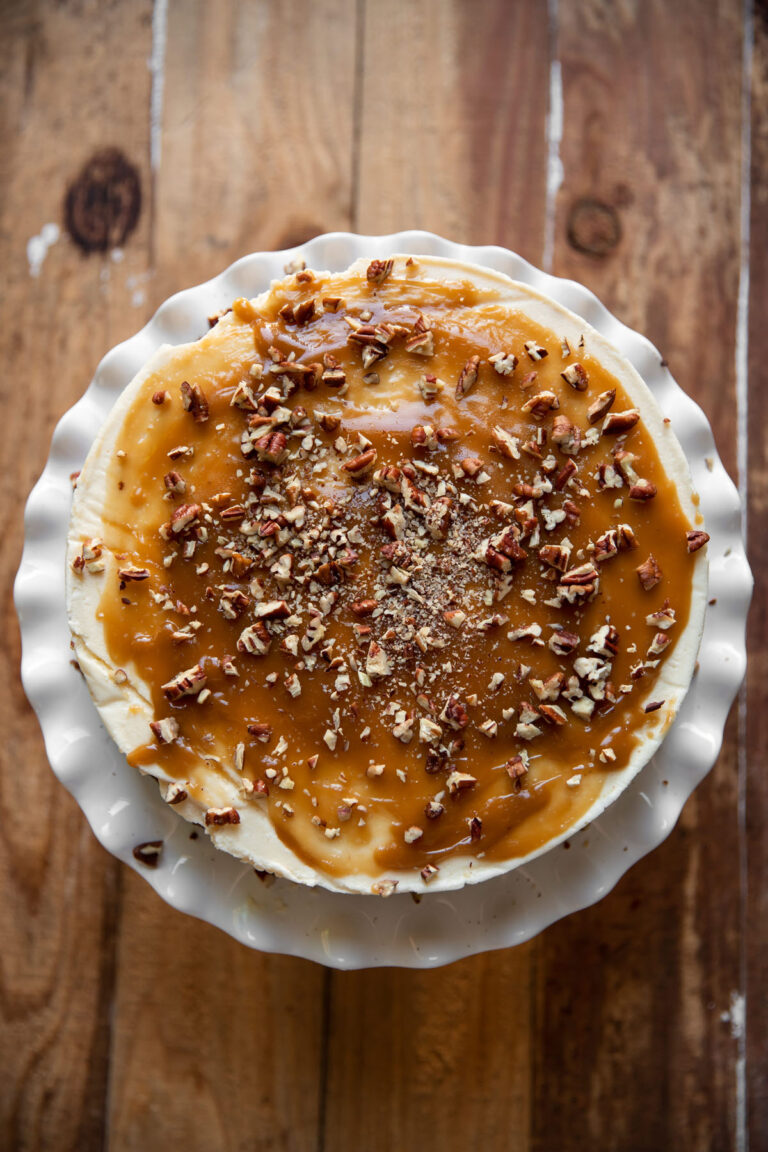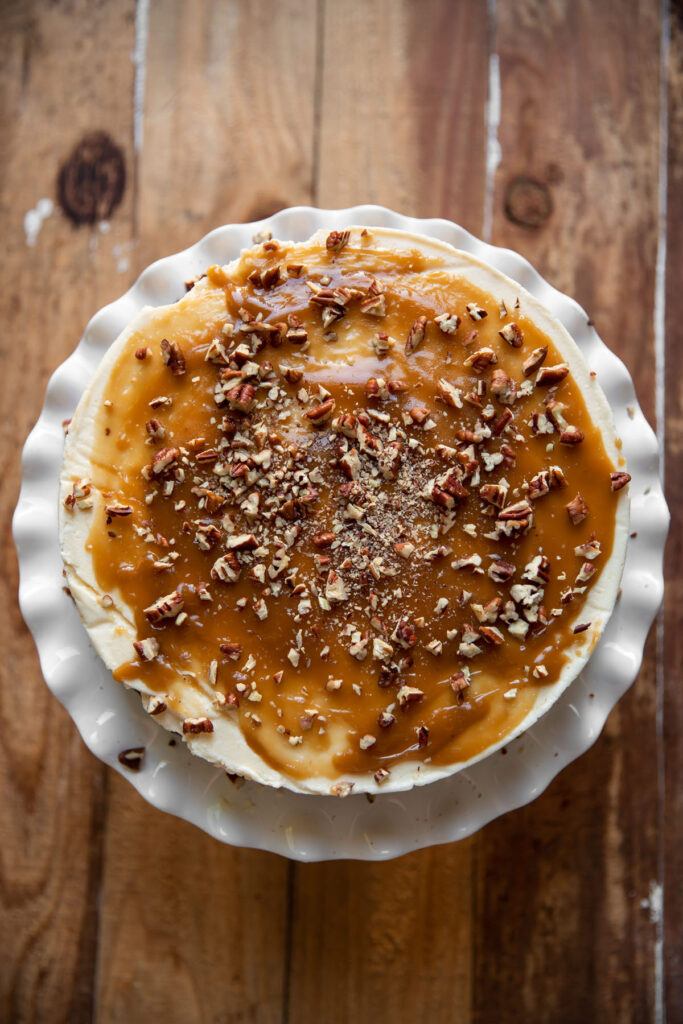 Cheesecake
I have the most amazing cheesecake recipe.
It's the easiest, best textured cheesecake you can make at home. Each bite melts in your mouth.
Cheesecake can be so tricky though! There are all these factors that can make or break a good cheesecake. But rest assured your cheesecake will be nestled between chocolate cake and caramel so it doesn't need to be perfect.
Using a water bath when baking a cheesecake is always a good idea. Just make sure to wrap the bottom of the springform pan in foil, so the water doesn't leak in.
And using all room temperature ingredients will give you a creamy smooth cheesecake.
Because this cheesecake is part of a middle layer in the cake, you don't need to add a graham cracker crust like you traditionally would. Just pour the batter directly in a parchment lined springform pan.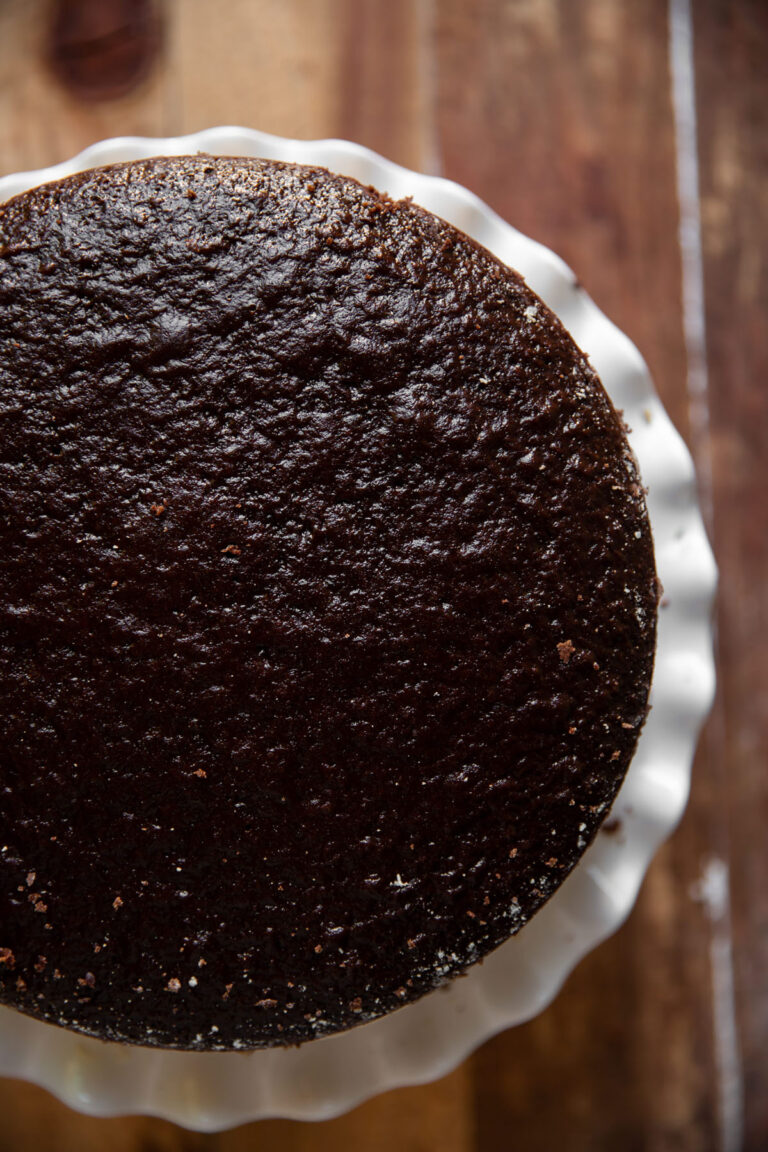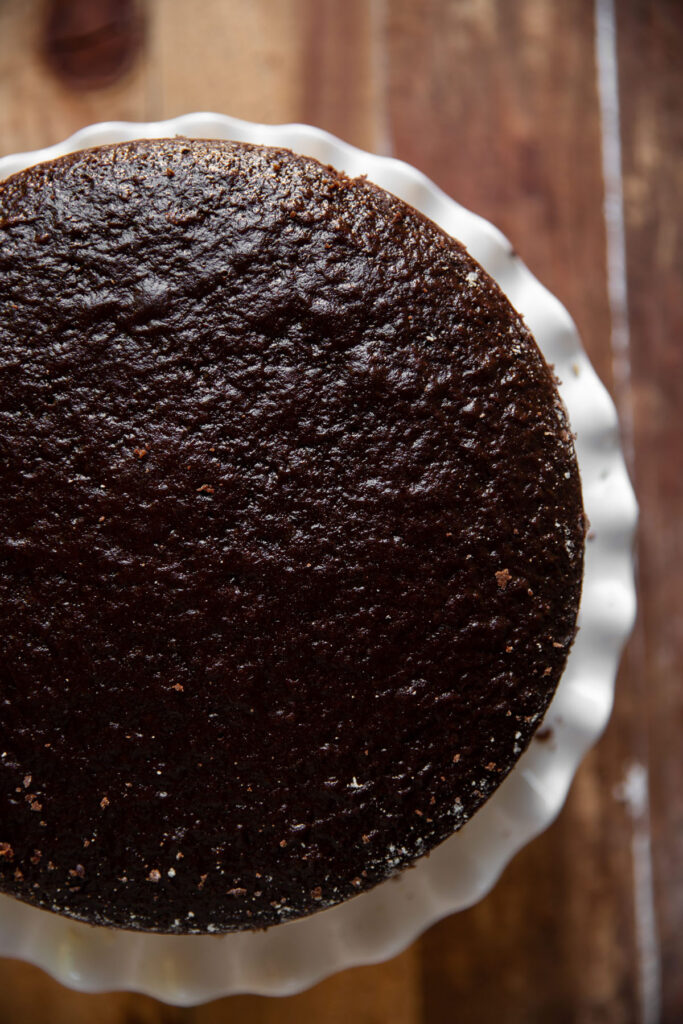 How To Make Homemade Caramel Sauce
The last part of this perfect cake is some homemade salted caramel and chopped pecans.
I know there's so many ways to make caramel but I always just go with the easiest approach, which is brown sugar, butter, cream and vanilla. Plus some kosher chunky salt.
You just have to make sure you stir it long enough so that all the sugar granules dissolve, otherwise the caramel will be gritty.
Here's a quick run down on how to make the caramel sauce, keep in mind caramel sauce needs constant whisking so it does not burn.
low boil together butter and brown sugar (nothing hotter than medium heat) 2-3 minutes
add heavy cream, whisk 5 minutes continuously
in goes the vanilla extract and salt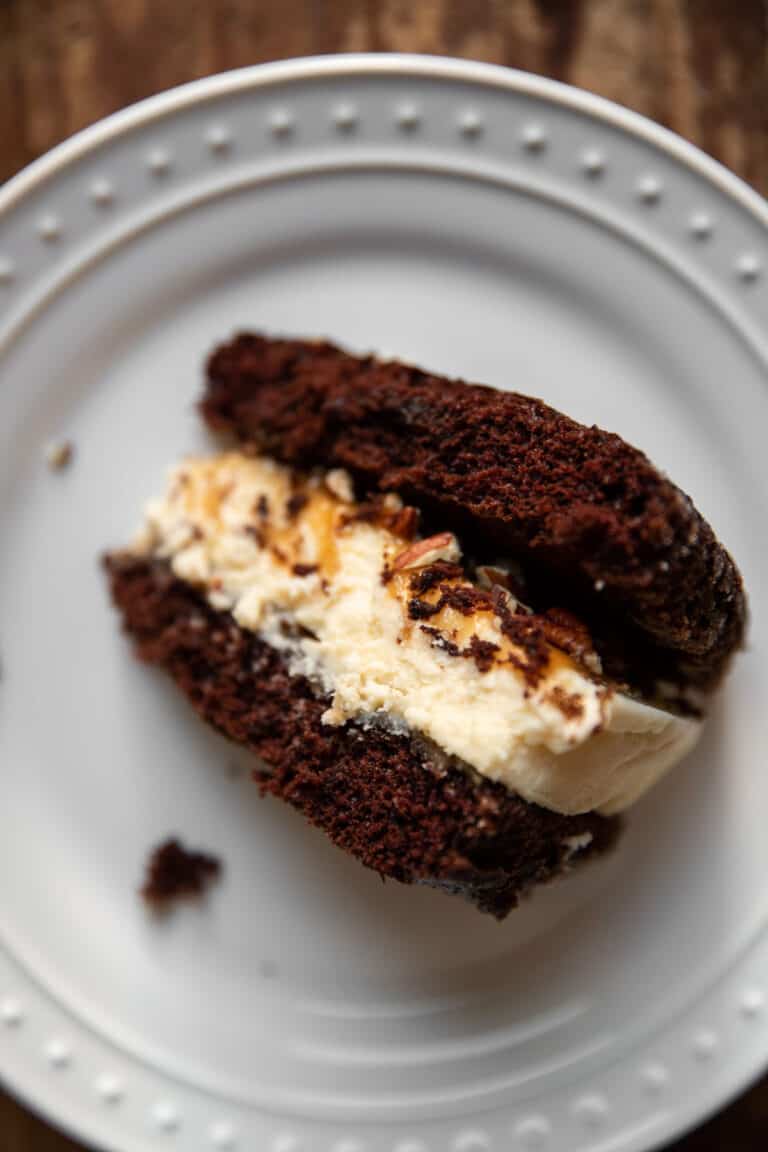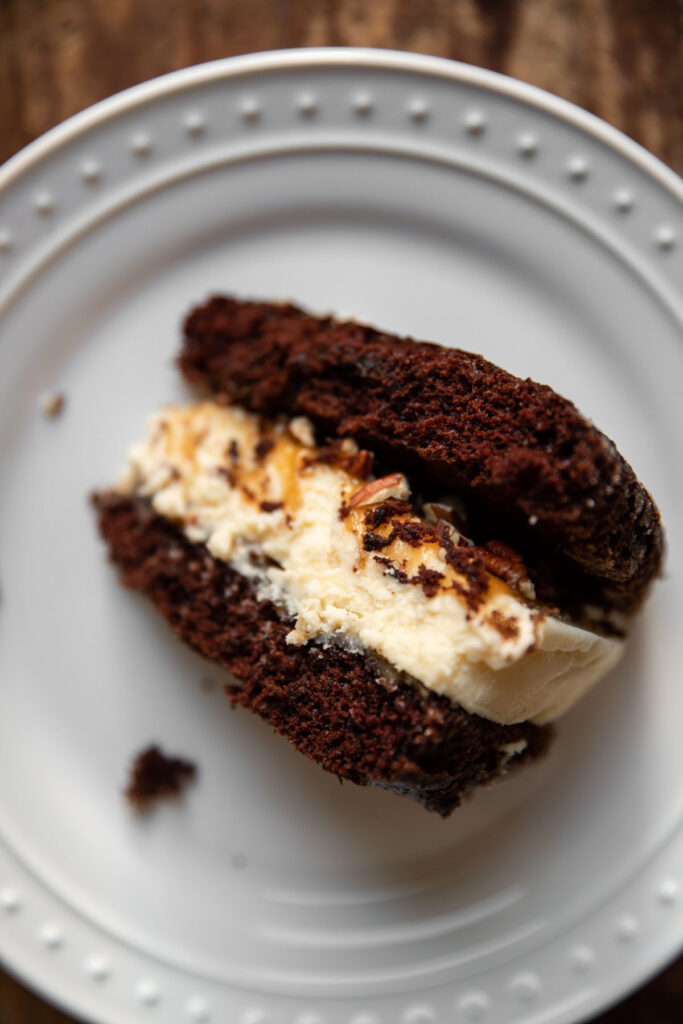 When you are ready to assemble the cake, the layers will go like this.
chocolate cake
salted caramel & pecans
cheesecake
salted caramel & pecans
chocolate cake
Dessert Recipes To Try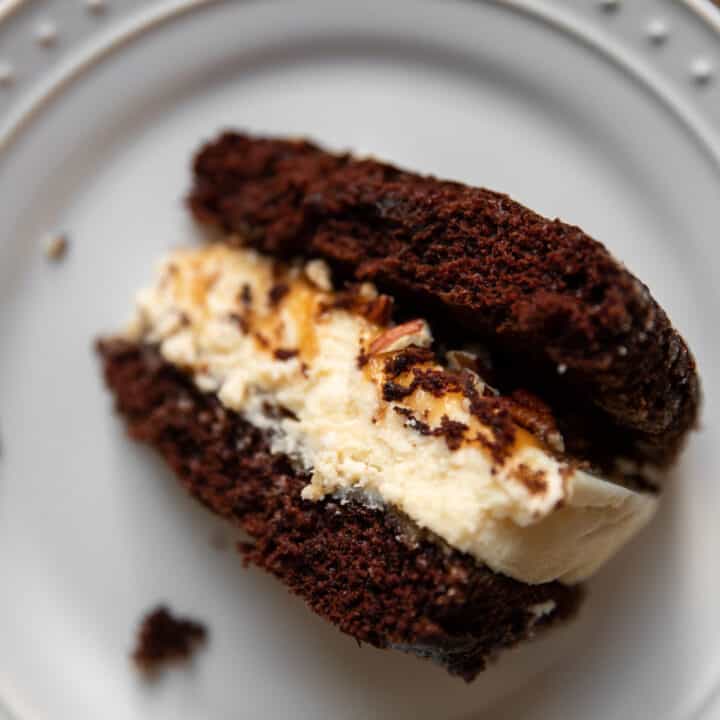 Salted Caramel Cheesecake Chocolate Cake
Silky cheesecake layered between moist chocolate cake, salted caramel and pecans.
Ingredients
cheesecake
16 oz cream cheese, 2 - 8 ounce blocks
½ tsp vanilla extract
pinch of salt
1 tbsp cornstarch
¾ c sugar
¼ c sour cream
3 eggs
cake
¾ c flour
1 c sugar
¼ c + 2 tbsp unsweetened cocoa powder
1 tsp baking soda
½ tsp baking powder
¾ tsp kosher salt
½ c buttermilk
¼ c oil
1 egg
1 tsp vanilla extract
4 oz hot coffee
caramel sauce
½ c brown sugar
¼ c butter
¼ c heavy cream
¼ tsp vanilla extract
¼ tsp salt
pecans, ½ c
Instructions
Preheat oven to 325
cheesecake
Beat together the cream cheese, vanilla, salt, cornstarch, sugar and sour cream
Mix in eggs, one at a time
Wrap the bottom of a springform pan with foil, and line the inside with parchment paper
Place the pan on a rimmed baking sheet
Fill the pan with batter
Place this in the oven, pouring water into the baking sheet (halfway up the sides) to create a water bath
Bake for 35-45 minutes, the middle will barely jiggle when done
Cool on the counter, transfer to the fridge to chill
chocolate cake
Raise oven temp to 350
Sift together in a bowl the flour, sugar, cocoa, baking soda, baking powder
In another bowl add the buttermilk, oil, egg and vanilla extract, stir
Add wet ingredients to dry, mixing until just combined
Stir in the coffee
Line two cake pans with parchment paper, pour even amount of batter in each
Bake for 15-20 minutes, or until a toothpick comes out clean
Cool cake in the pans on a wire rack
caramel
Whisk butter and brown sugar, constantly, in a sauce pan over medium heat
Continue whisking 3-4 minutes, low boil, no hotter than medium heat
Whisk in the heavy cream
Stir for 5 minutes
Carefully taste the caramel sauce (very hot), it should be silky smooth, not grainy
If it's still grainy, stir longer
Turn heat off
Whisk in vanilla extract and salt
Chop the pecans
To assemble the cake place a layer of chocolate cake on a cake plate, drizzle on caramel and chopped pecans, now the cheesecake layer, another drizzle of caramel and pecans, end with the last layer of chocolate cake
Chill for a few hours
Serve
Nutrition Information:
Serving Size:

1 grams
Amount Per Serving:
Unsaturated Fat:

0g
Make sure to follow Modern Crumb on Pinterest, Facebook and Instagram for lots of yummy meal inspiration! And subscribe to the newsletter, below, to get updates when new recipes post.