You are going to love this recipe for BBQ chicken pizza! Soft pillowy pizza dough with the most insanely good mixture of BBQ sauce, chicken, cheeses, onion and cilantro.  It's putting cheese pizza to shame.
And if you are a true pizza connoisseur you would love this Mellow Mushroom Kosmic Karma copycat, Hawaiian pizza or this caesar salad pizza.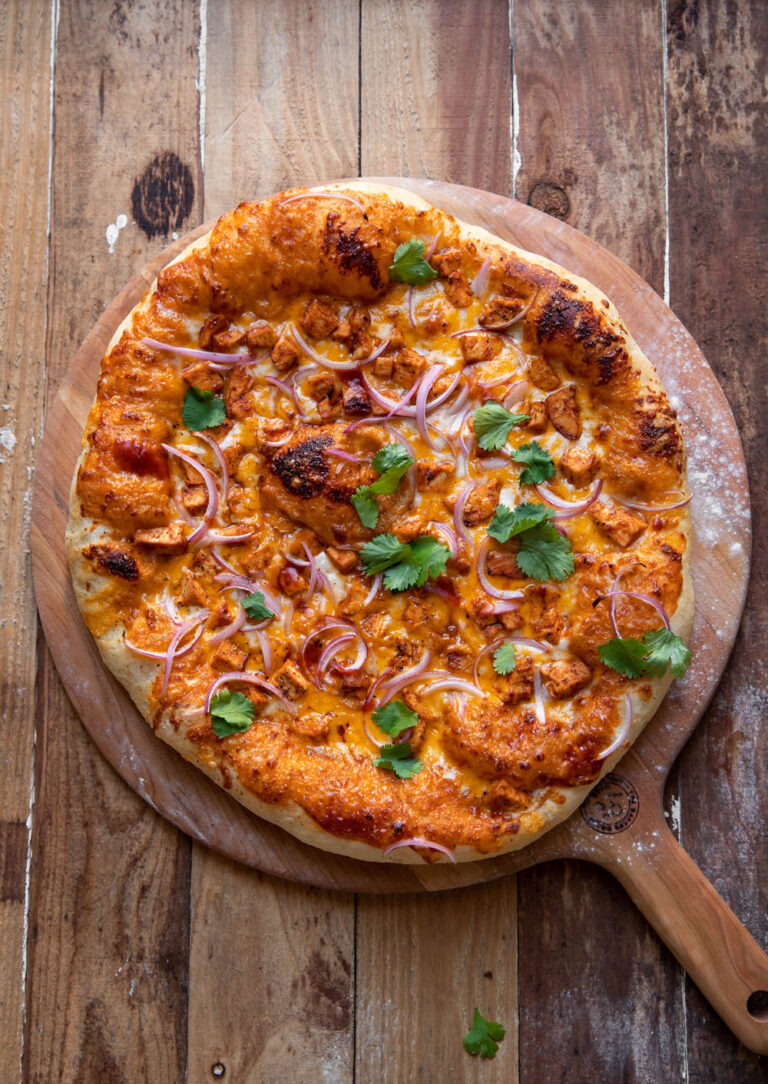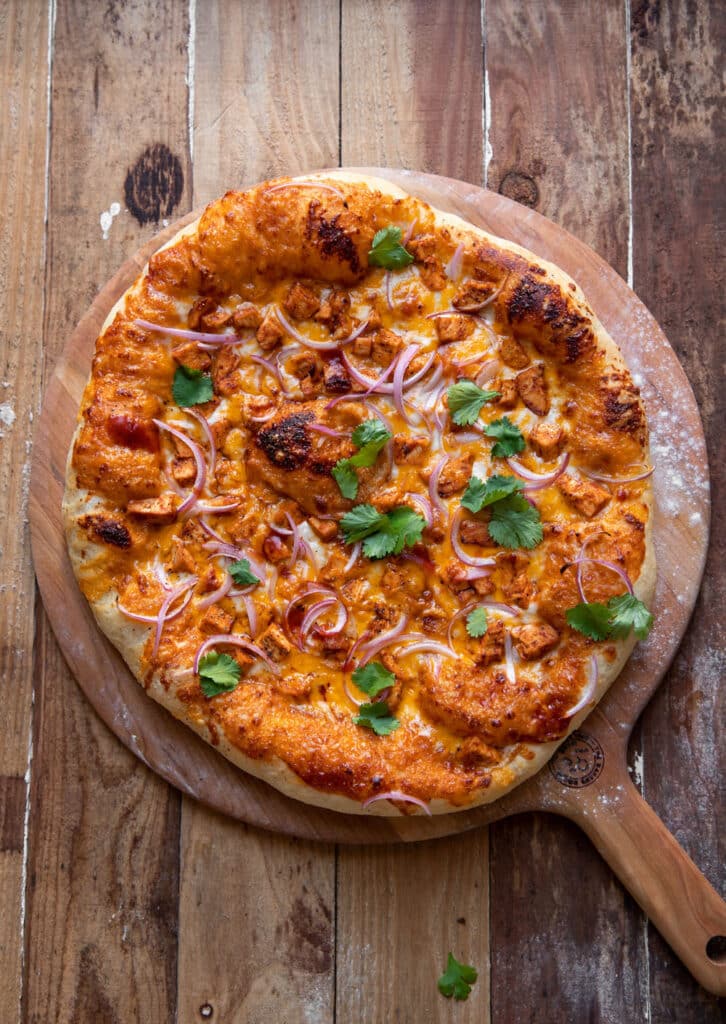 Pizza is my favorite food, is it yours? This BBQ chicken pizza recipe is the best!
My husband and I have been making homemade pizza for so many years, it's just second nature by now when it comes to whipping up a pie.
Pizza pie, that is.
And when I say my husband and I, I mean me (haha), if you asked him what's the first step I think he'd say "eat the pizza".
And making pizza doesn't have to be hard, it's actually really easy. You can opt for a store bought dough or you can make your own homemade dough.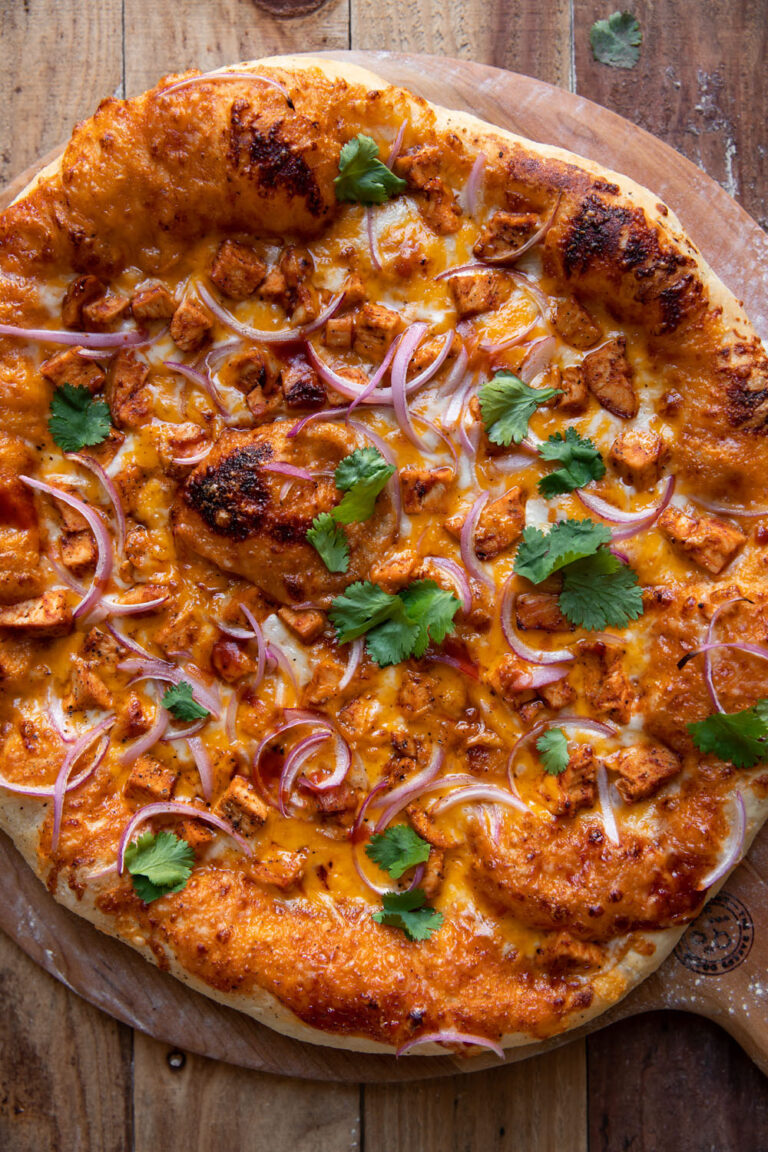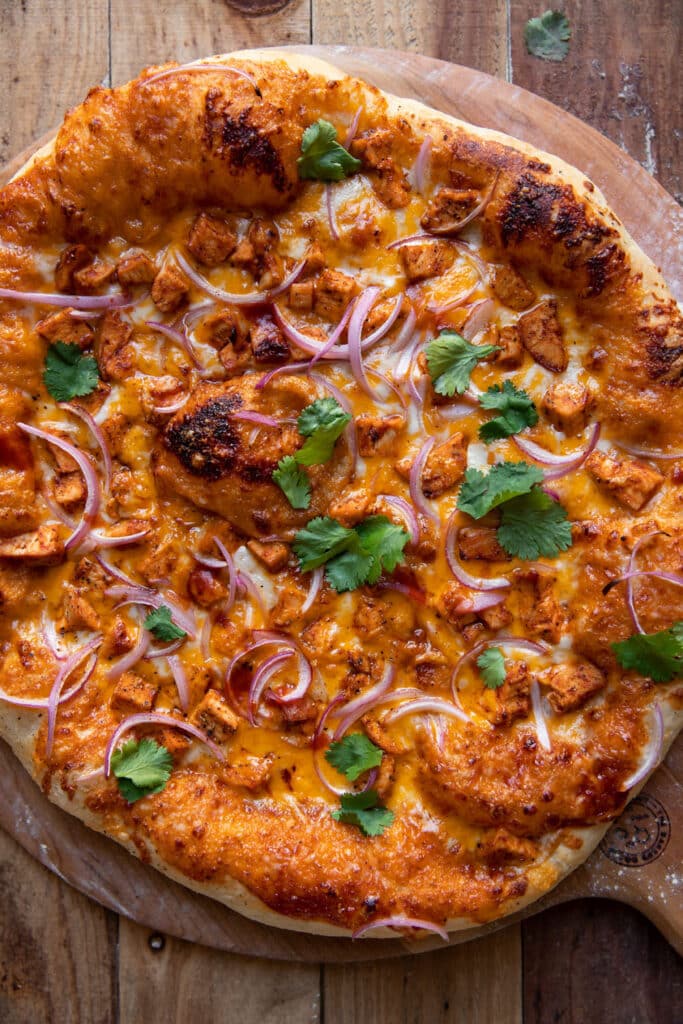 It's easier than you think to make a bbq chicken pizza.
Then you have fresh out of the oven pizza and it's a healthy alternative to store bought or delivery pizza.
Which means extra slices.
I'm just gonna say it, California Pizza Kitchen has nothing on this BBQ chicken pizza. And while we are on the subject of 'better than', it shuts down Papa John's too.
What Toppings are on BBQ Chicken Pizza?
The ingredients are pretty basic. You only need a handful of things.
Chicken – I prefer chicken breast, but it really doesn't matter what you choose. You could even use leftover rotisserie chicken.
Pizza Dough – Homemade or store bought, either will do the trick
Mozzarella Cheese
Cheddar Cheese – The mixture of both mozzarella and cheddar cheese are crucial to the perfect pizza iconic taste

a great BBQ chicken pizza should be made with mozzarella and cheddar cheese, both shredded

BBQ Sauce – Whatever your favorite is, go for it, but my personal preference is a traditional sauce that's not too sweet and not too smoky

and instead of using a red pizza sauce, you use bbq sauce as your base

Red Onions – Add the the whole flavor and they look so pretty!
Cilantro – You can take or leave the cilantro, only half of my household likes it so I just toss it on half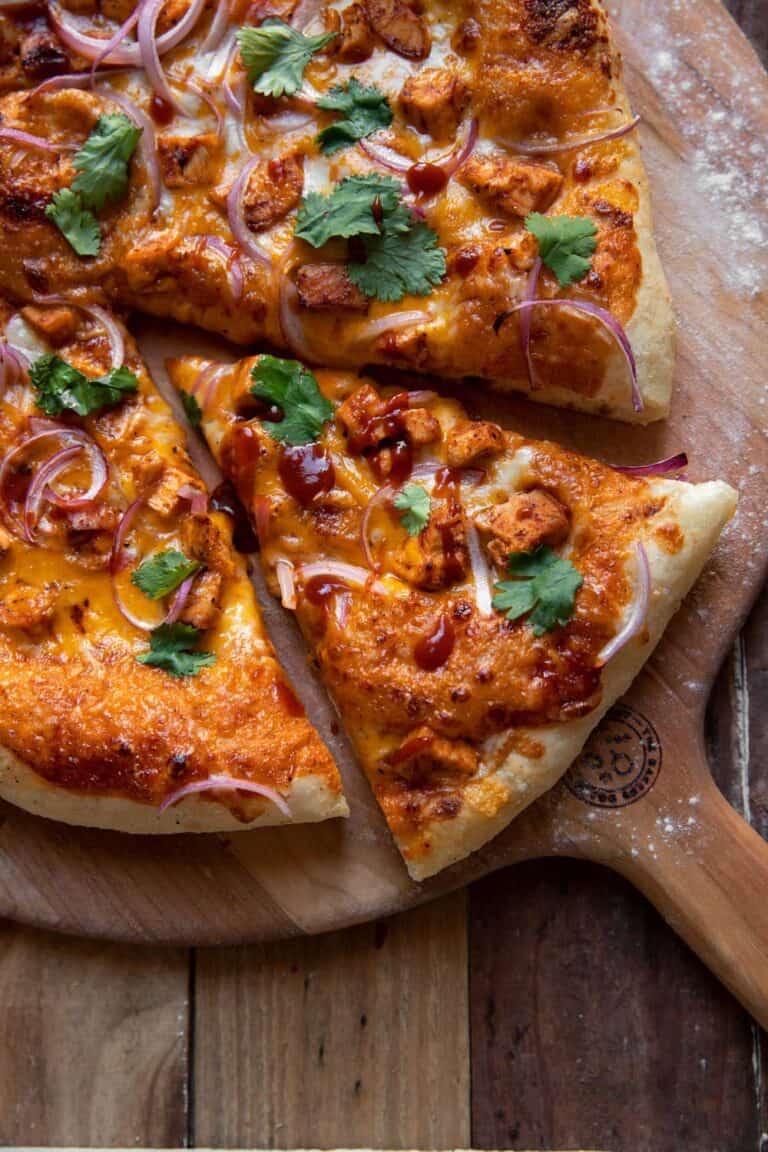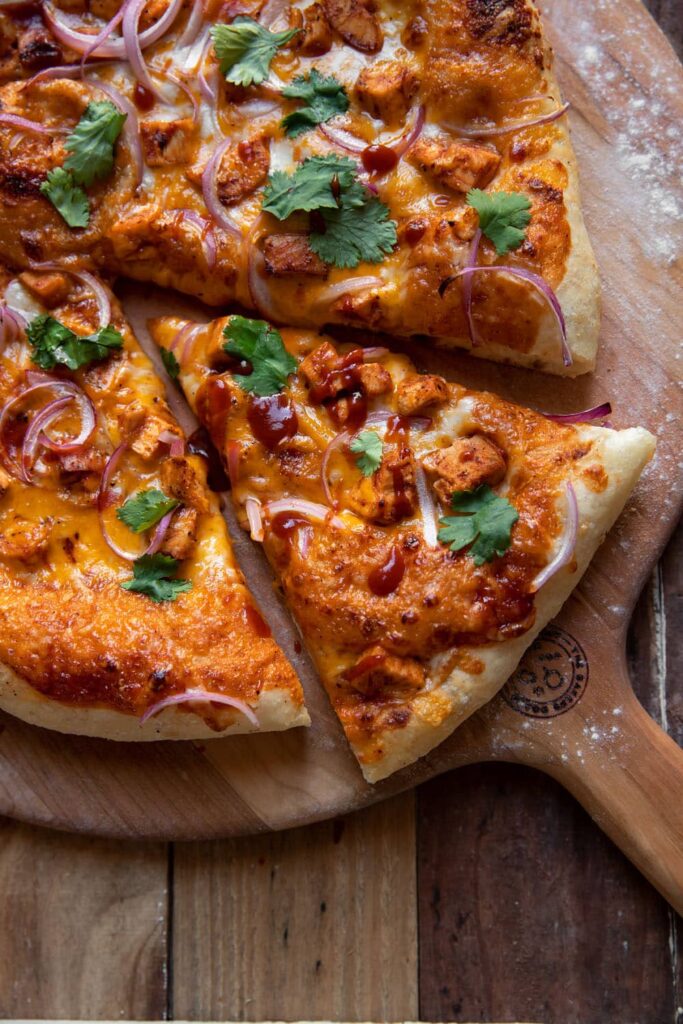 How To Make Pizza Dough
For this homemade pizza dough recipe all you need is an hour.
Combine warm water with a pinch of sugar and yeast, let it poof up
Stir it together with flour, salt and olive oil
Mix together until a smooth dough forms
Rest until it doubles

my tip is to warm your oven a bit, turn it off and let the pizza dough rise in there, it speeds up the entire process

Roll out the dough, cut it in two, cover with a cloth and grab it once you are ready to make the pizza
It's seriously and I'm not being all food bloggy and saying it takes one hour but really it's half a day.
It's one hour pizza dough.
Soft puffy edges and a perfect base. It holds all those delicious BBQ chicken toppings perfectly.
Over the years we've tested out all sorts of variations of toppings but BBQ chicken is one of my families all time favorites.
After years of making it I'd like to think I've perfected this recipe too.
I top it with cilantro after it's cooked in the oven, I like that refreshing herb taste, it really kicks the flavor profile up a notch, or ten.
Check it out below.
Pizza Recipes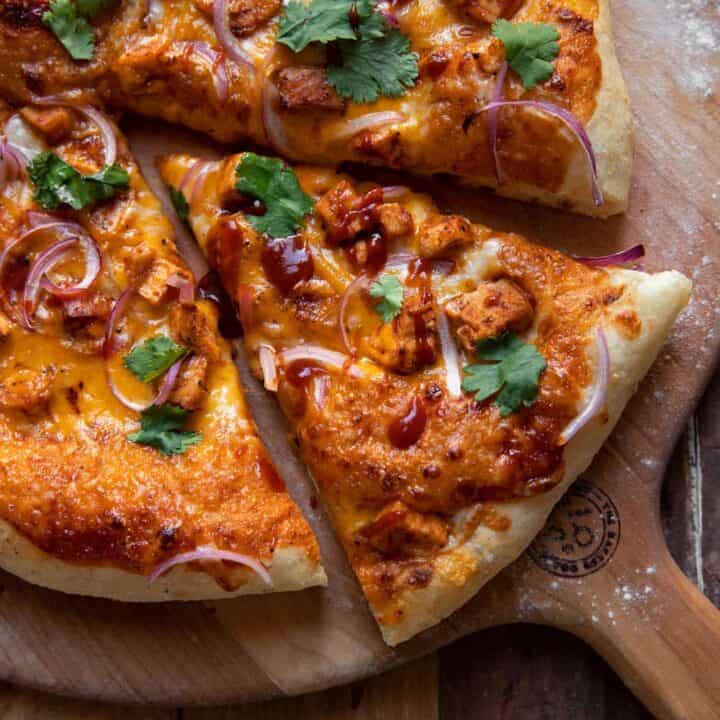 The Best Ever BBQ Chicken Pizza
Soft pillowy pizza dough with the most insanely good mixture of BBQ sauce, chicken, cheeses, onion and cilantro. It's putting cheese pizza to shame.
Ingredients
1 chicken breast, seasoned with s + p, cooked and chopped into small cubes
1 ball of pizza dough, recipe link below
1/2 c mozzarella
1/2 c extra sharp cheddar cheese
BBQ sauce of choice
1/4 red onion sliced thinly
handful of cilantro chopped
Instructions
Start by cooking your chicken breast if you don't have some precooked
Cook the chicken for 20 minutes at 400 degrees
Chop up the chicken and toss it in some bbq sauce
Preheat oven to 475
Sprinkle a pizza peel with flour, semolina, or corn meal
Stretch out the pizza dough onto the pizza peel
Top with bbq sauce and a sprinkle of salt and pepper
Follow it with the mozzarella and cheddar cheese, bbq chicken and red onion and a pinch of salt and pepper
Launch the pizza onto your pizza stone
Cook for about 10 minutes
Pull from the oven
Let it cool a few minutes before sprinkling on the chopped cilantro
Cut into 1/8ths and serve!
Nutrition Information:
Yield:

4
Serving Size:

1 grams
Amount Per Serving:
Unsaturated Fat:

0g
Did you make this recipe? Please leave a review!
Make sure to follow the Modern Crumb Board on Pinterest for lots of yummy meal inspiration! And subscribe to the newsletter, below, to get updates when new recipes post.