Quiche is a wonderful dish to make for a special breakfast or brunch. This is a basic quiche recipe but you can be creative and add extra ingredients to it, it's very versatile. It's meant to be perfectly imperfect and rustic, no need to be fancy when you prepare the homemade crust.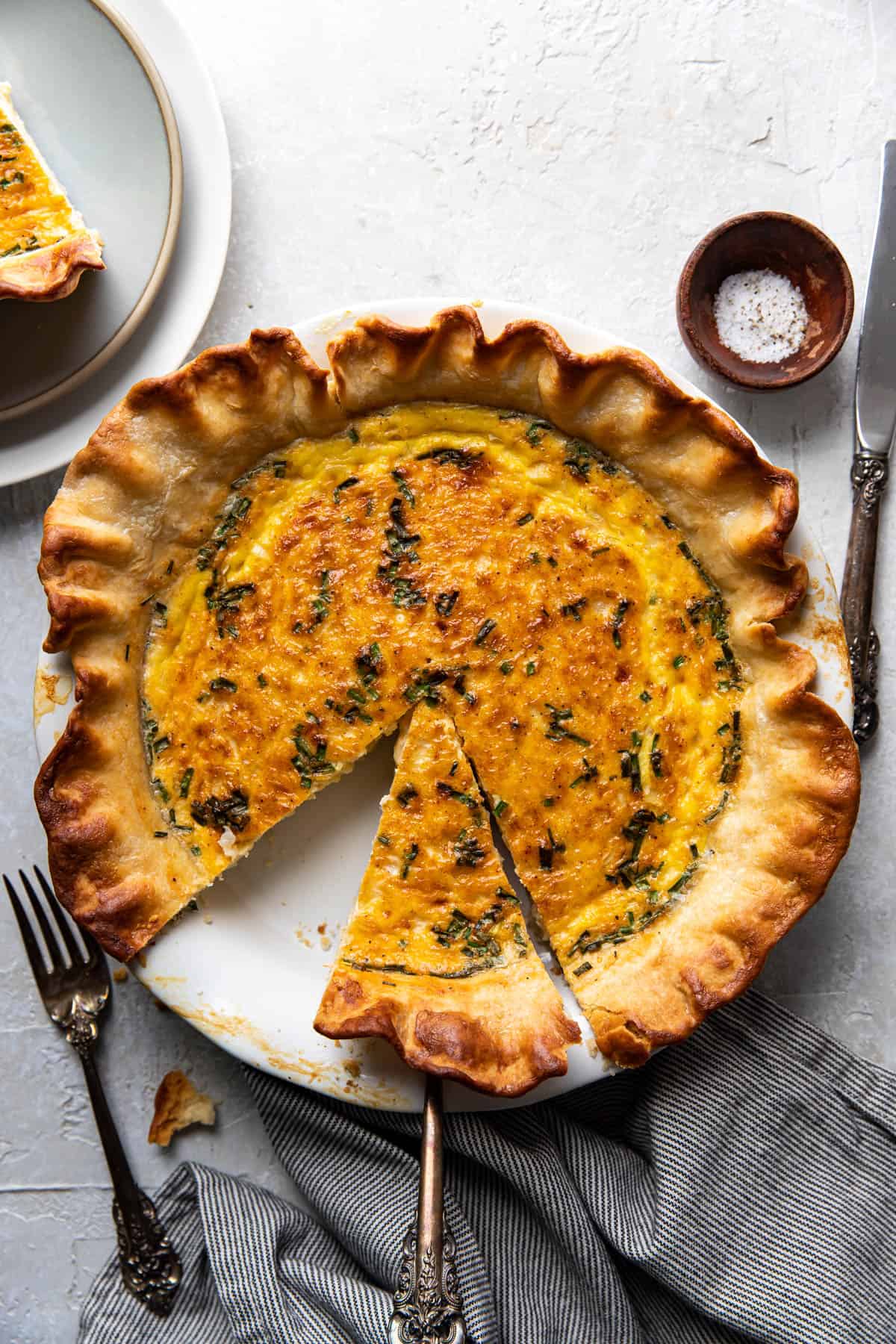 Whenever I need to make a dish for a special occasion (like Easter or Mother's Day) I always think of a quiche. It's so appetizing but takes such minimal effort. That's my favorite type of cooking when it's for a gathering, easy cooking.
Because odds are you are making more than just one dish, my other go to is a loaf cake. This raspberry lemon loaf cake, coffee cake loaf cake and lemon poppyseed loaf cake are all so delicious!
Since it's spring time and Easter is the big holiday then of course you'll want to make this carrot cake with cream cheese frosting. It always gets rave reviews.
I like to have a sweet and a savory dish. My mom used to make this quiche all the time when I was a kid. I was a very picky eater but I did love her quiche, and that's the recipe we'll be using today. If she would have let me, I would have eaten the entire thing.
I really don't enjoy fussing with pie crust, however I like it much more than store-bought. My mom was the same way, so that's why the crust looks very rustic. It's a really delicious crust! It bakes up perfectly under the filling, no need to pre-bake.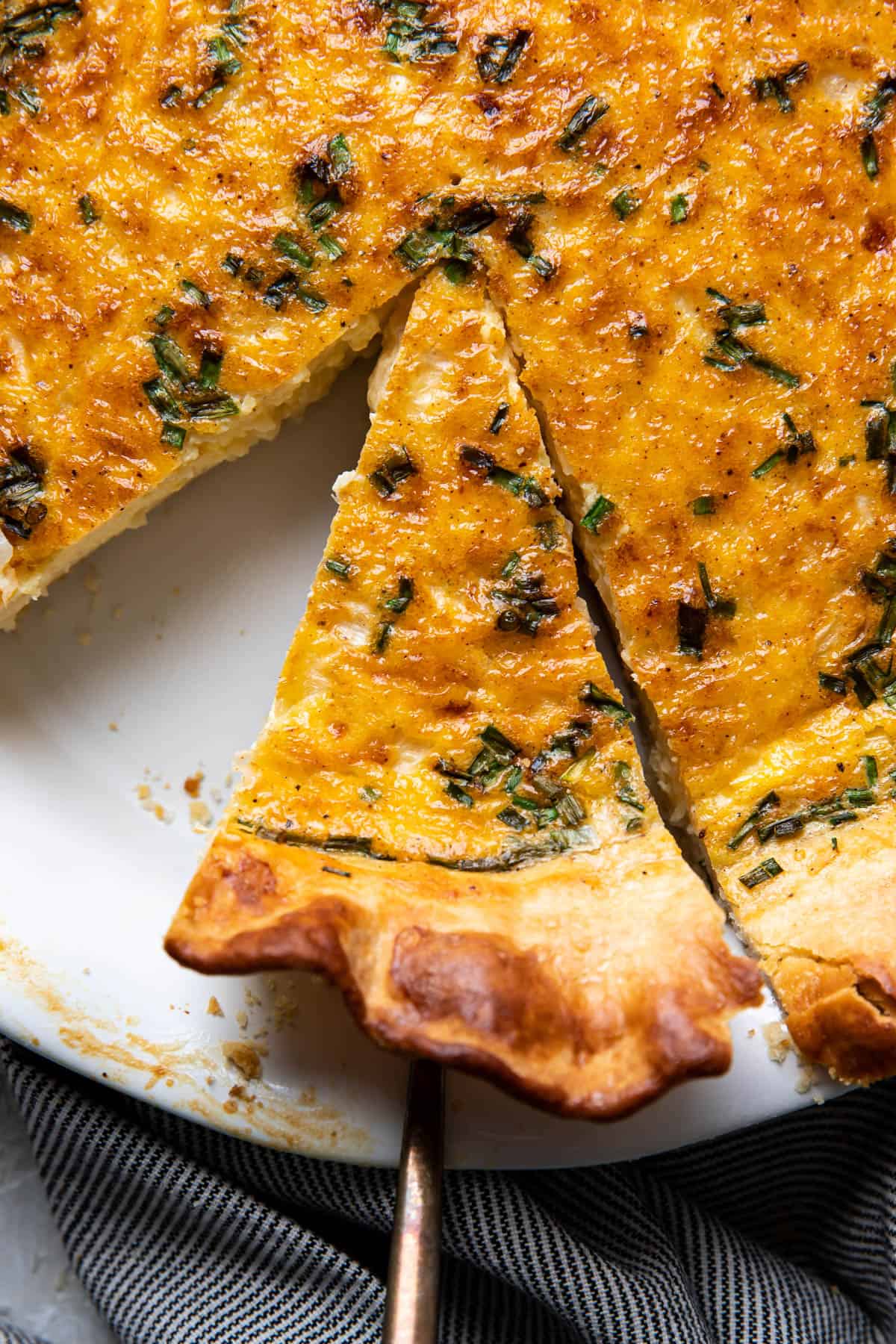 Ingredients
An overview of what ingredients you will need, for the full list of ingredients and instructions please refer to the recipe card at the bottom of this post.
butter - you will need real butter for this recipe, no margarine
onion
eggs
half and half - my mom recommends half and half over cream because heavy cream is too rich
salt
pepper
nutmeg
paprika
chives
swiss cheese
all purpose flour
baking powder
cold water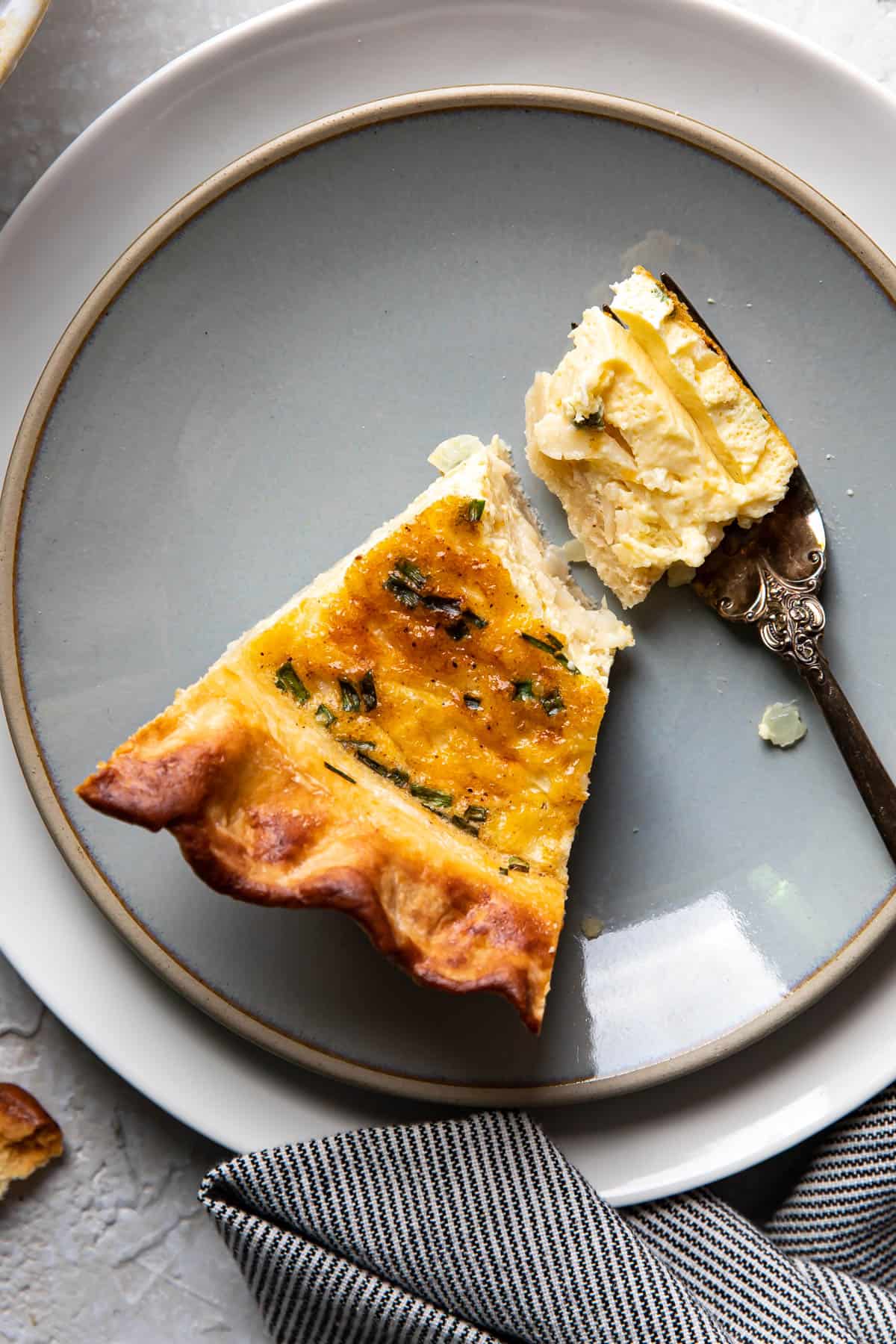 Mom's Quiche Tips
Here are a few of mom's quiche tips that she swears by when making her quiche.
Cover the crust. Mom always recommends to cover your crust with foil or a crust cover (there are ones made specifically for this purpose) so that the crust doesn't get too dark.
Checking for doneness. Mom recommends that when you are checking on the doneness of your quiche you opt for a knife, not a toothpick. She notes that it's harder to see with a toothpick if the quiche is done. Stick the knife right near the center to check.
Over beating. Mom recommends not over beating the filling mixture. It will stay creamy if you don't over beat.
How To Make The Quiche Filling
The filling is easy to make.
Start by sauteeing chopped onions in some butter for 5minutes. Until they are soft and transluscent.
In a bowl mix together the eggs, half and half, salt, pepper, nutmeg and paprika. Mix this well so that there isn't any streaking from the eggs, you want the eggs completely mixed in.
Then add in grated swiss cheese and chopped chives.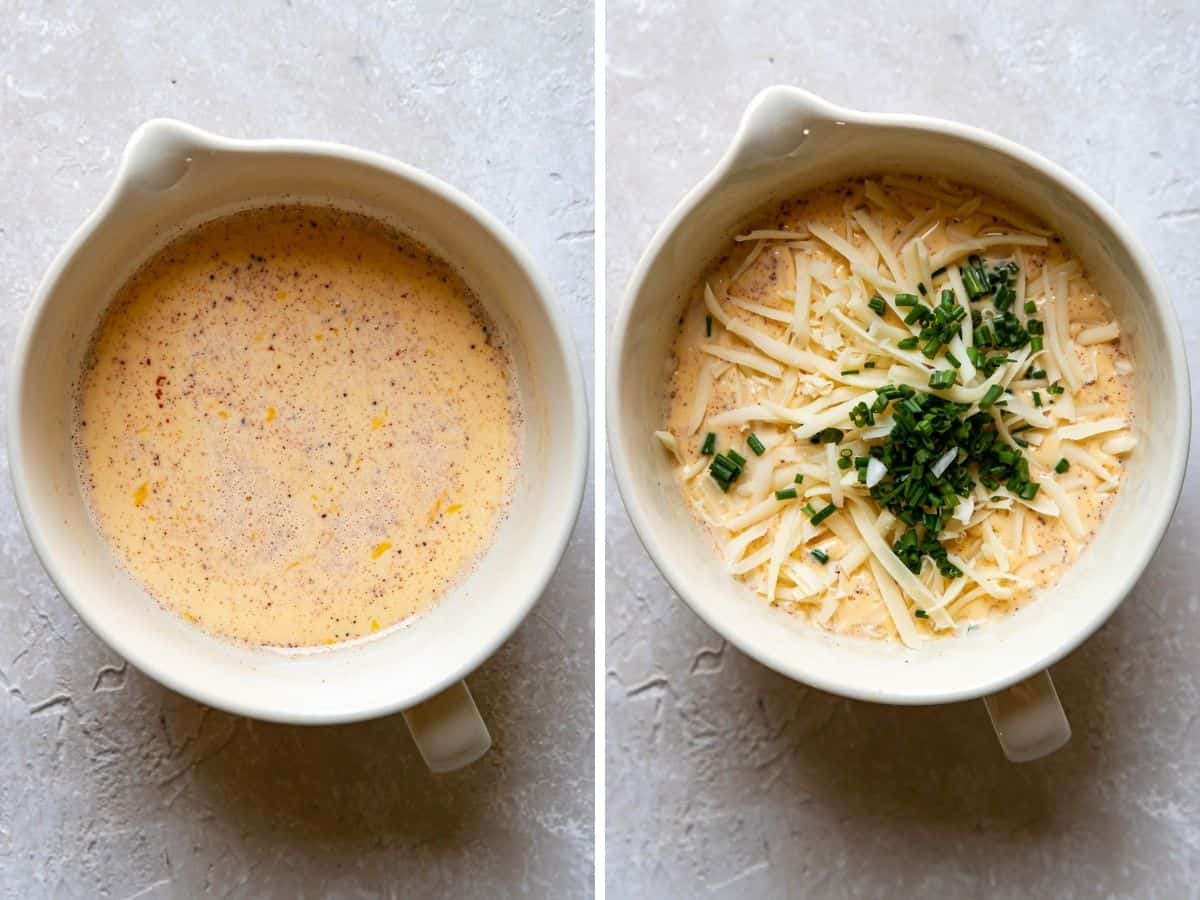 How To Make The Quiche Crust
This is my go to crust recipe, I use it for so many different recipes including this chicken pot pie.
To make the crust you will need flour, butter, salt, baking powder and cold water.
A food processor makes this the easiest but if you do not have one you can use your hands. You'll need to combine all the dry ingredients first. Then pulse in the cubes of butter (use your hands to combine the butter and flour) until there aren't any large pieces left.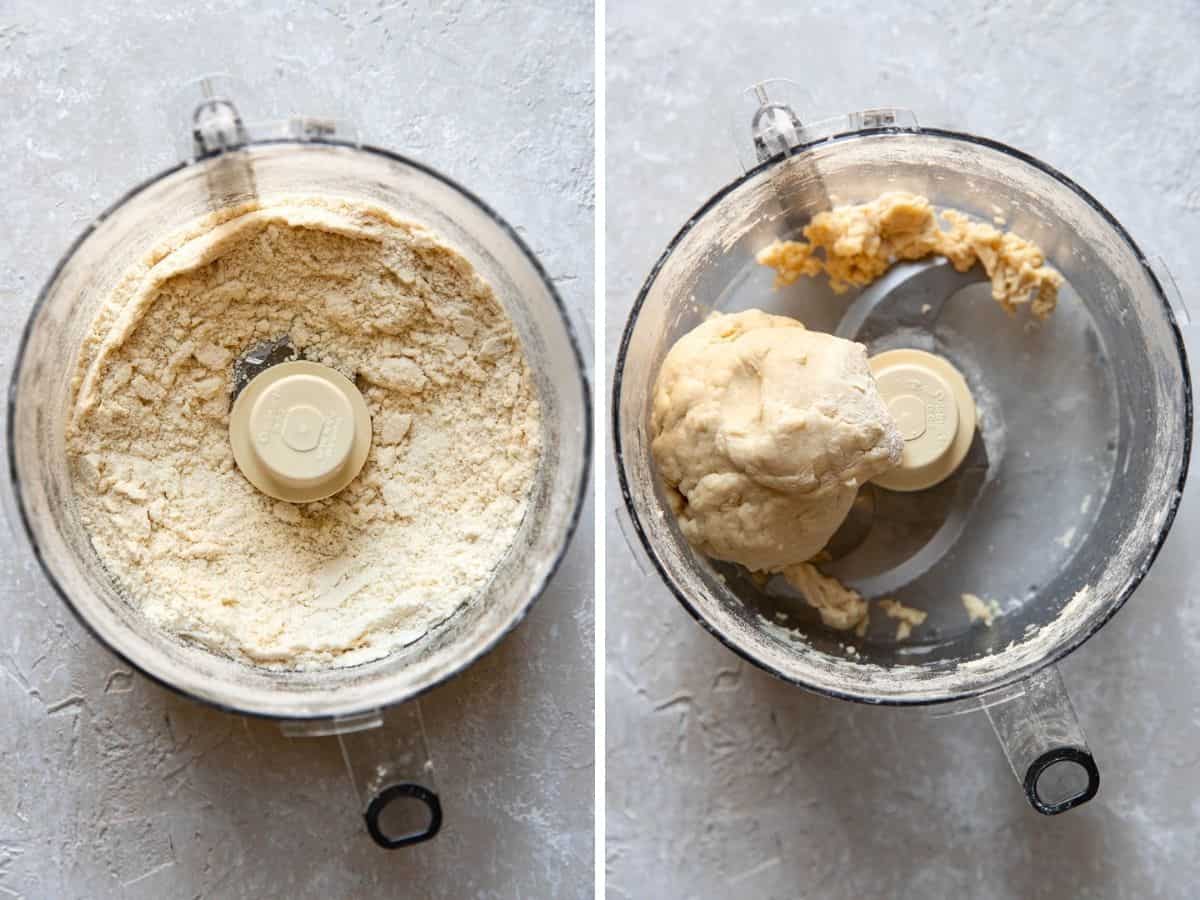 Slowly drizzle in the cold water until a dough ball forms in your food processor. You may not need all the water so don't dump it all in right away. I've found sometimes I need less and sometimes more.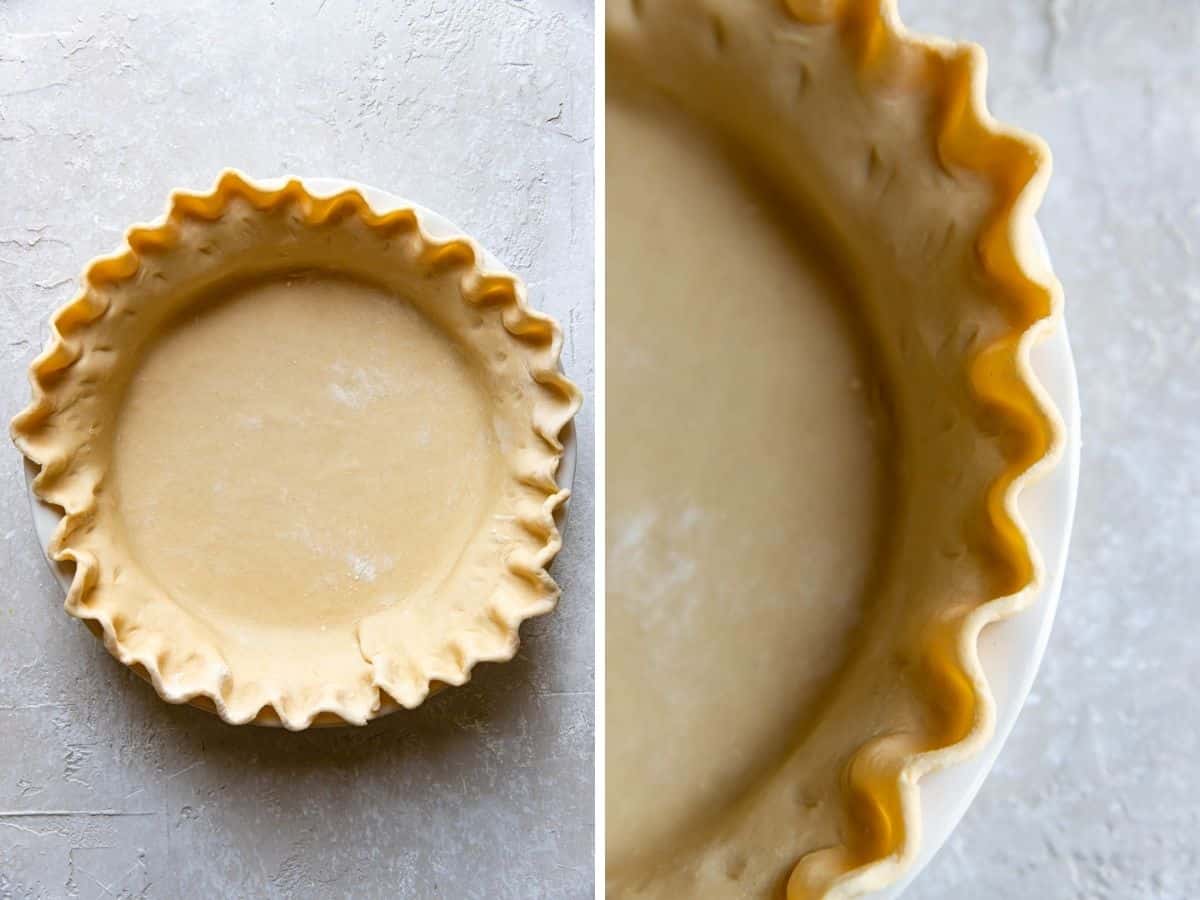 Roll the dough out in to a circle on a well floured surface. Place the rolled out dough into your pie pan. At this stage you can leave the edges as is, crimp them, or even trim them. It's up to you! Then chill in the fridge for 30 minutes.
You can now pour the filling into the crust and bake it.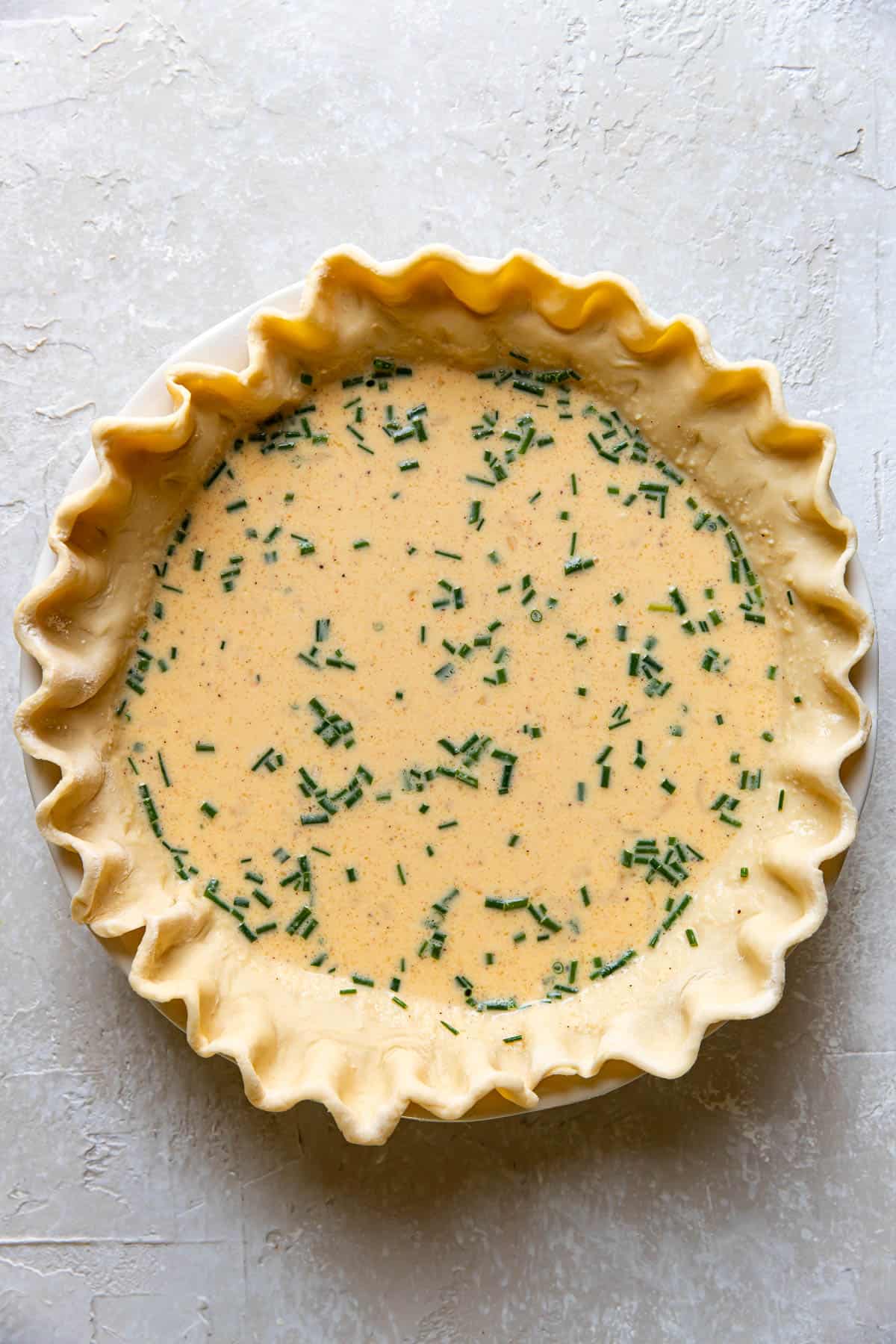 FAQ
Is quiche suppose to wiggle when it comes out of the oven?
Yes the center should have a wiggle to it when it comes out of the oven. Your quiche will continue cooking even after it has come out of the oven and will set up. The edges should be set though.
Can I use milk in quiche?
It won't be as creamy as using half and half. If you would like to use milk I suggest whole fat milk.
What can I add to this quiche?
To make a quiche Lorraine all you need to add is bacon. To make a quiche florentine you'll need to add spinach. You can add whatever ingredients you want to make it perfect for you!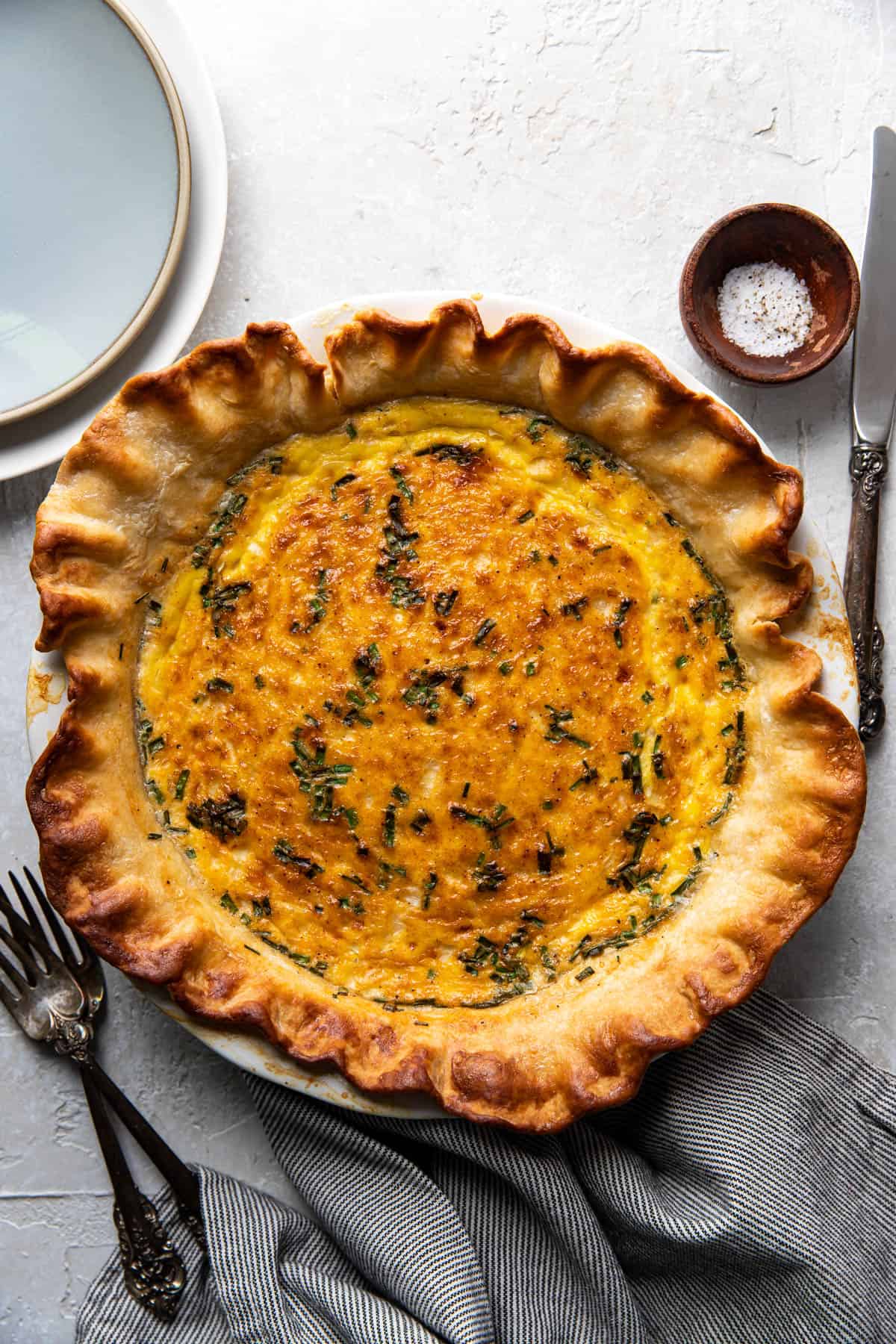 More Brunch Dishes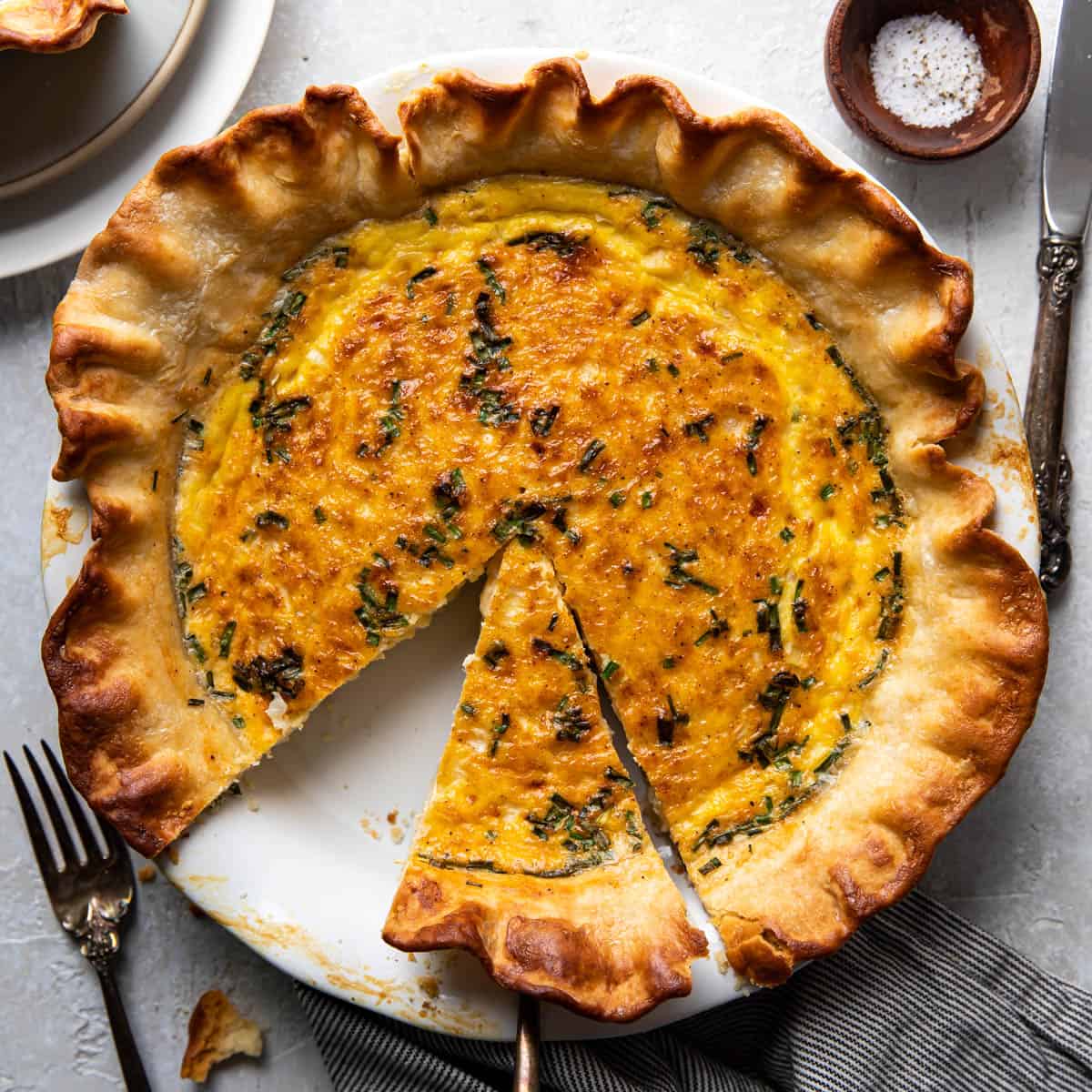 Mom's Basic Quiche Recipe
Total Time:
1 hour
30 minutes
Quiche is a wonderful dish to make for a special breakfast or brunch. This is a basic quiche recipe but you can be creative and add extra ingredients to it, it's very versatile. It's meant to be perfectly imperfect and rustic, no need to be fancy when you prepare the homemade crust.
Ingredients
1 tbsp butter
1 c chopped onion
7 eggs
1 ½ c half and half
1 tsp kosher salt
¼ tsp pepper
⅛ tsp nutmeg
⅛ tsp paprika
1 tbsp chopped chives
6 oz Swiss cheese, grated
Crust
1 ½ c all purpose flour
½ tsp kosher salt
½ tsp baking powder
½ c butter, cold and cubed
4 oz cold water
Instructions
Preheat the oven to 375
In a food processor add the flour, salt and baking powder and pulse together
Add the cubes of cold butter and pulse together until it turns to fine crumbs
Drizzle in the cold water (do not add it all at once, you may not need all the water) processing until it turns into a dough ball
Put this on a well floured surface and roll out into a large circle
Place the dough in a 9" pie plate, you can crimp the edges, leave them as is or cut the excess off
Put the crust in the fridge for 30 minutes
Melt the butter in a pan over medium/low heat and saute the chopped onions until transluscent
In a large bowl whisk together the eggs until completely blended
Stir in the half and half, salt, pepper, nutmeg, paprika, Swiss cheese, chives and sautéed onions
Take the quiche crust out of the fridge and pour in the filling
Brush the edges with some half and half, cover the crust edges with tinfoil or crust covers, during the last 15 minutes if they aren't golden enough, remove the crust covers (see notes)
Put the quiche in the oven and bake for 45-55 minutes
The quiche is done (see notes) when it is set around the sides and has a slight wiggle still in the middle
Notes
Alternatively instead of crust covers you can pull the quiche out of the oven halfway through baking and brush the crust with half and half
You can do the knife test to check if your quiche is done, use a thin knife near the center and if it comes out clean the quiche is done
Recommended Products
As an Amazon Associate and member of other affiliate programs, I earn from qualifying purchases.
Nutrition Information:
Yield:

10
Serving Size:

1 slice
Amount Per Serving:
Calories:

332
Total Fat:

23g
Saturated Fat:

13g
Trans Fat:

1g
Unsaturated Fat:

8g
Cholesterol:

186mg
Sodium:

400mg
Carbohydrates:

19g
Fiber:

1g
Sugar:

3g
Protein:

13g
This information comes from online calculators. Although moderncrumb.com attempts to provide accurate nutritional information, these figures are only estimates.