Tomatillo salsa, also known as salsa verde, is a green salsa with a mild level of spice. This roasted tomatillo salsa verde recipe starts with roasting your ingredients in the oven for the best flavor possible. It's perfect as an appetizer or to top your favorite taco and enchilada recipes.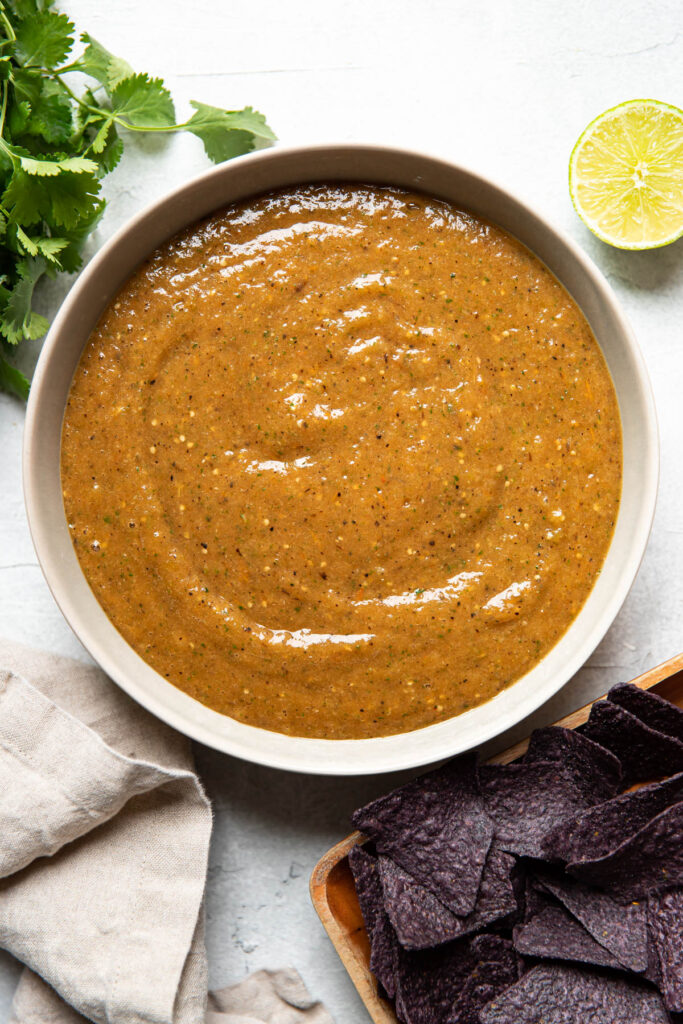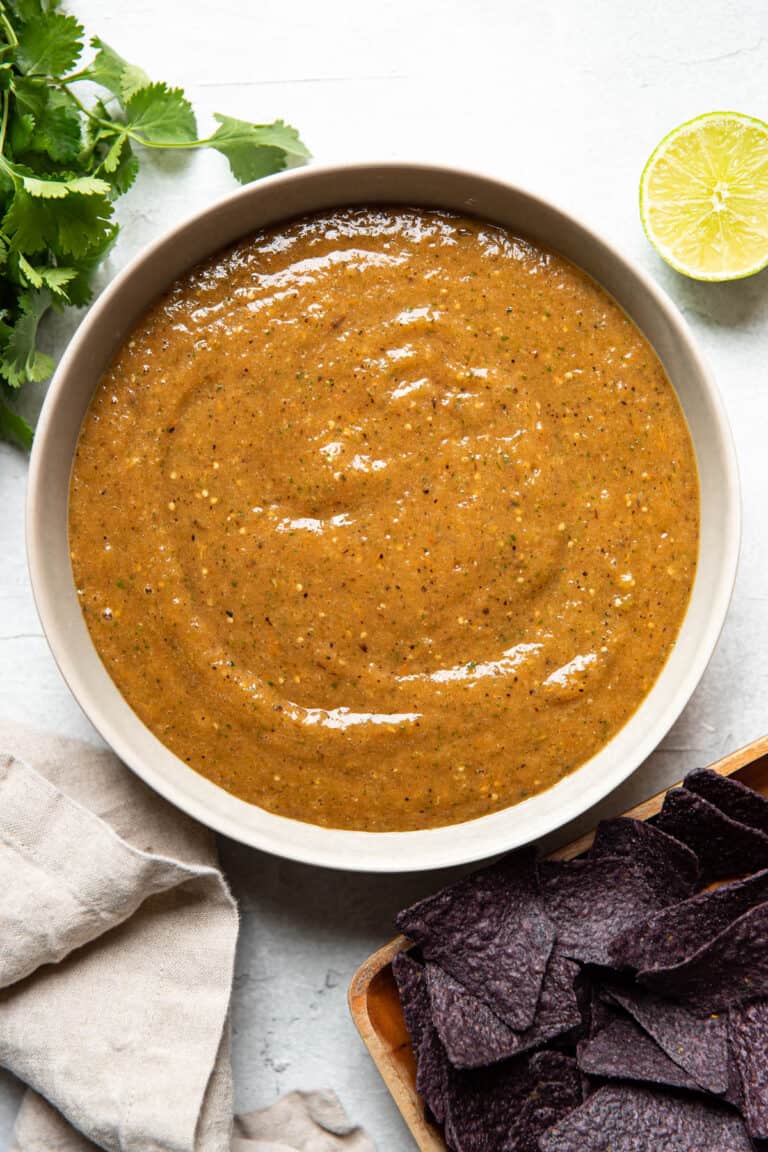 Tomatillo salsa is made with tomatillos, tomatoes, jalapeños, onion and garlic then flavored with some cilantro, lime juice and cumin. A misconception is that it's made from green tomatoes. Tomatillos resemble the tomato but they have a very different taste.
Tomatillos have a slightly bitter, acidic taste to them but when you pair them with all those other vegetables it turns into a really delicious salsa. Roasting all of the ingredients gives everything a deeper more robust flavor.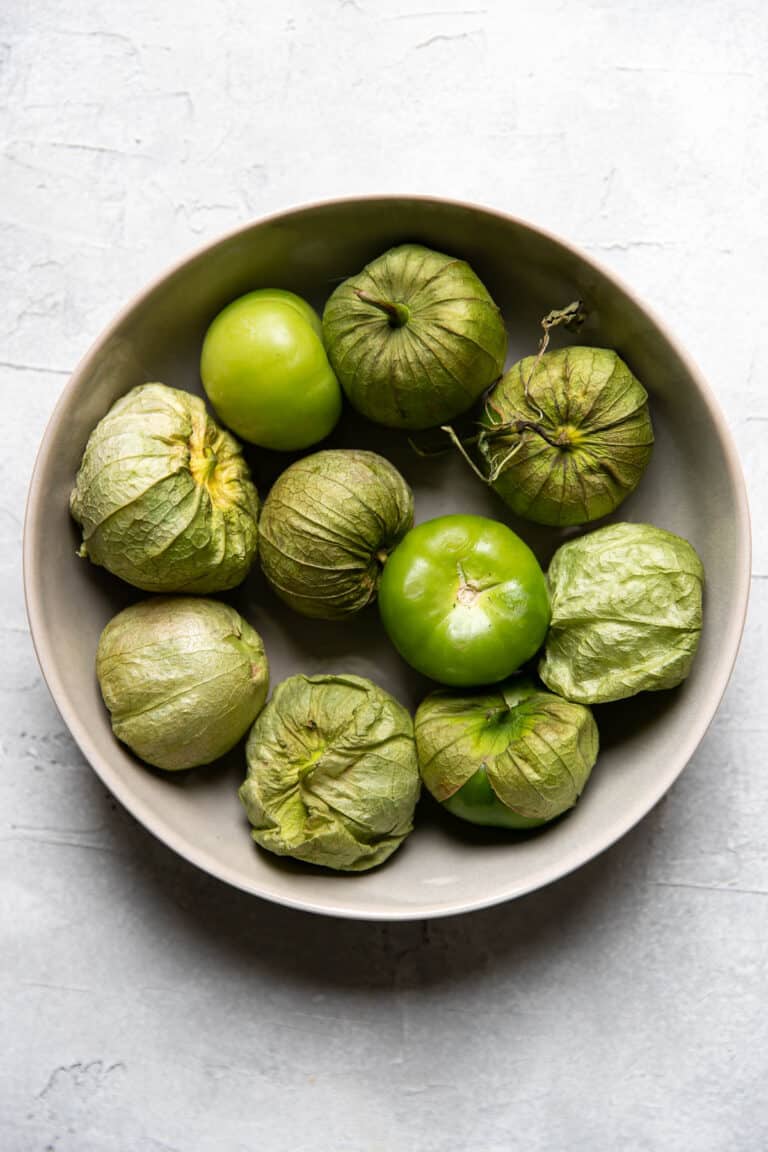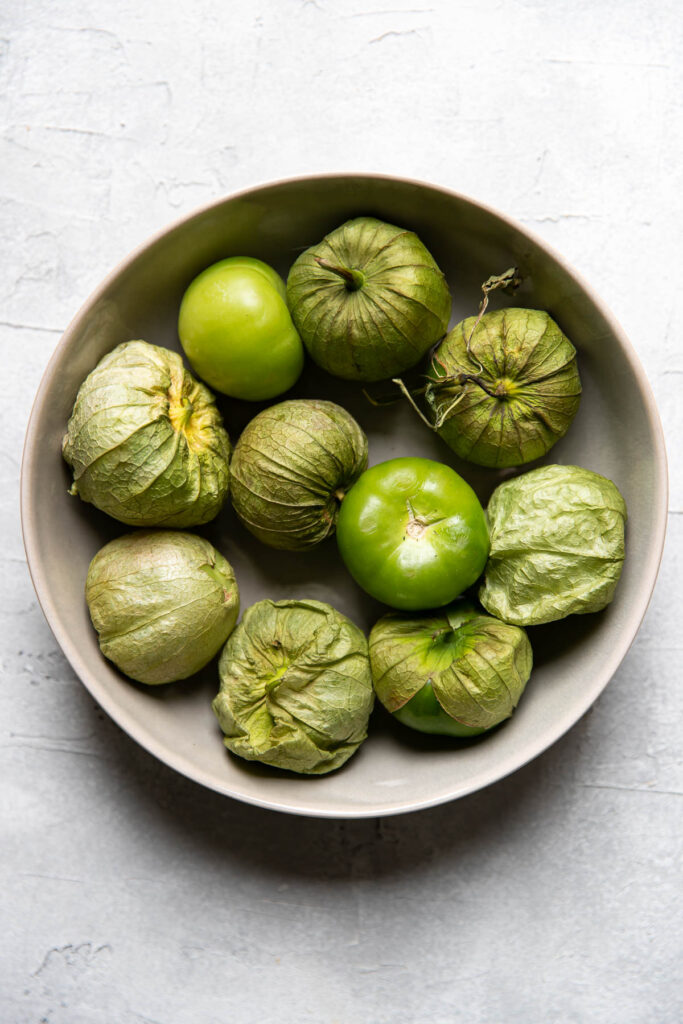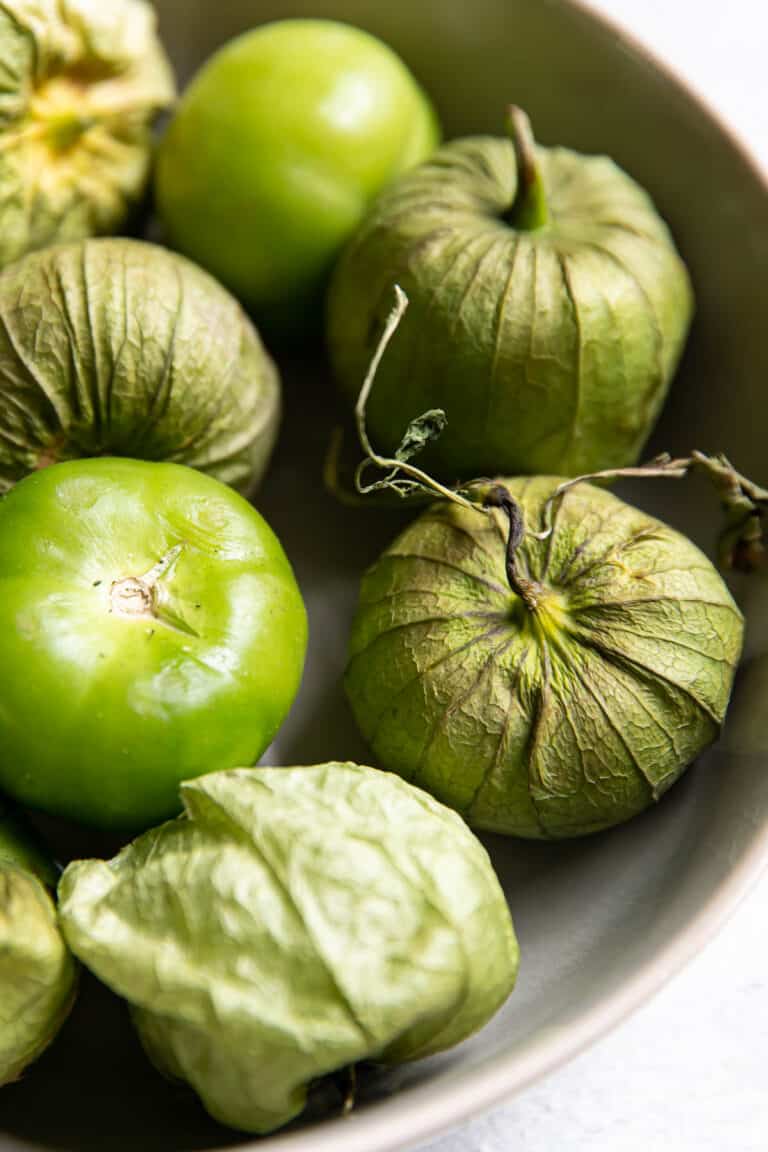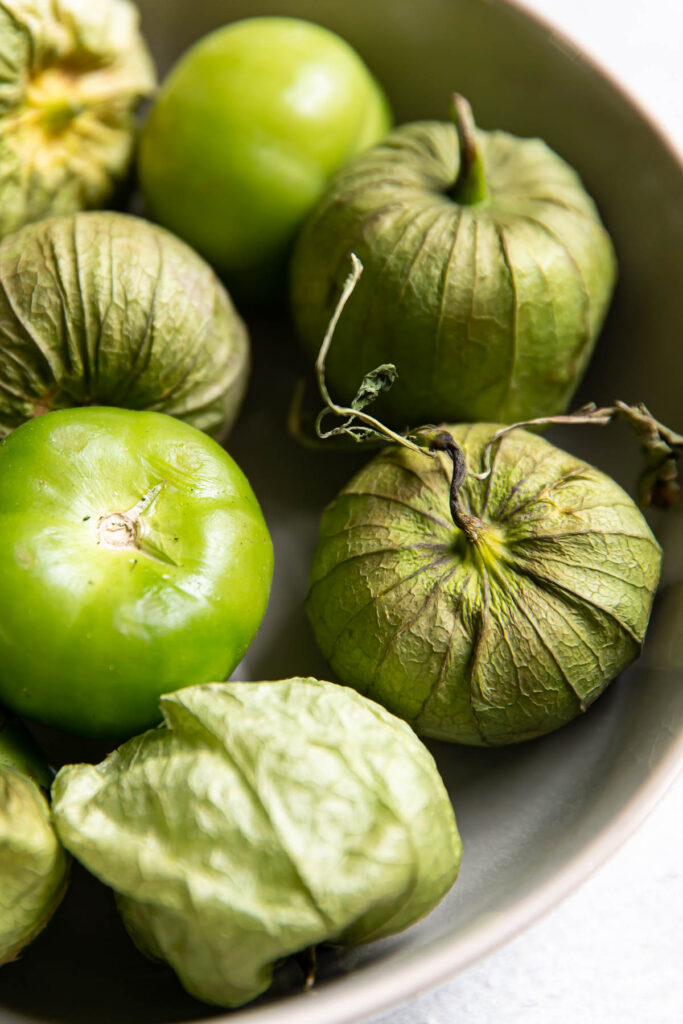 People often think that tomatillos are spicy but in fact they aren't! To give this salsa just a tiny bit of heat there is a jalapeño in the recipe but not enough to take it above a mild level spiciness. If you want it spicier, you can add a few extra jalapeños.
There's so much you can do with this salsa! It's perfect as a standalone chips and salsa appetizer or r or to use it for topping tacos or enchiladas. I think it's really good on these cream cheese white chicken enchiladas.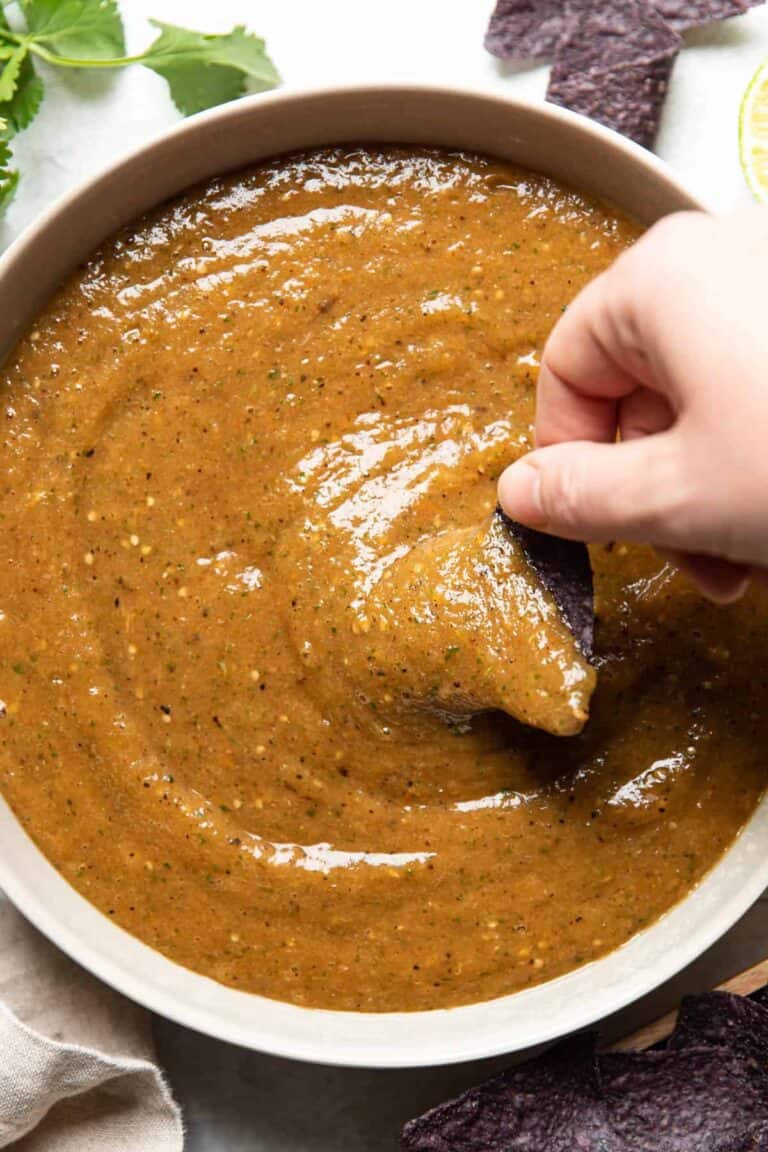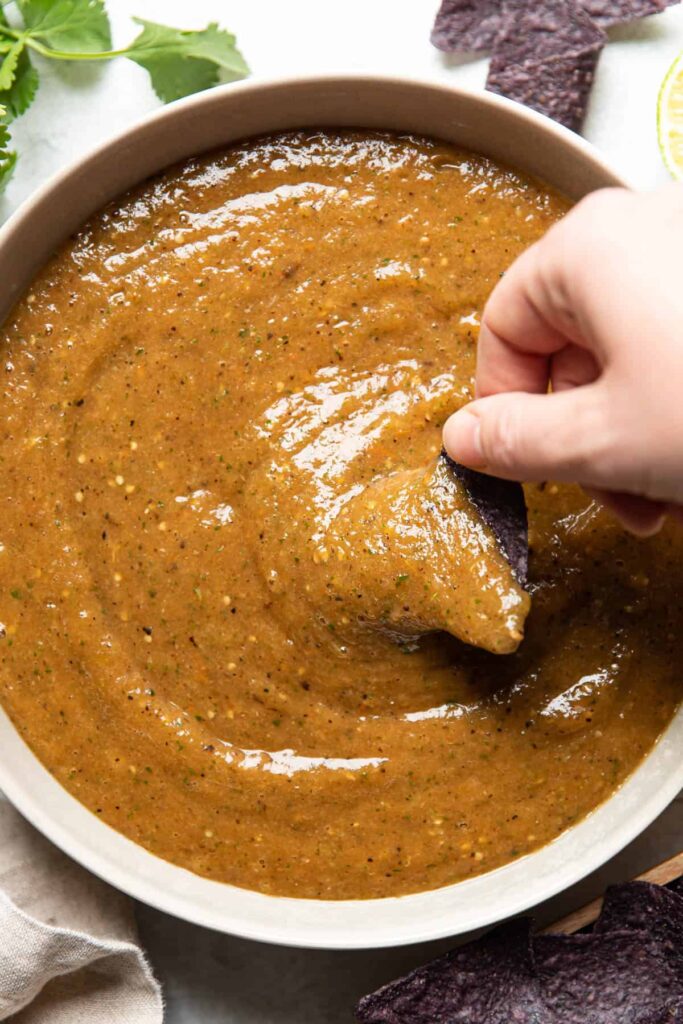 How To Roast Tomatillos For Salsa
The first step is to clean the tomatillos. Tomatillos come with a rough husk around them, you'll want to remove this and thoroughly wash them. I like to use a vegetable spray, it gets off all the gunk that was inside the husk (it can be pretty dirty in there).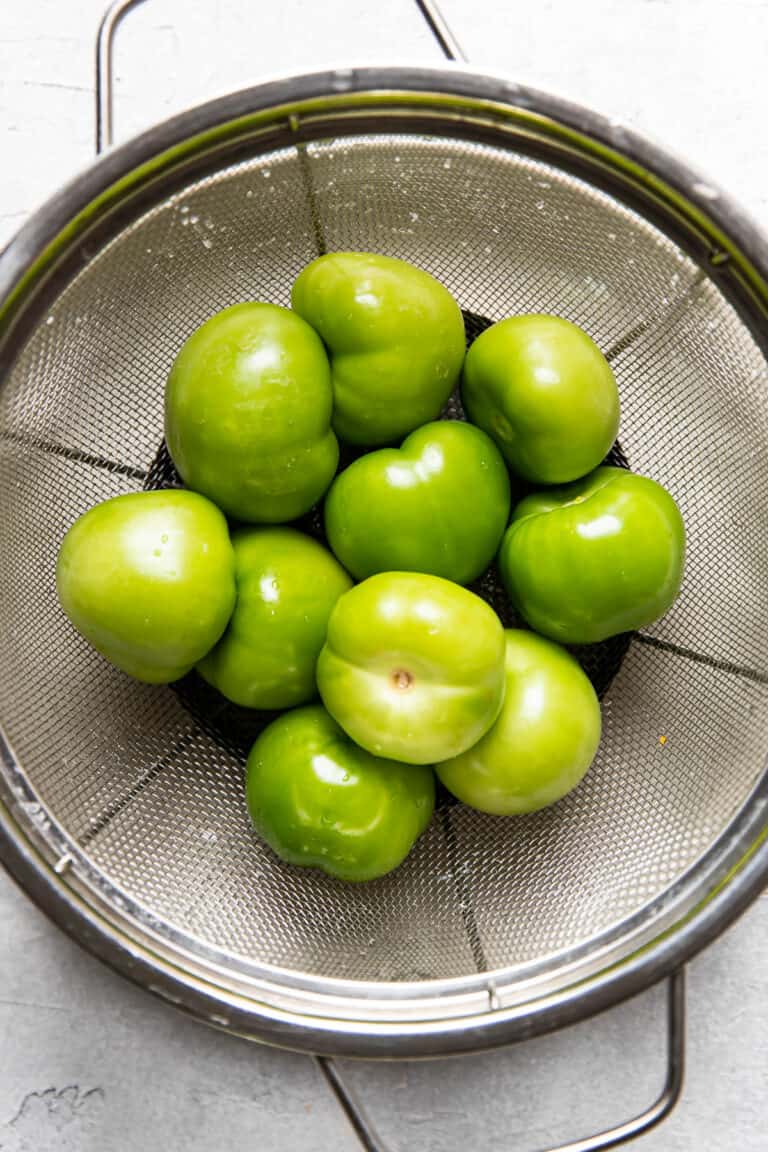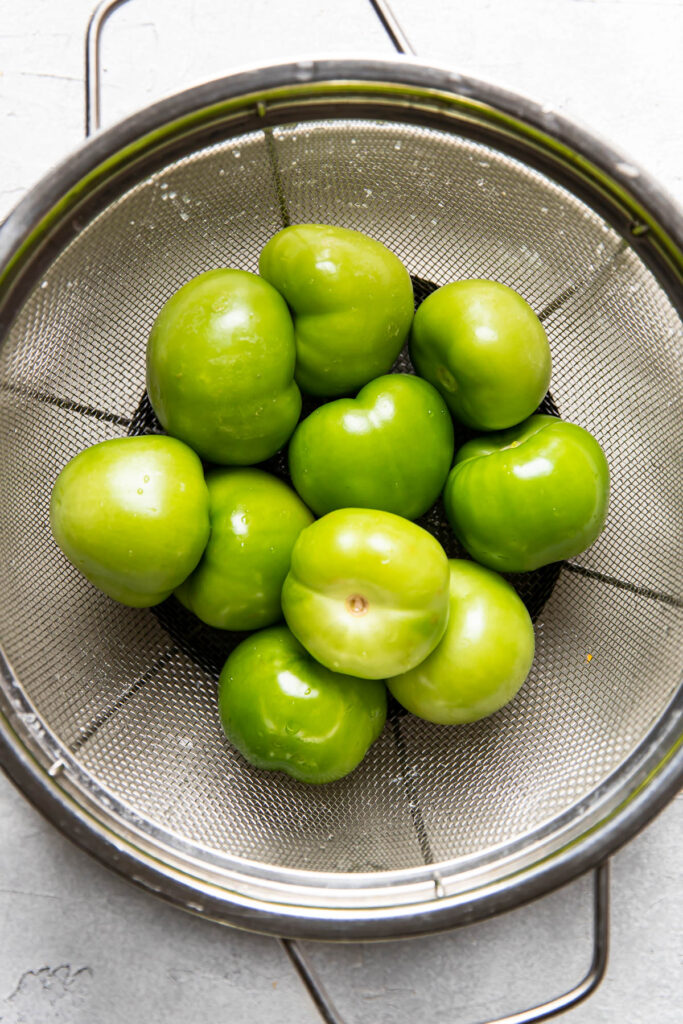 Most of the ingredients will get roasted prior to making your salsa.
Line a sheet pan with foil or parchment paper and line up the tomatillos, tomatoes, onion, whole garlic cloves (leave the skins on) and jalapeño.
Broil it in the oven until everything is charred. Don't worry if the tomatillos and tomatoes have burst open, everything on your pan is going straight into the blender.
How To Make The Roasted Tomatillo Salsa Verde
Before you blend up your ingredients you'll need to remove the stem and seeds from the jalapeño, just get a knife and scrape these out. It's best to let everything cool down before you handle it.
You'll also want to remove the skins from the garlic as well.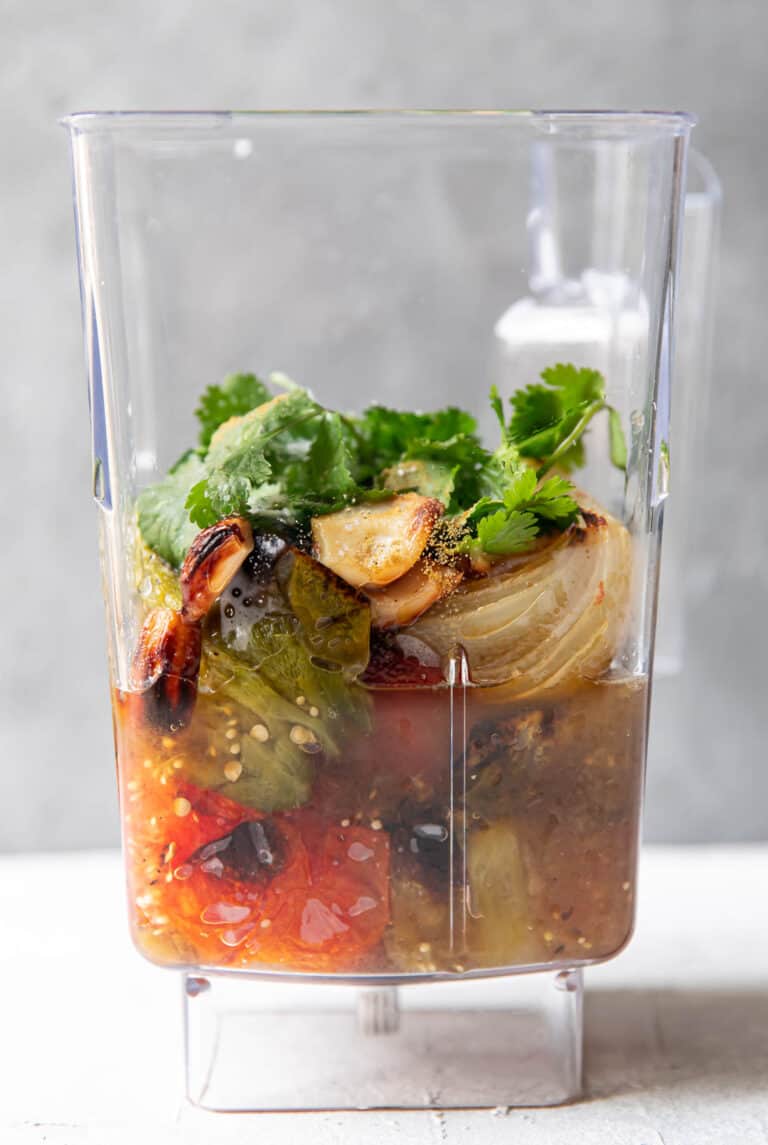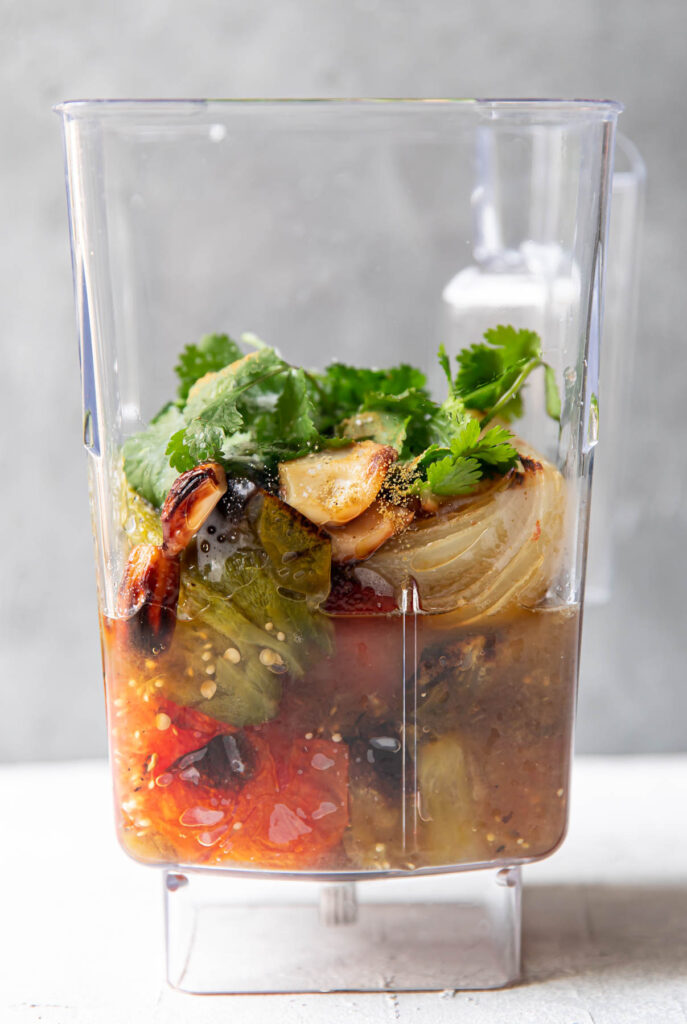 Use a blender or food processor (whichever you have) and blend everything with the addition of salt, cumin, lime juice and cilantro until it's smooth.
You can decide how smooth you want the salsa to be. You can leave it chunky if that's your preference.
Make sure to taste it and add more salt if needed. Keep in mind the best time to add salt is after it's chilled in the fridge, when it's warm it's harder to tell if it's salted correctly.
The amount listed in the recipe is a minimum and I usually find myself adding a few extra pinches later.
I think it tastes best after it's chilled in the fridge a few hours.
If you plan on making enchiladas with this roasted tomatillo salsa then you can use it right away. Enchiladas get baked and there is no point in cooling down a salsa just to heat it back up.
What Goes With Tomatillo Salsa?
There are so many possibilities for tomatillo salsa! You can eat it alone or use it in another recipe.
For an appetizer my favorite way to eat it is with blue corn tortilla chips. The flavor of the blue corn and the tomatillo is just so good!
For dinner you could make this with chipotle chicken bowls (a healthy dinner option) or baked chicken taquitos.
I think this would be perfect for any kind of party or celebration, like cinco de mayo. Or just to bring to a summer BBQ as an appetizer.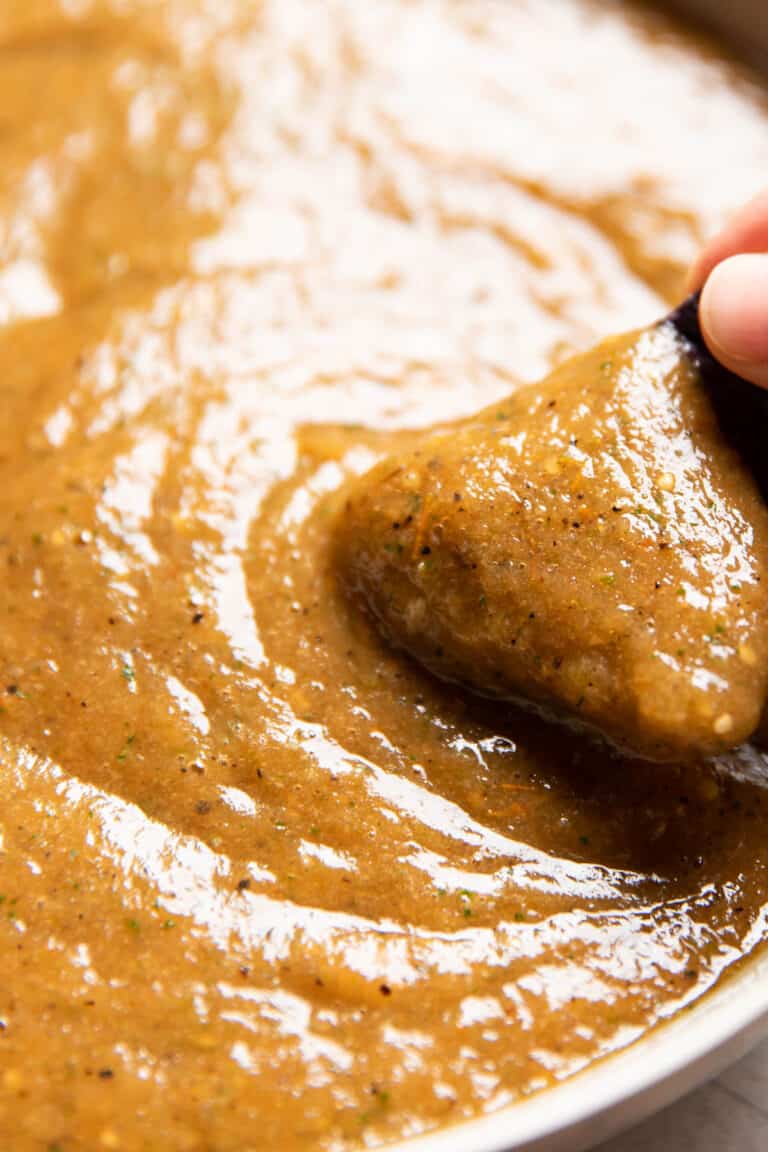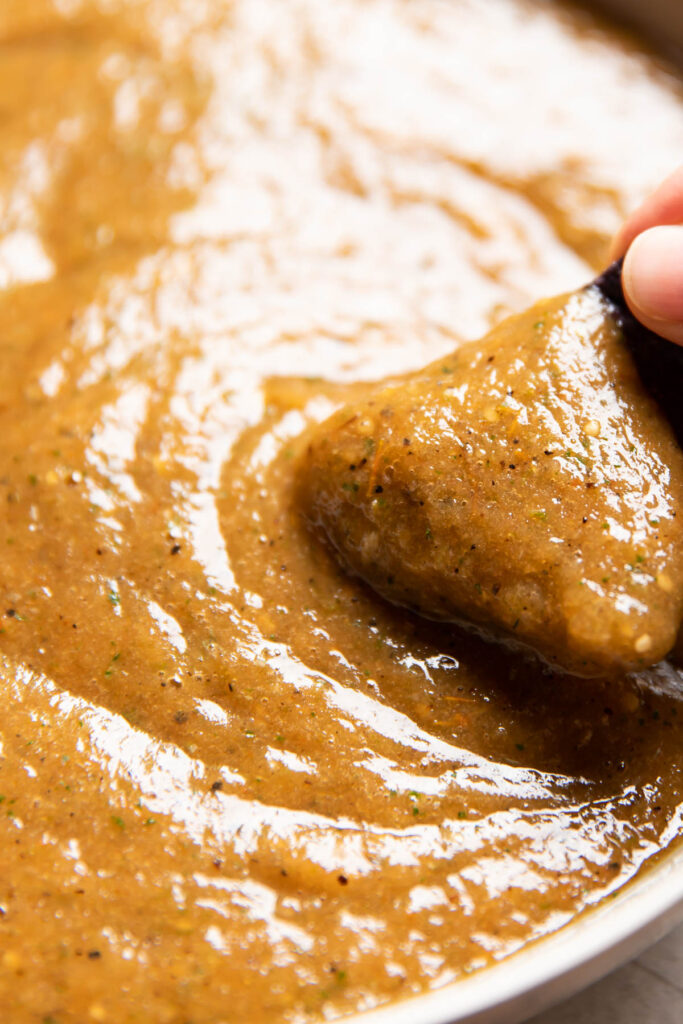 FAQ
Is tomatillo salsa spicy?
No, this is a mild level heat salsa. If you'd like it to be spicier than you can add extra jalapeño peppers to it.
Isn't salsa verde made with avocado?
Salsa verde is commonly called this being used with either tomatillos or avocado. This recipe is not made with avocado.
Can you make tomatillo salsa without a blender?
If you have a food processor, that would be a great substitution for a blender. And another option would be to put everything in a large bowl and use a blender stick.
My tomatillo salsa is bitter, what happened?
Making sure to use the right amount of other vegetables, like tomatoes and onions helps to offset the tomatillos natural sour taste. Roasting is an important step as it makes the tomatillo less bitter. My best guess (without being in your kitchen) would be that the tomatillos did not roast long enough as this is usually the culprit. Don't be afraid to get them really charred like the photos.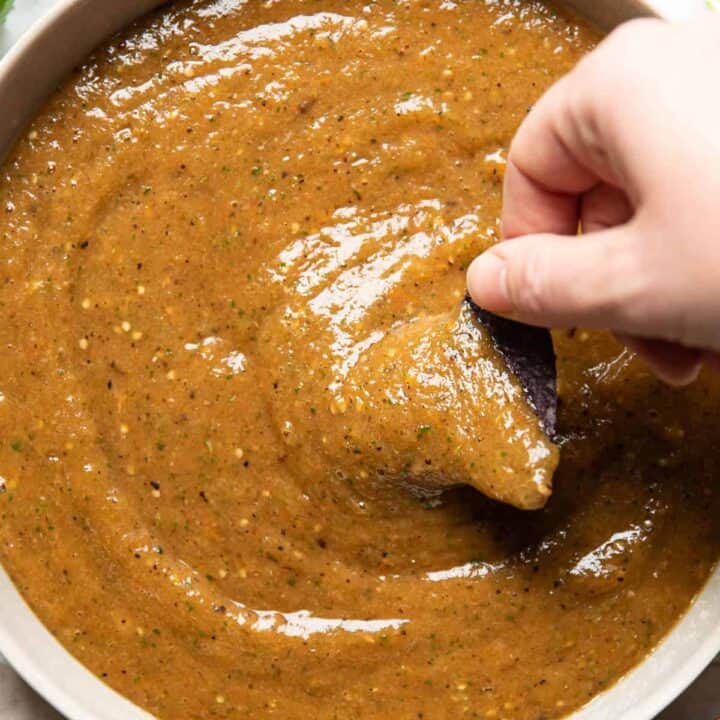 Roasted Tomatillo Salsa Verde
Tomatillo salsa, also known as salsa verde, is a green salsa with a mild level of spice. This roasted tomatillo salsa verde recipe starts with roasting your ingredients in the oven for the best flavor possible. It's perfect as an appetizer or to top your favorite taco and enchilada recipes.
Ingredients
10 tomatillos, husks removed and tomatillos cleaned
1 large jalapeño
4 roma tomatoes
1 onion, skin removed and cut in half
5 garlic cloves, skins left on
¼ c cilantro
½ lime, juiced
½ tsp cumin
2 tsp salt + more to taste
Instructions
Turn oven to broil
Add the tomatillos, jalapeño, roma tomatoes, onion and garlic to a sheet pan lined with foil or parchment paper
Roast in the oven until everything looks charred, turning the vegetables as the sides darken (about every 5 minutes)
Remove the pan from the oven and cool
Remove the stem and seeds of the jalapeños and discard, as well as the garlic skins
Add everything from the pan (use a spatula if necessary) to a blender with the cilantro, lime juice, cumin and salt
Blend together, leaving your tomatillo salsa as thin or chunky as you want
For the best taste, transfer to an airtight container and refrigerate a few hours
Notes
After being in the fridge it can thicken, add a few tablespoons of water to thin as needed
Variation in tomatillo salsa verde color is normal.  Depending on how big the tomatillos and tomatoes are can affect the outcome color, also how much char your vegetables received.
Recommended Products
As an Amazon Associate and member of other affiliate programs, I earn from qualifying purchases.
Nutrition Information:
Yield:

20
Serving Size:

¼ cup
Amount Per Serving:
Calories:

12
Total Fat:

0g
Saturated Fat:

0g
Trans Fat:

0g
Unsaturated Fat:

0g
Cholesterol:

0mg
Sodium:

234mg
Carbohydrates:

2g
Fiber:

1g
Sugar:

1g
Protein:

0g
This information comes from online calculators. Although moderncrumb.com attempts to provide accurate nutritional information, these figures are only estimates.
Make sure to follow Modern Crumb on Pinterest and Facebook for lots of yummy meal inspiration! And subscribe to the newsletter, below, to get updates when new recipes post.