Coconut meat is a great meat alternative for meatless Monday. These street tacos have island inspired flavors and are amazing!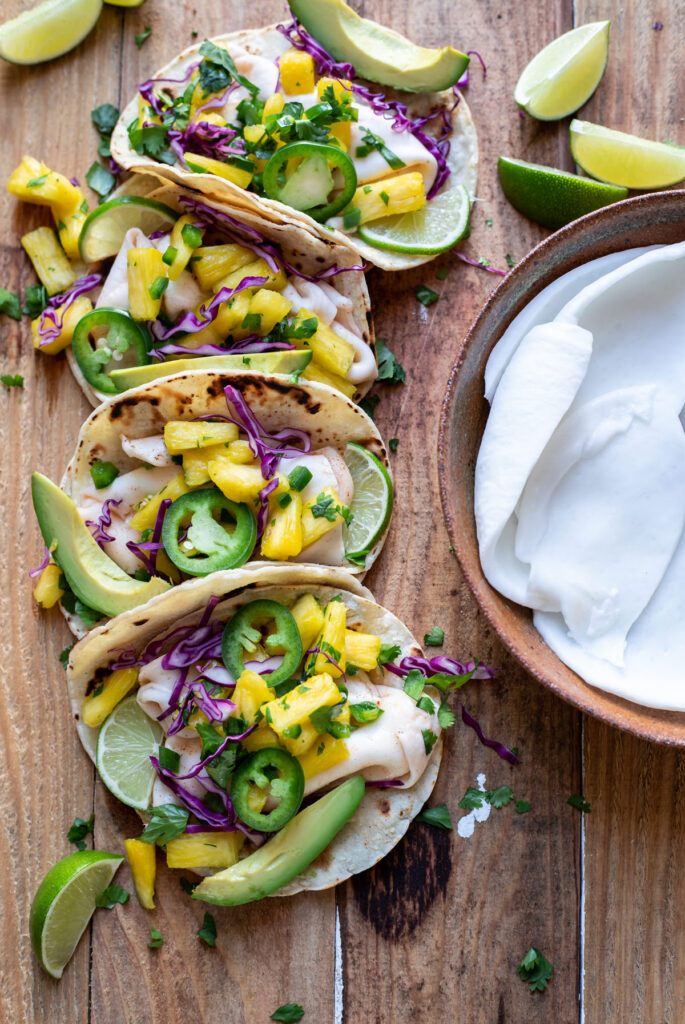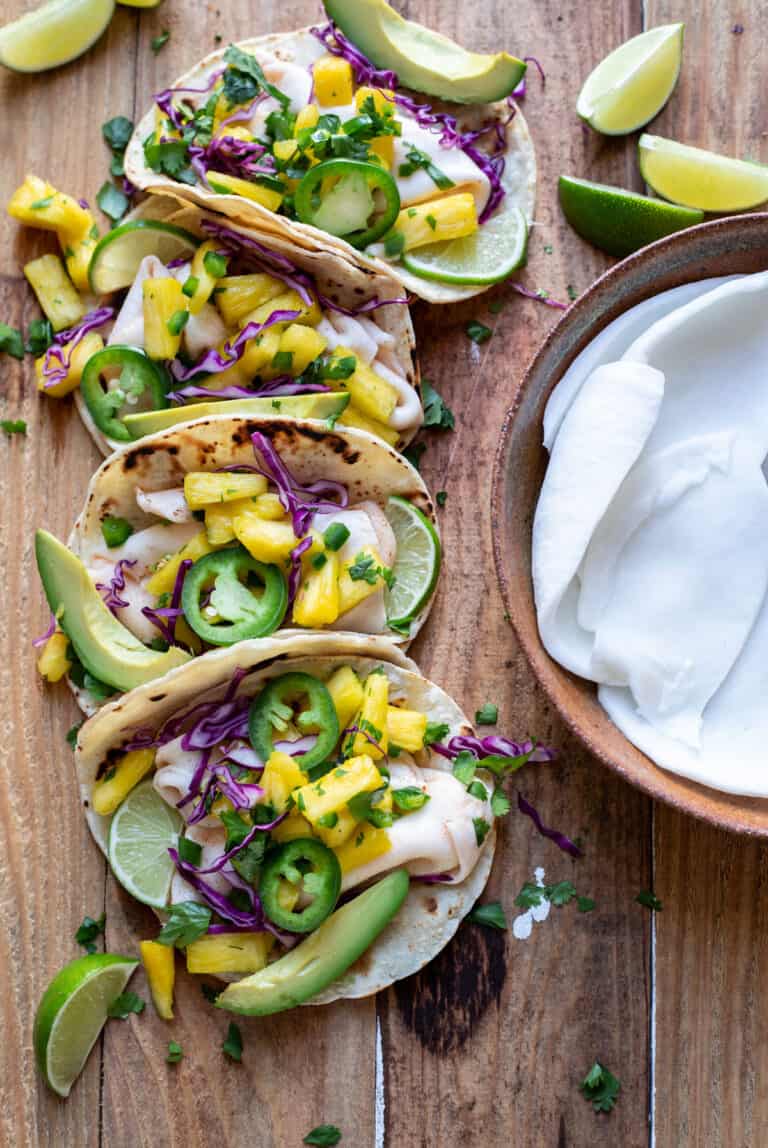 This is a sponsored post by Copra Organics.  All reviews and opinions expressed in this post are my own.
I have such a treat for you today! We're making coconut meat street tacos. And I couldn't be more excited because these are (imagine me kissing my fingertips in a very French like motion) amazing. It's like Thai meets Southwest and worked in beautiful harmony. Loaded with organic coconut meat (from young Thai coconuts) with a chili lime rub and spicy jalapeño pineapple salsa. Plus we are going to make a pineapple coconut margarita that will knock your socks off.
Do you ever plan out your meals and feel like it's always the same chicken, beef, pork? Or maybe you don't eat meat. Coconut meat is a plant protein and perfect to mix things up, it's low in fructose and packed with fiber, potassium, naturally occurring electrolytes and healthy fats.
So many great health benefits.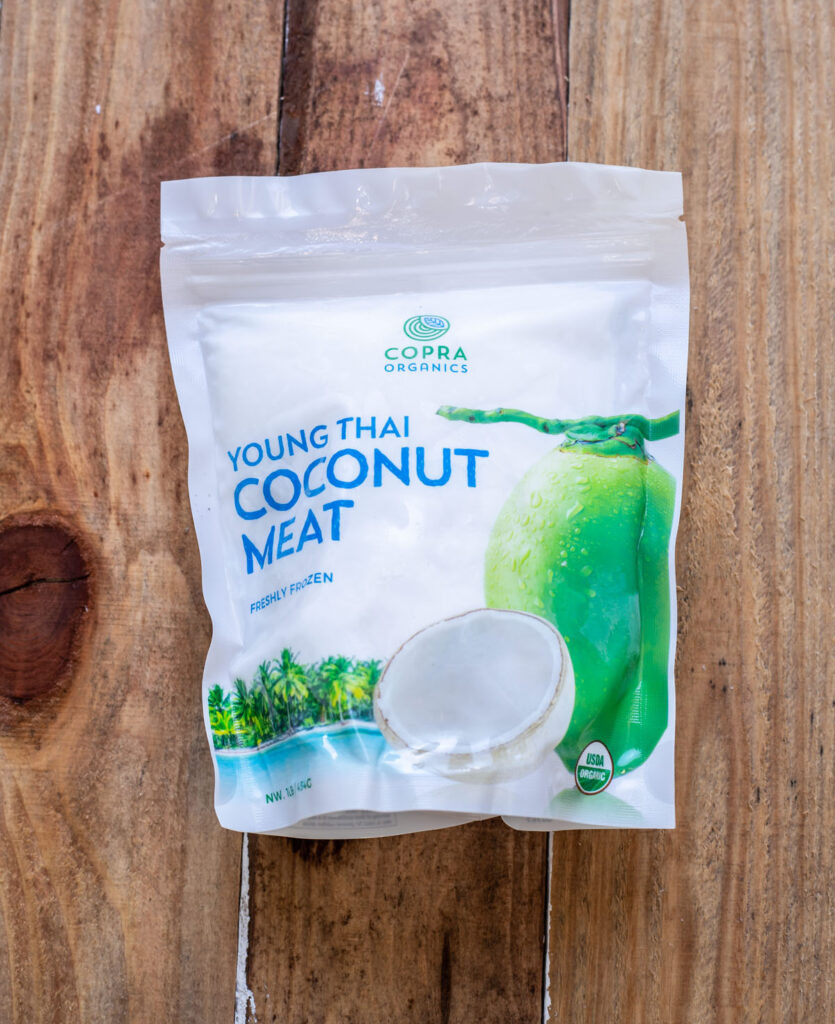 What is coconut meat?
I used Copra Organics young Thai coconut meat for this recipe, it's actually been scooped out of the coconut within 24 hours of harvesting and flash frozen right away to preserve all the yummy flavors and nutrition! You can even keep it in your freezer for up to a year, yay! So there's no rush, you can savor all that goodness all year long. And the meat isn't just scooped from any old coconut, it's from young Thai "nam hom" coconuts which are known for being the best in the world.
I am all about this because I don't have to do all the work (hahaha). So I've talked about growing up in Alaska before but one thing we used to was get coconuts from the farmers market, my mom would get one for each of us.
It was so exciting because we would get a hammer and flat head screw driver to try and break into the coconut! So picture 7 year old me, cracking open a coconut. You had to be careful though, because if you cracked it open too abruptly you could lose all of the coconut water plus don't get me started on those fibrous hairs. The very best part was plucking out the coconut meat and I thought we were so cool. It was an experience, but a lot of work!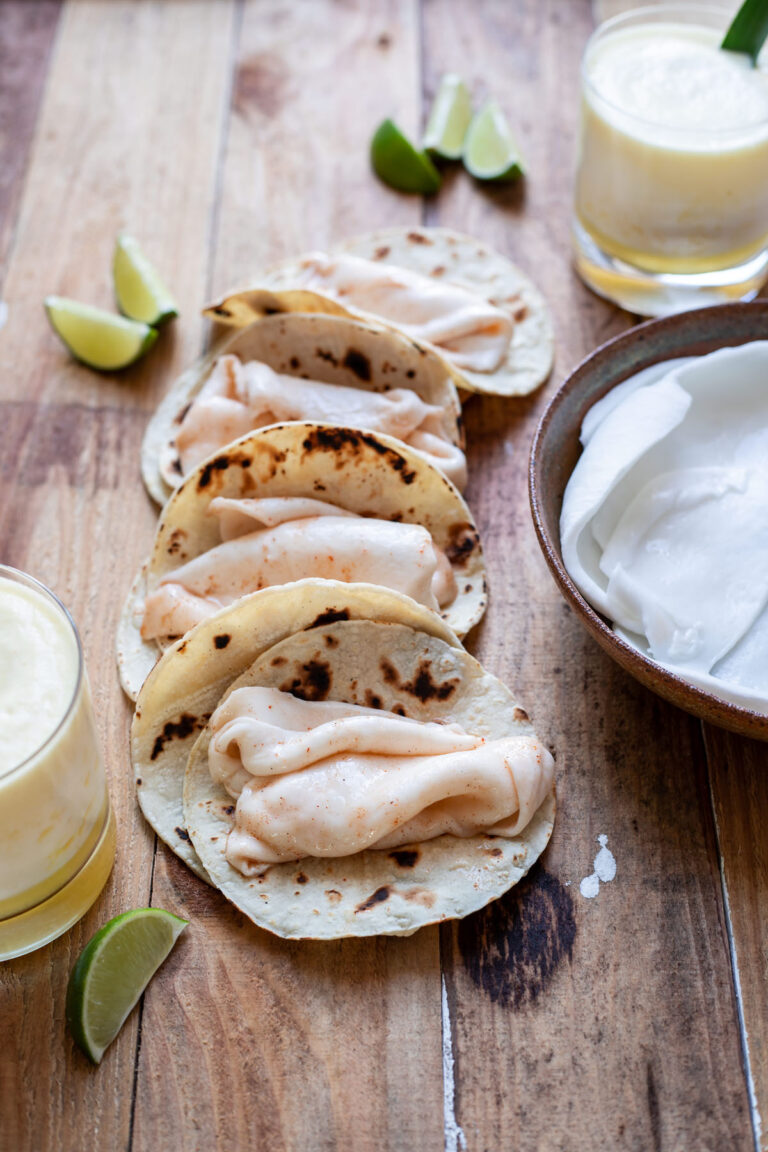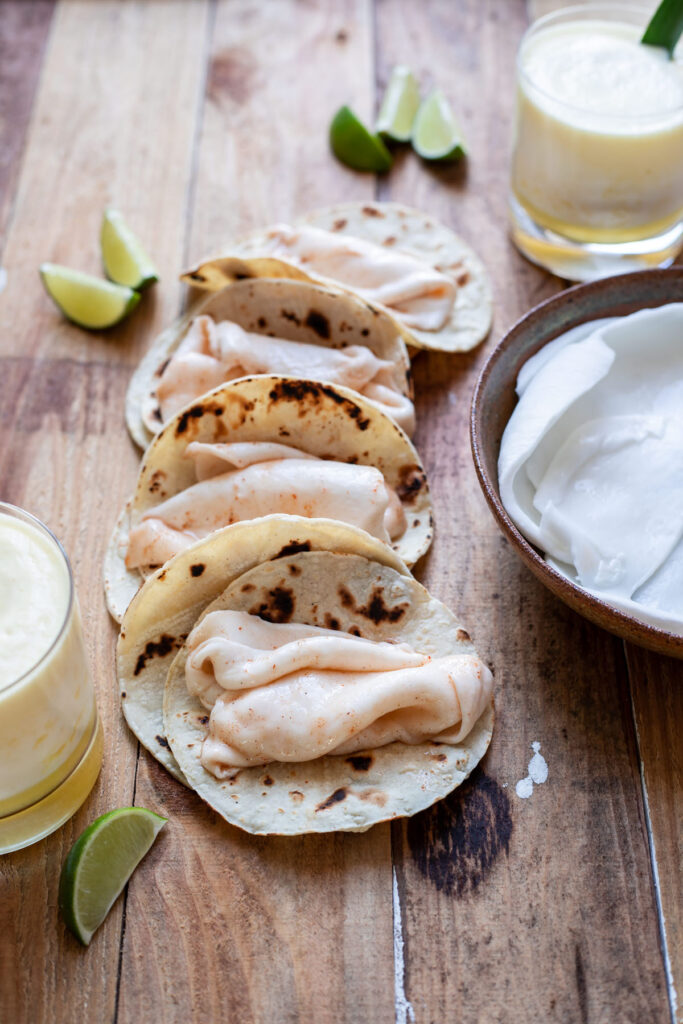 Are you ready for these tacos? So just like any street taco we're keeping it simple, fresh and healthy. Start with corn tortillas. Want to know the secret to perfect tortillas? Get a skillet hot, toss on a tortilla and turn to the other side once char marks show up then transfer it to a clean (lightly dampened) hand towel and fold one side over. This lets the tortilla steam, so you get that gorgeous charred tortilla with the perfect texture but they are nice and soft and won't crack. Genius!
How do I jazz up this coconut meat to taste like it belongs in a taco?
For the coconut meat itself I mixed up some fresh squeezed lime juice and a bit of chilli powder and cumin in a shallow bowl and coated the coconut meat on each side. Snacking on the coconut is highly recommended while prepping dinner. The pineapple jalapeño salsa is a bright and delicious addition. I love the sweet and spicy mixed with the coolness of the coconut! Plus a little red cabbage and avocado.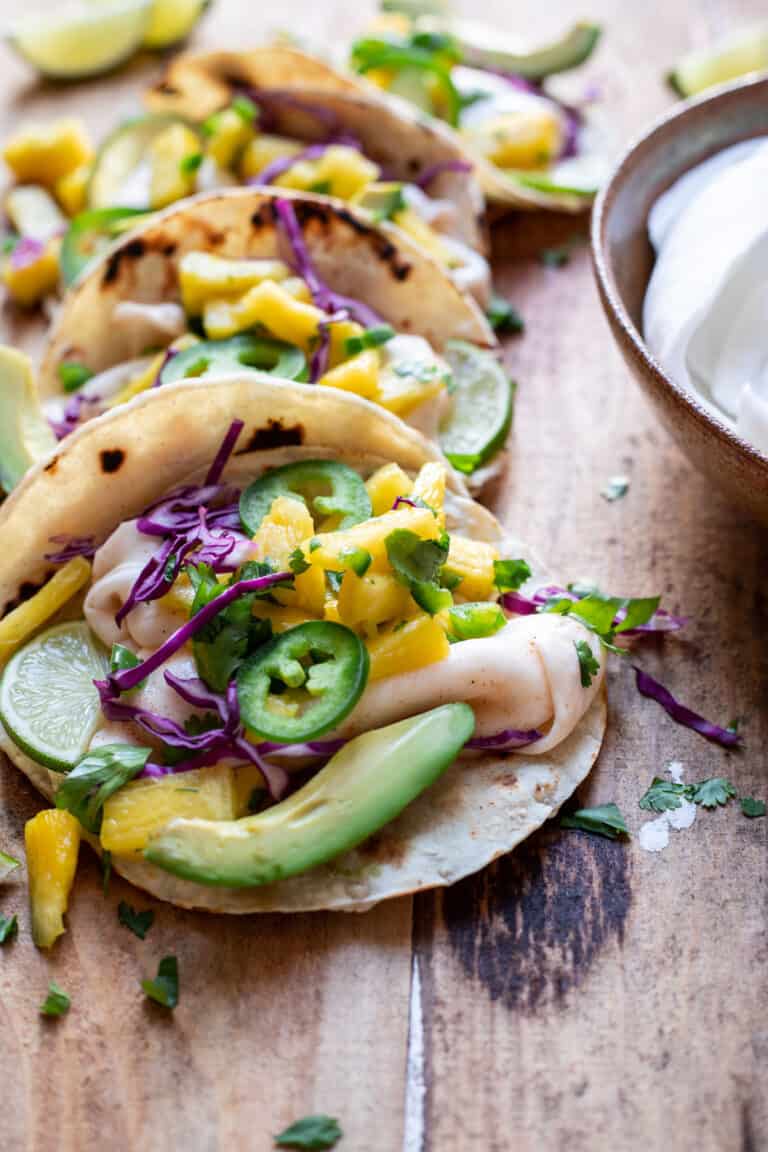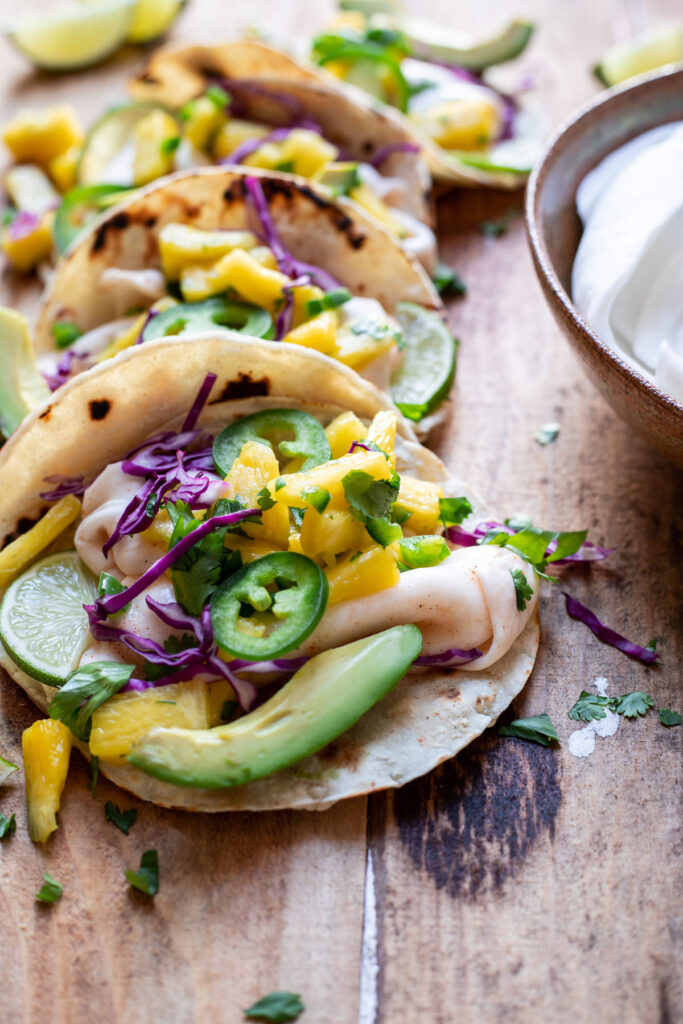 It doesn't get any better than this! These little street tacos are so good. And when I say so good I mean really good. If you've been searching for a meat substitute or maybe something special for those meatless Monday dinners, this hits the spot.
We're doing a pineapple coconut margarita.  Since you'll already have fresh pineapple on hand its the perfect time to use it up and make a few drinks to go with those insane coconut meat tacos!  For my margarita I used Copra's coconut water.  Get this, it's pink.  And there's a really cool, scientific reason why.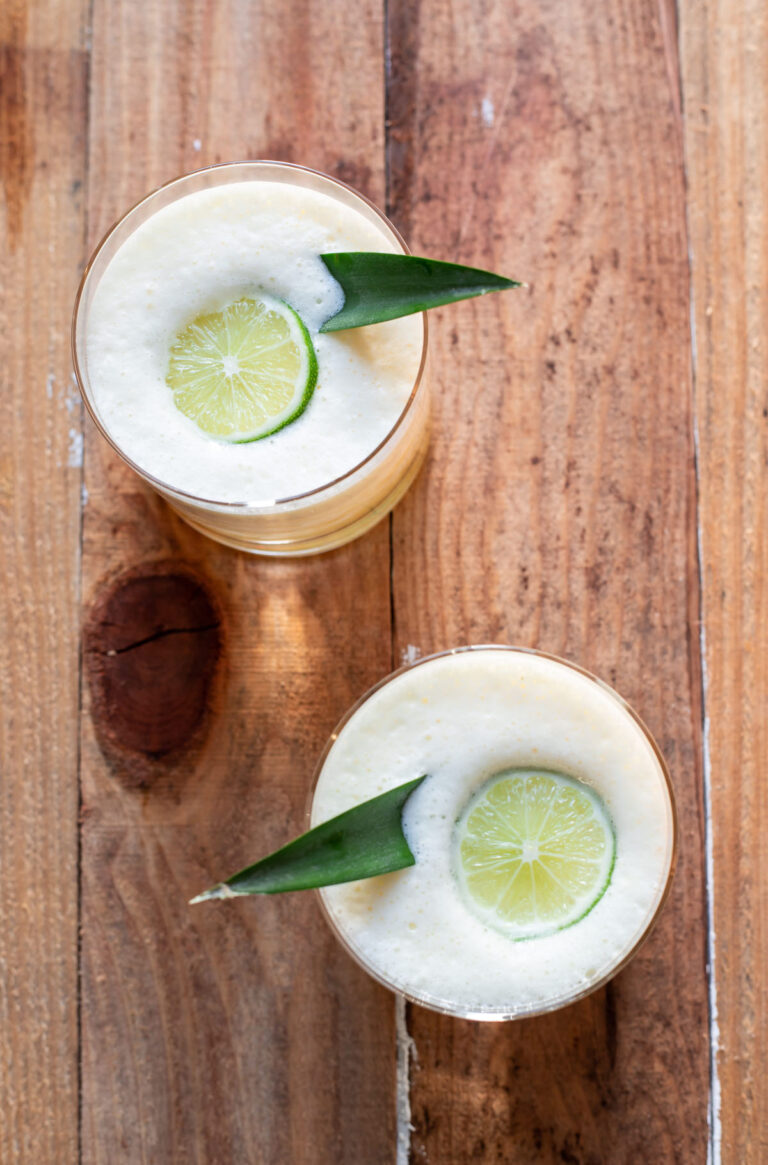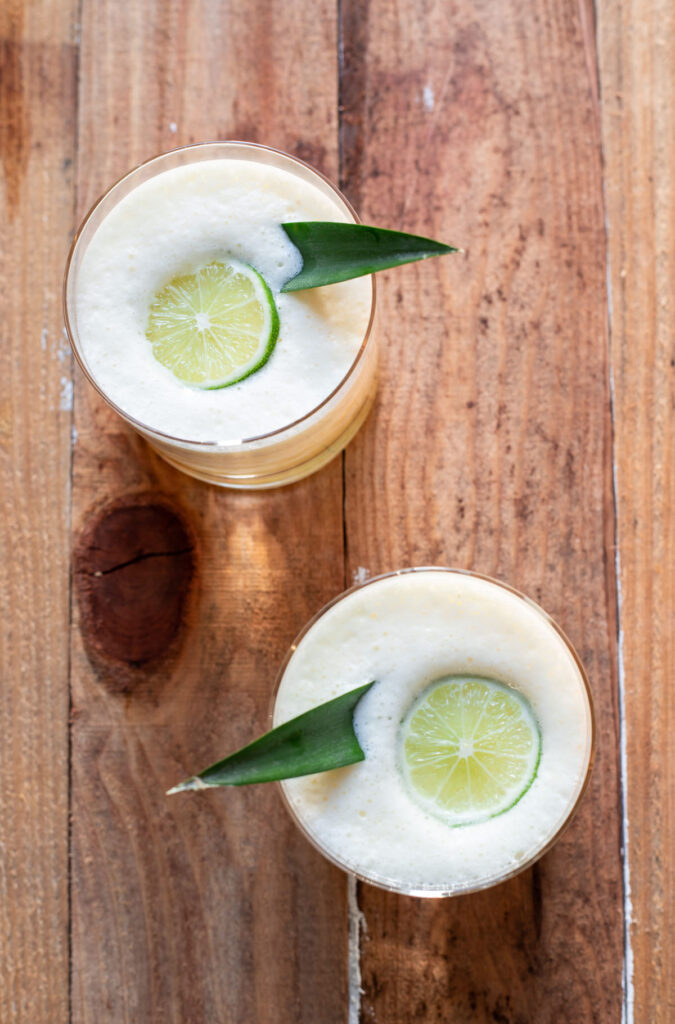 When you open a coconut there's coconut water, right? Well as the light continues to reach the coconut water, it starts to oxidize, and that turns the water pink. Think of it like how you cut open an apple and as it sits and oxidizes it start to turn brown. It doesn't lose any nutritional value AT ALL.
I'm super excited for everyone to make this! You are going to LOVE it! And you can use any extra coconut meat for smoothies (so so good in smoothies) or to snack on when that mid afternoon snack attack hits ya! It's super versatile to cook with.
Are you ready for the recipe?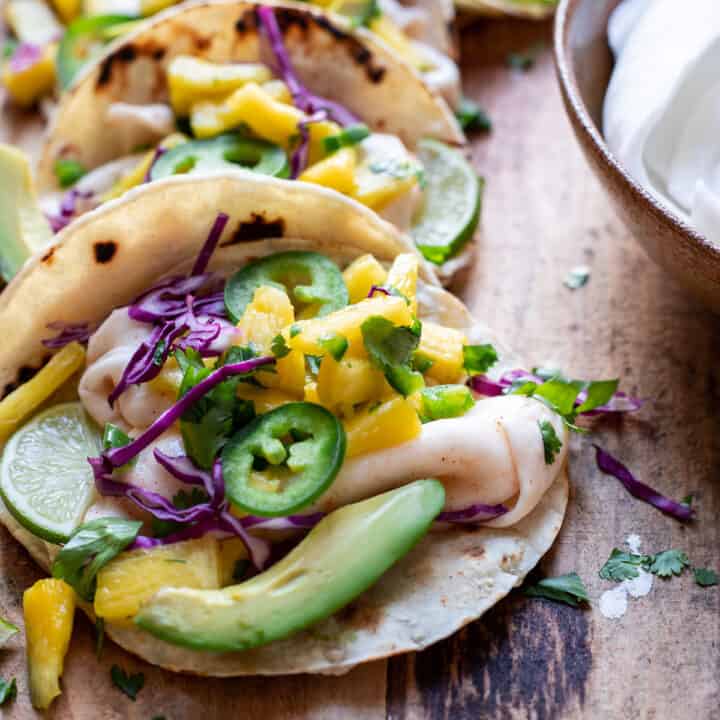 Chili Lime Coconut Street Tacos
Coconut meat is a great meat alternative for meatless monday. These street tacos have island inspired flavors and are amazing!
Ingredients
1 package Copra coconut meat
corn tortillas, cooked on a skillet
2 limes, juiced
½ tsp chili powder
½ tsp cumin
½ shredded red cabbage
1 pineapple, sliced up (half for the tacos half for the margaritas)
1 jalapeno, diced
fresh cilantro
2 avocados, sliced
coconut pineapple margarita
2 oz tequila
5 oz coconut water
2 c fresh pineapple
3 c ice
Instructions
Cook the tortillas on a hot skillet, once they have char marks flip it and transfer to a damp towel to steam
Stir together ½ of the pineapple, jalapeño and cilantro
Add the lime juice, chili powder and cumin to a shallow bowl, whisking together
Dip each piece of coconut meat into the chili lime sauce, making sure to coat the entire piece
Place in a corn tortilla and top with the pineapple salsa, avocado and red cabbage
Add all the margarita ingredients to a blender, blend and serve
Nutrition Information:
Yield:

8
Serving Size:

2
Amount Per Serving:
Calories:

182
Total Fat:

11g
Saturated Fat:

4g
Trans Fat:

0g
Unsaturated Fat:

6g
Cholesterol:

0mg
Sodium:

36mg
Carbohydrates:

19g
Fiber:

6g
Sugar:

8g
Protein:

2g
This information comes from online calculators. Although moderncrumb.com attempts to provide accurate nutritional information, these figures are only estimates.