These delicious Belgian style pumpkin waffles are thick, soft and full of pumpkin spice flavor. They are the perfect thing to make for breakfast in the fall.
Looking for more pumpkin recipes? Try my pumpkin french toast, pumpkin scones, pumpkin cream cheese cinnamon rolls or pumpkin cake cookies.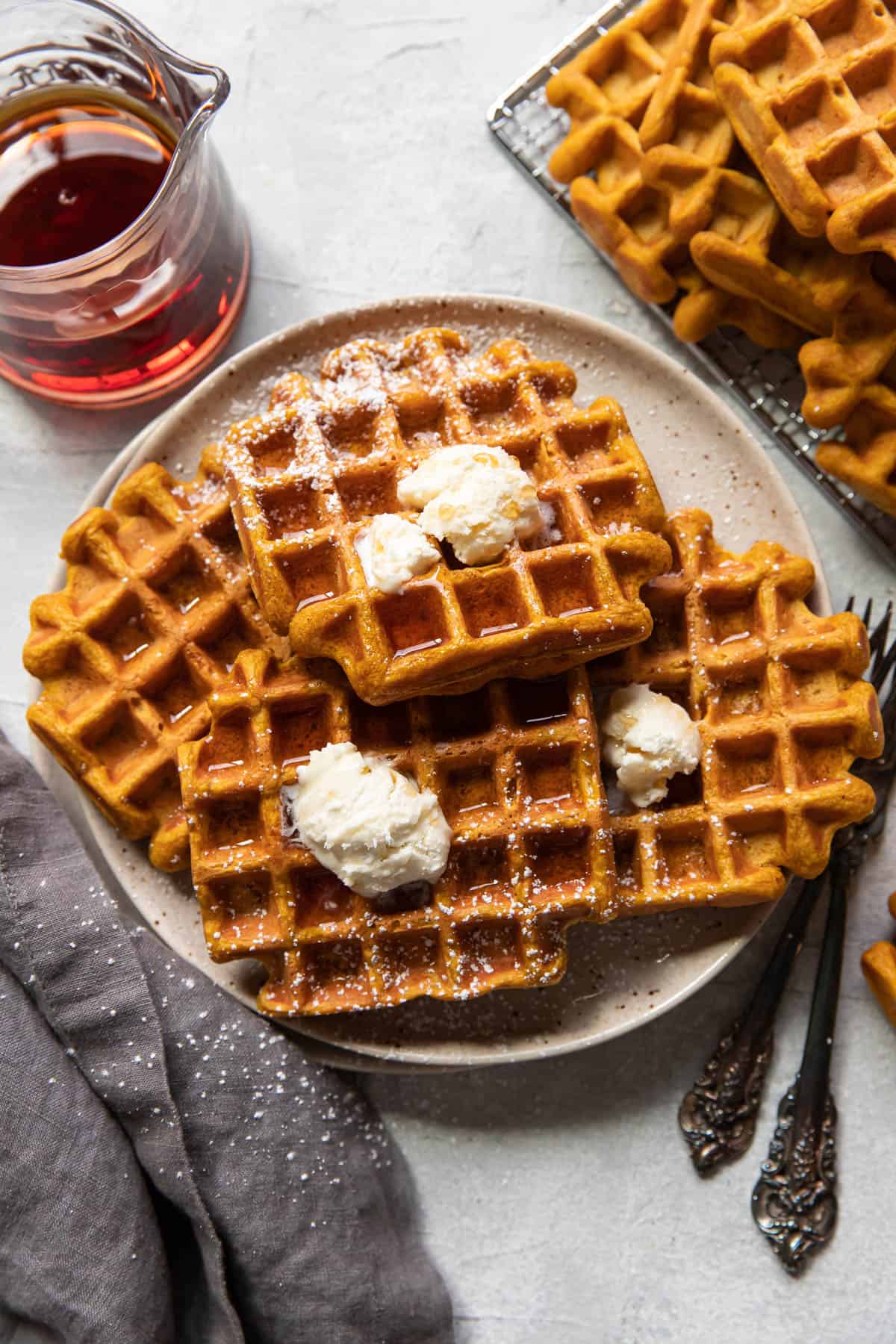 Your family will love these easy pumpkin waffles. They take under 30 minutes to make until you have a hot plate of waffles on the table.
The recipe is written to use a Belgian waffle maker but really you can use whatever waffle maker you have.
Serve them with lots of butter and warm maple syrup or some homemade cinnamon honey butter, which is shared in this pumpkin french toast recipe.
The secret to making good waffles is to use the waffle batter right away. Because baking powder and baking soda start to react immediately, for the best, fluffiest waffles you want to start making them right away.
Jump to:
Ingredients
Ingredients you'll need to make your pumpkin waffles. You probably have everything you need already in the house!
Butter: Butter to start the batter and butter to top the waffles with.
Eggs: Waffles always have more eggs in the batter because they make them soft on the inside and crispy on the outside.
Buttermilk: Buttermilk is so crucial in your pumpkin waffles because it makes them really soft but also has a great taste.
Pumpkin Puree: This is different than pumpkin pie filling, make sure to check the label on the cans at the grocery store.
Flour: Go with all purpose flour for this recipe.
Baking Soda and Baking Powder: Both of these are leavening agents, meaning they help the batter rise and creates the fluffy waffles goodness everyone loves.
Sugar and Brown Sugar: This waffle recipe calls for just a very little amount of sugar because you are already slathering it in syrup after.
Pumpkin Pie Spice: A blend of different spices like cinnamon, cloves, ginger, nutmeg and allspice.
Cinnamon: Always a good idea to add extra cinnamon spice.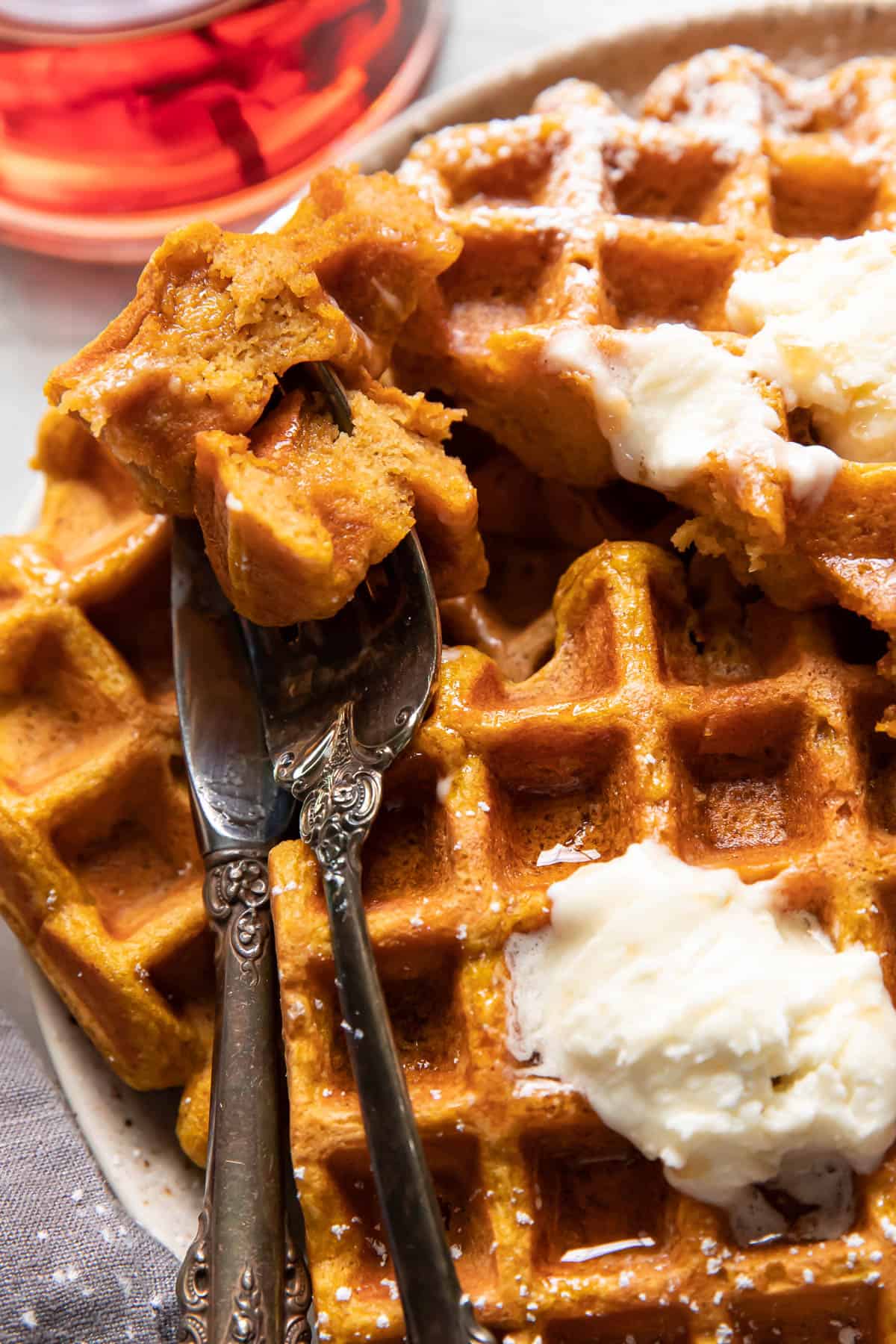 How To Make Pumpkin Waffles
Making your own pumpkin waffles at home is beyond easy! Just follow my simple recipe and instructions.
Make the Batter: Start by making your waffle batter. Melt the butter in a large microwaveable bowl. Alternatively you could melt the butter in a small glass dish then transfer it to a big bowl. Whisk in the eggs then the buttermilk and pumpkin puree until smooth.
In a separate bowl whisk together the flour, salt, baking soda, baking powder, sugar, brown sugar, pumpkin pie spice and cinnamon.
Pour the wet ingredients into this and mix until almost combined. It's okay to leave some bumps and lumps. You just don't want there to be a bunch of lumps have balls of flour in them.
You want to mix those out because when you go to cook the waffles, it could stay in the batter and you don't want to eat raw flour.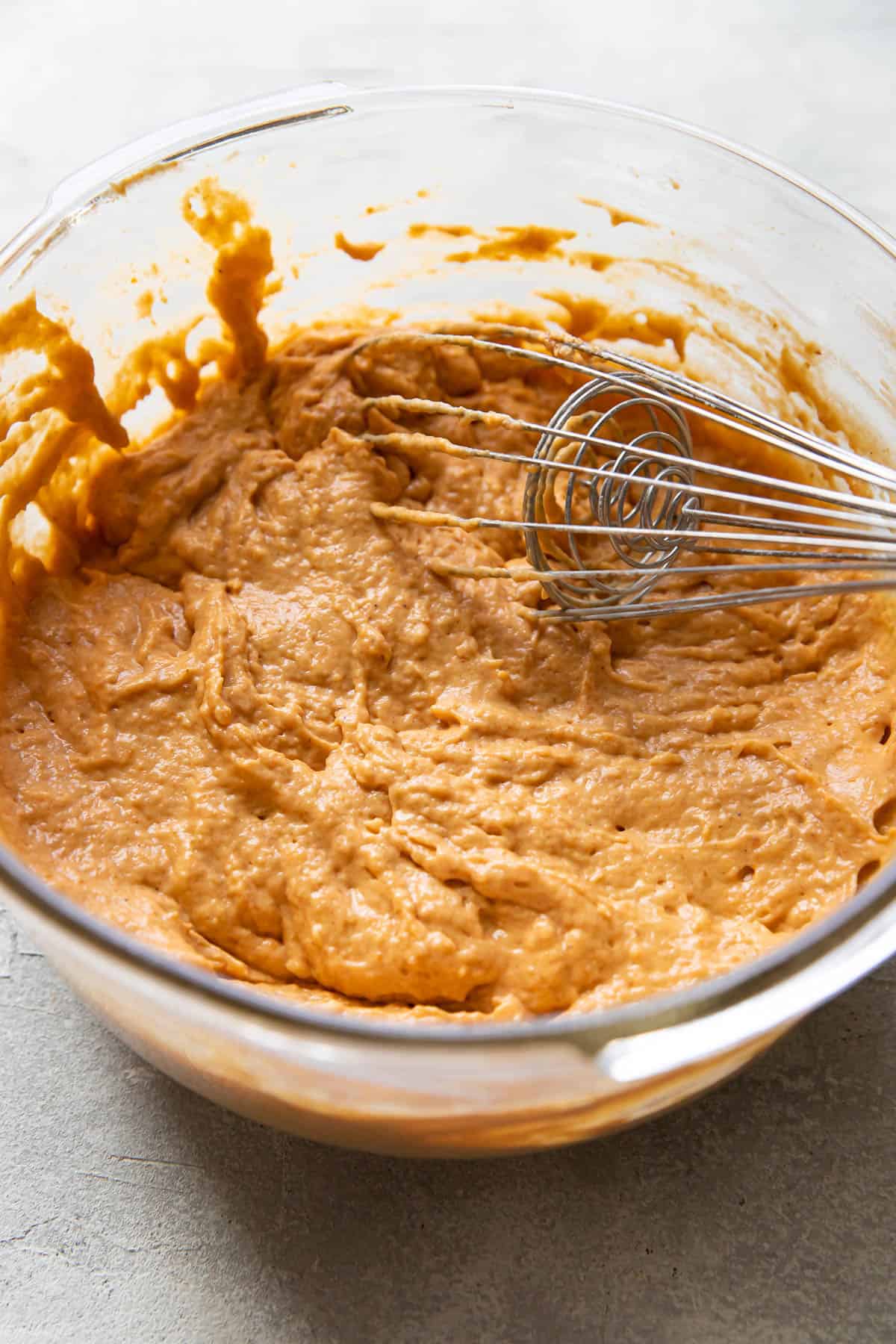 Cook the Waffles: While you make the batter, definitely preheat your waffle iron. Scoop batter into each waffle section (waffle irons always have 4 sections).
Make sure you don't overfill. If you've never made waffle before, this will just be trial and error. Close the lid to cook.
Usually waffle irons will make a beep sound or they will flash a ready light. Take them out and they are ready to eat!
Pro Tips
To make the most of these pumpkin waffles and get the best results, try some of my pro tips for waffle making.
Overmixing: Never, ever ever overmix the waffle batter. Lumps are fine!
Cooking: Use the batter right away. The waffles will taste the best if you use your fresh made batter instead of sitting in the fridge a day.
Greasing the Waffle Iron: You do not need to grease your waffle iron. This recipe makes for waffles that come right off the waffle iron! Unless you know for certain your waffle iron sticks and you do need to grease it. I've tried this with multiple different waffle irons and never had a problem.
Pumpkin Pie Spice: If for some reason you don't have pumpkin pie spice you can substitute it out with ¾ teaspoon cinnamon, ⅛ teaspoon ginger, ⅛ teaspoon nutmeg, ⅛ teaspoon all spice and ⅛ teaspoon cloves.
Toppings
Pumpkin waffles are so much fun to eat because there are so many good toppings you can do to transform them!
Butter and Maple Syrup: You can't go wrong with the classic! Pro tip...warm up the maple syrup.
Powdered Sugar: I think no matter what you need a little dusting of powdered sugar. It also makes your waffles looking like they just came out of a restaurant kitchen.
Cinnamon Honey Butter: You can find the recipe for that in my recipe for pumpkin french toast. This stuff is so good!
Nuts: Pecans would be my top choice, but you could do chopped walnuts too.
Bacon: A little crumbled bacon and maple syrup, who's going to argue with that?
Whipped Cream: I would do honey drizzle, homemade whipped cream, some chopped nuts and a sprinkle of cinnamon on top. YUM!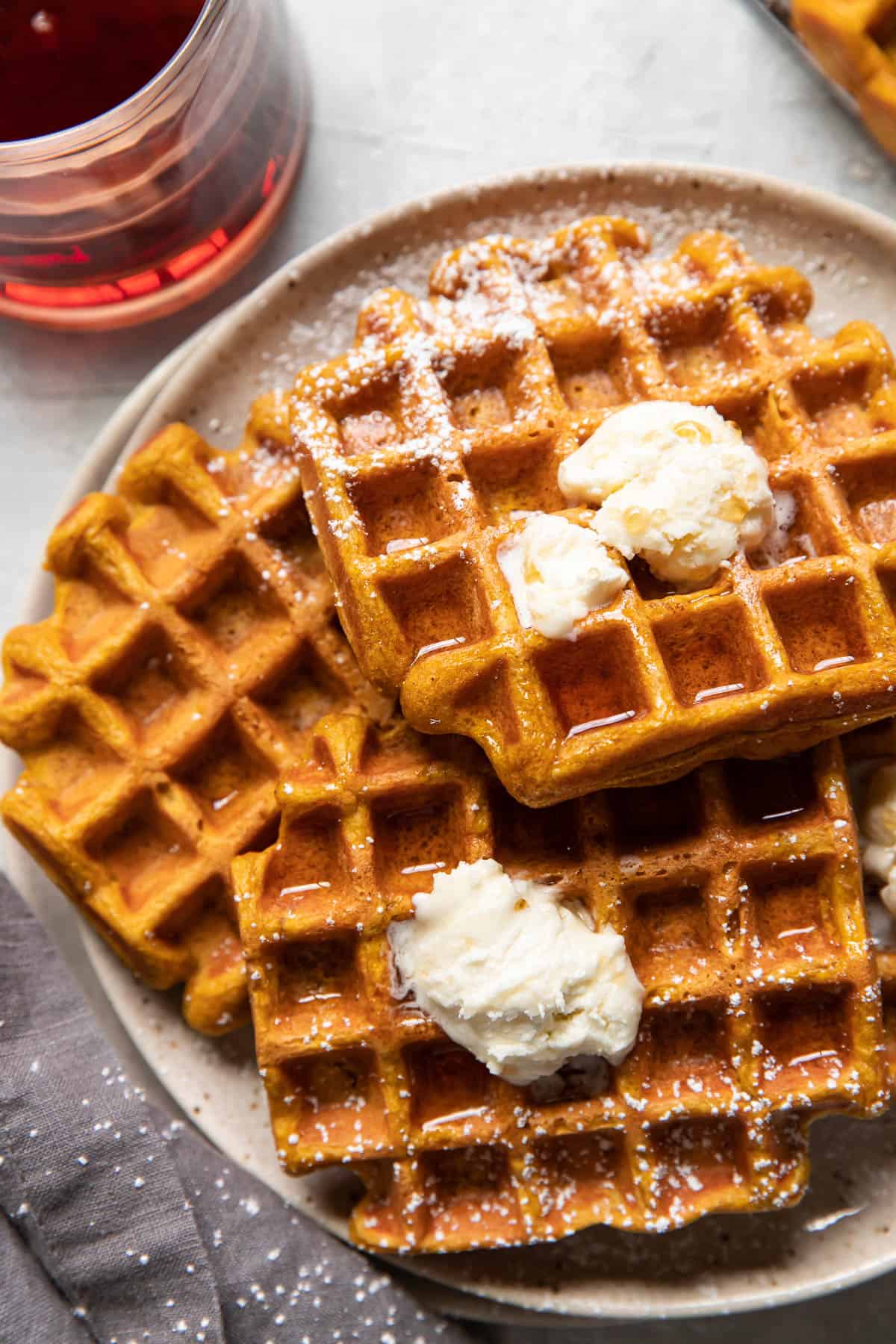 What To Serve With Waffles
Waffles are the perfect weekend breakfast! And no weekend breakfast is complete without the full spread of accompaniments.
Bacon or Sausage: If you do bacon, make sure to use a little bit of the bacon grease in your eggs.
Eggs: I would definitely opt for scrambled eggs.
Hash Browns: Hash browns would be the perfect thing to serve with waffles!
Fruit: Serve your waffles with a bowl of sliced strawberries, raspberries and blueberries. Or some nice melon.
Yogurt: You could do a flavored yogurt or plain. Try a vanilla greek yogurt.
Quiche: Try serving your waffles with a basic quiche.
Make Ahead, Storing and Freezing
Check out these helpful tips on storing, freezing and make ahead instructions.
Make Ahead. The waffle batter should be made right after you prepare it, but sometimes you are in a pinch and need to make the batter before. They will still turn out okay. Store in the batter in the fridge up to 24 hours, cover it with plastic wrap. When you are ready to make the waffles just pull it out of the fridge and put it in your waffle iron.
Storing. Store your already made waffles in a gallon size ziploc bag. They are best eaten within a week of being in the fridge.
Freezing. Freeze your waffles by wrapping them in plastic wrap and putting them in a freezer gallon ziploc bag. Waffles will be best before 3 months. To reheat them, just transfer to the fridge or microwave them. For a crisp waffle, take apart the pieces, microwave and then put them in the toaster.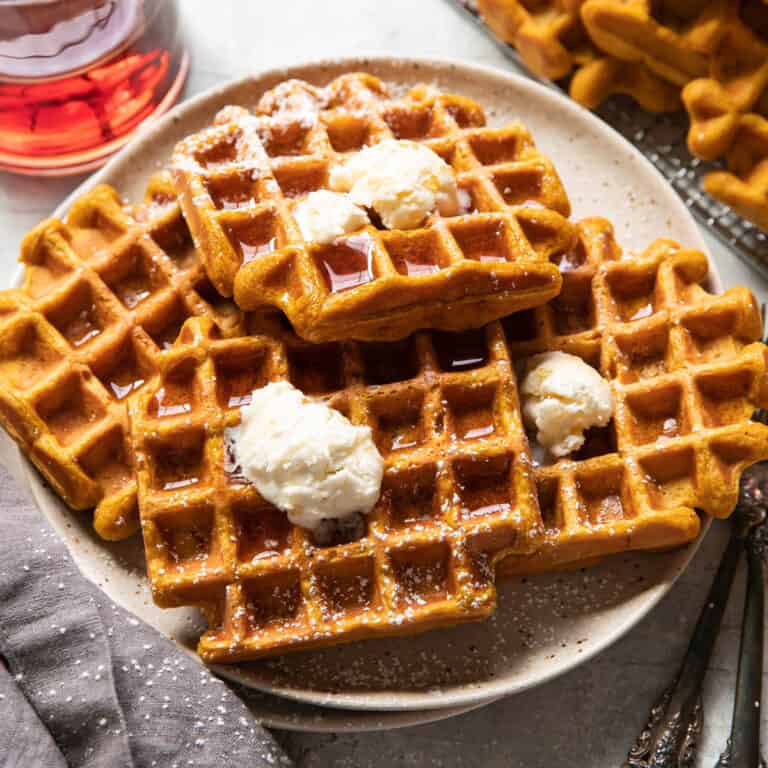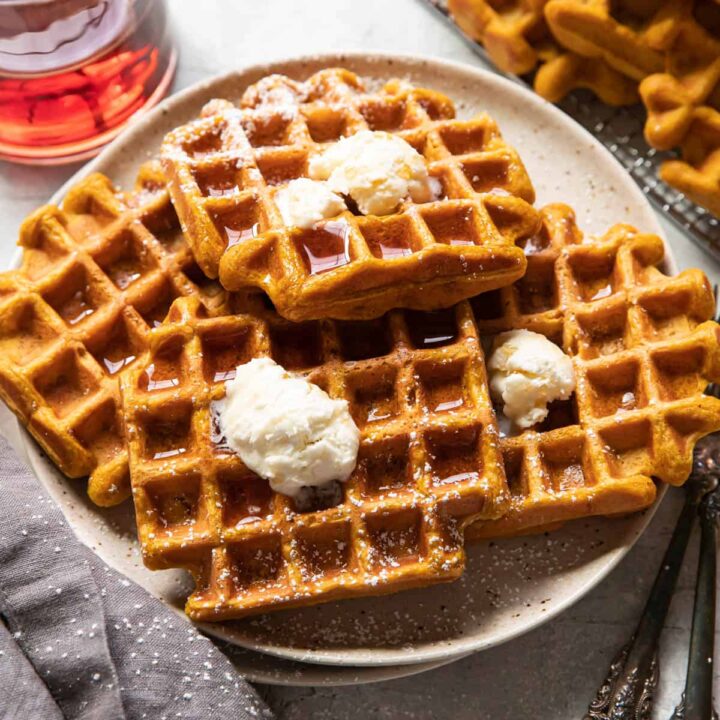 Pumpkin Waffles
Yield:
10 Belgian Waffles
These delicious Belgian style pumpkin waffles are thick, soft and full of pumpkin spice flavor. They are the perfect thing to make for breakfast in the fall.
Ingredients
3 tbsp butter, melted
3 eggs
1 ¼ c buttermilk
1 c pumpkin puree
2 c all purpose flour
1 tsp kosher salt
½ tsp baking soda
1 tsp baking powder
1 tbsp cane sugar
2 tbsp brown sugar
1 tsp pumpkin pie spice
½ tsp cinnamon
Instructions
Preheat the waffle iron.
In a large bowl whisk together the melted butter and eggs. Whisk in the buttermilk and pumpkin puree.
In a separate bowl whisk together the flour, salt, baking soda, baking powder, cane sugar, brown sugar, pumpkin pie spice and cinnamon. Mix this in to the wet ingredients, just until combined a few lumps are okay.
Add batter to the waffle iron. Close the lid and cook. Watch for the waffle iron to tell you they are done, by a beep or a light that says ready. Remove the waffles from the iron and serve.
Recommended Products
As an Amazon Associate and member of other affiliate programs, I earn from qualifying purchases.
Nutrition Information:
Yield:

10
Serving Size:

1
Amount Per Serving:
Calories:

178
Total Fat:

6g
Saturated Fat:

3g
Trans Fat:

0g
Unsaturated Fat:

2g
Cholesterol:

66mg
Sodium:

347mg
Carbohydrates:

26g
Fiber:

1g
Sugar:

6g
Protein:

6g
This information comes from online calculators. Although moderncrumb.com attempts to provide accurate nutritional information, these figures are only estimates.