Gorgeous homemade gnocchi tossed in butter and sage, served in a creamy three cheese pumpkin sauce.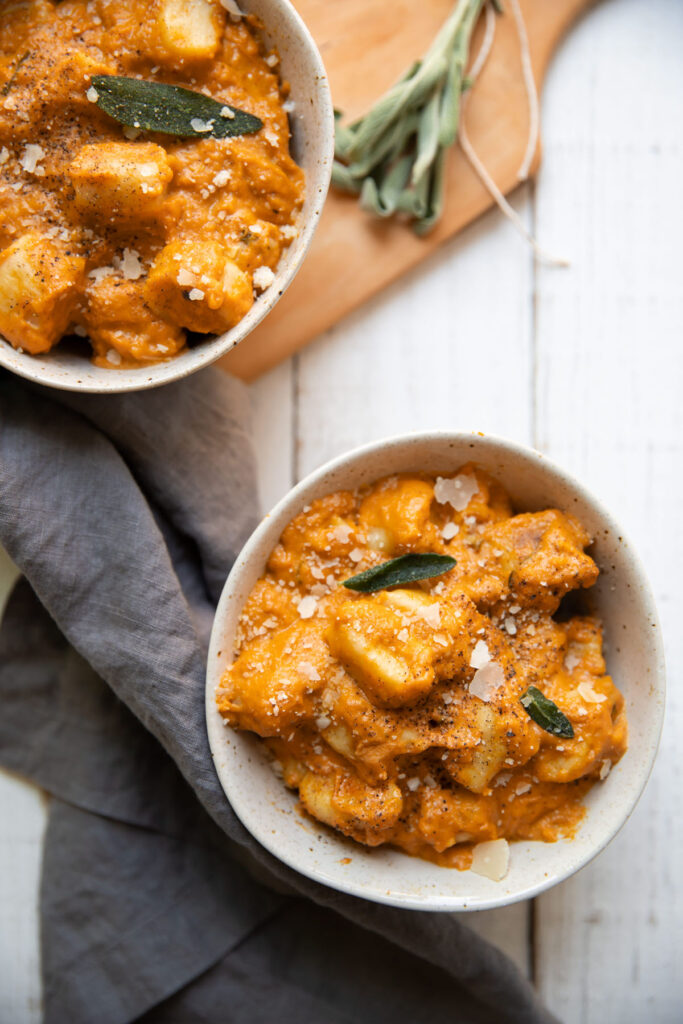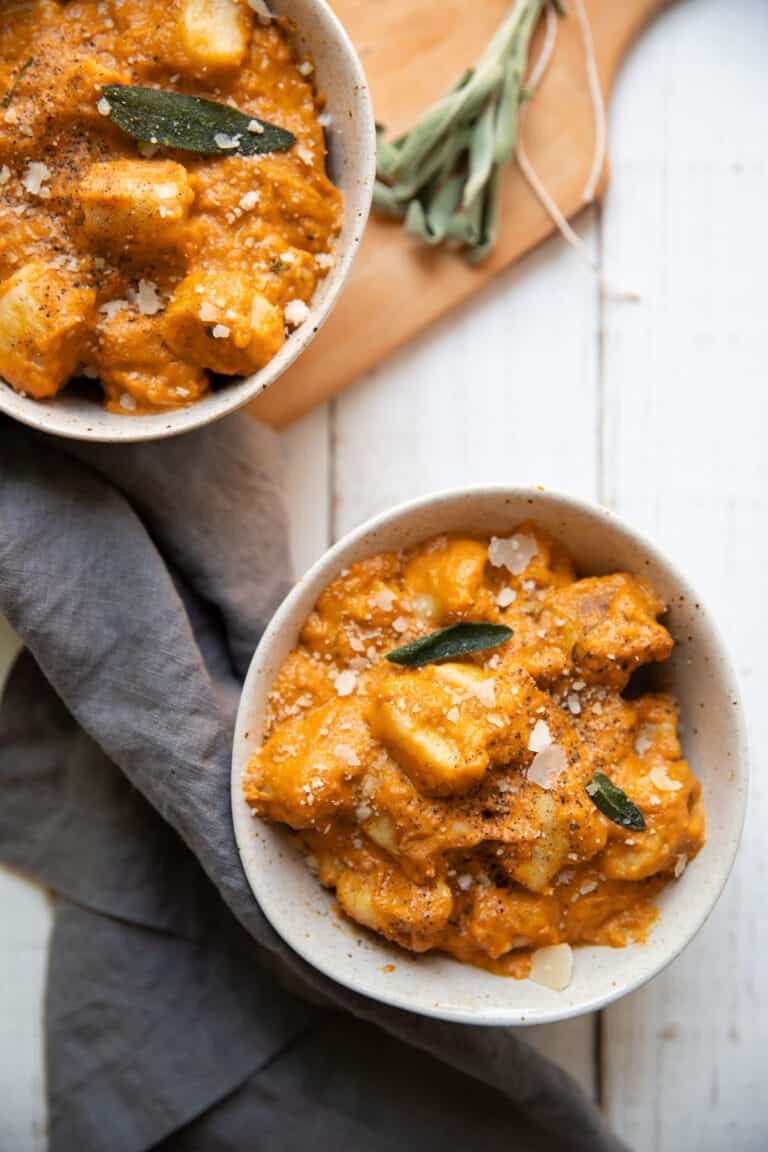 This bowl of yummy screams hello fall!!  Everyone needs a big bowl of pumpkin sage gnocchi.
Making gnocchi is just one of those things I enjoy doing. If you'd rather grab a pre-bought pack at the store than that's cool too. If you have some extra time, I strongly urge you to make some, it's actually really fun.
The gnocchi itself takes a few ingredients, potato, flour, egg and salt. That's it.
After you boil the potatoes you need to get them to a fine consistency. You'll need a ricer. But if you don't have a ricer (I don't) you can use a strainer. That's right a regular old strainer. I have a nothing special plastic strainer and use a heavy measuring cup to push the potato through, the exact same outcome as a ricer.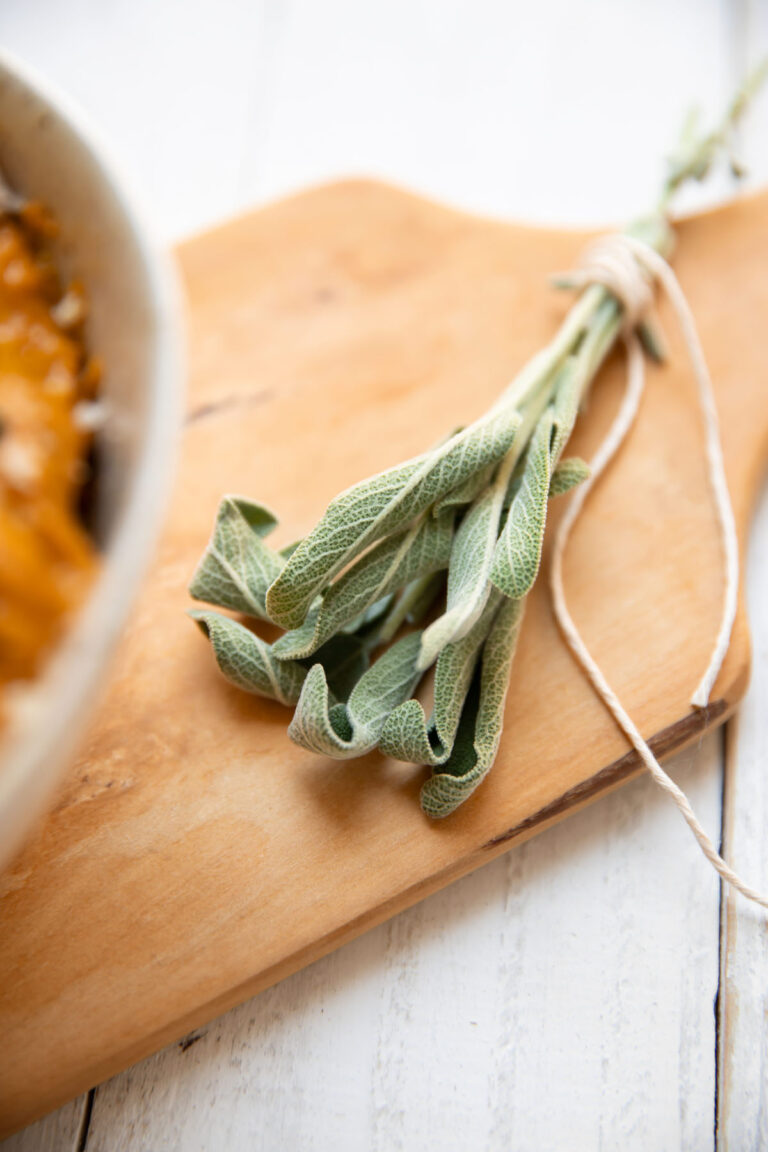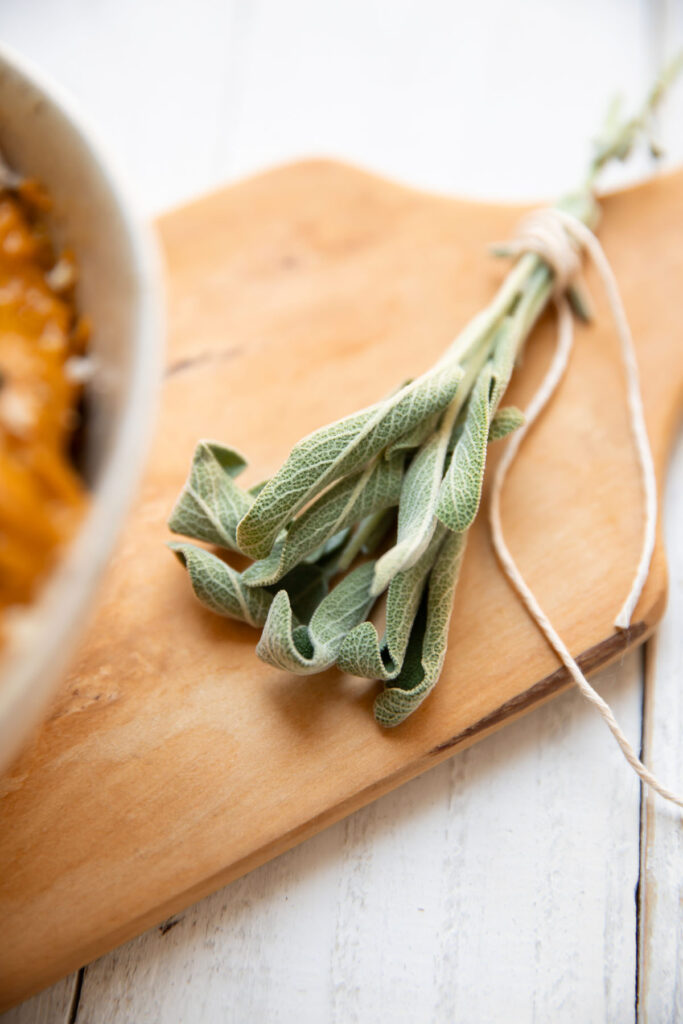 Then you sprinkle over some flour and salt, make a well in the center, crack an egg and incorporate everything together until its no longer dry and you've formed this nice little ball of dough.
Section off the dough, roll it out into "snakes" (long ropes) and take a knife or pastry cutter and just cut off chunks. Boil some water toss in the gnocchi and when it's done cooking, it floats right up to the top!
IT'S THAT EASY.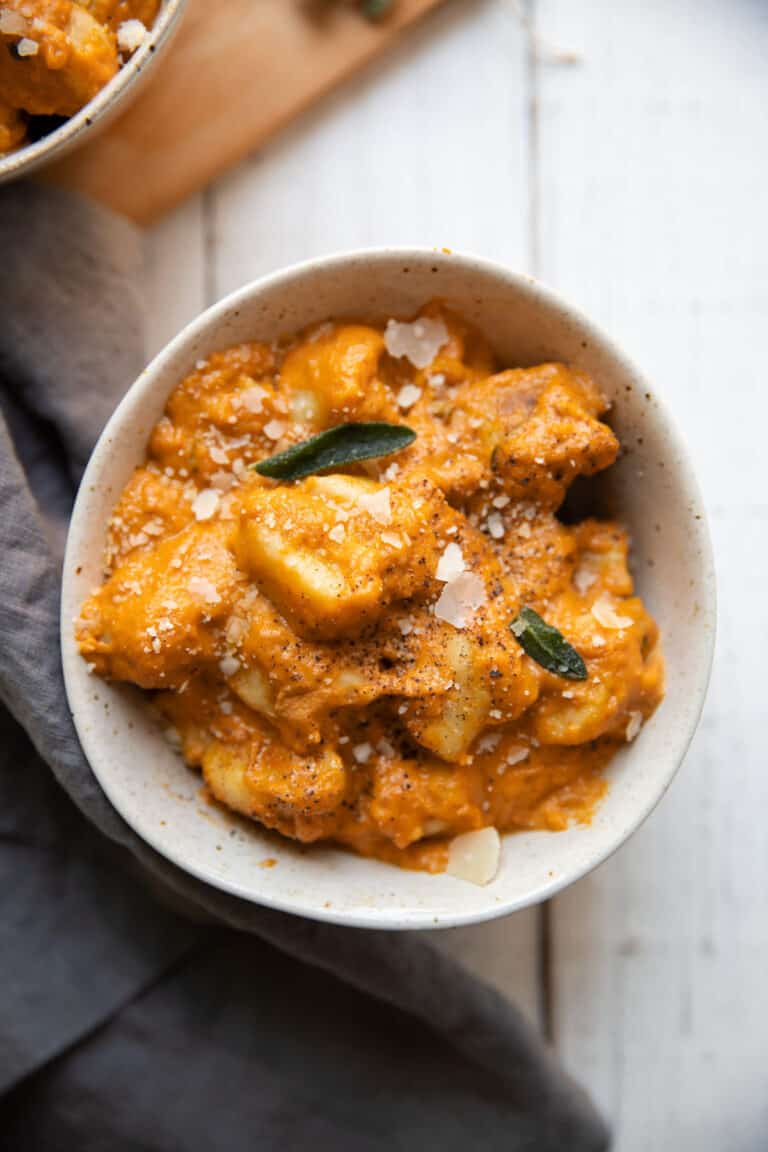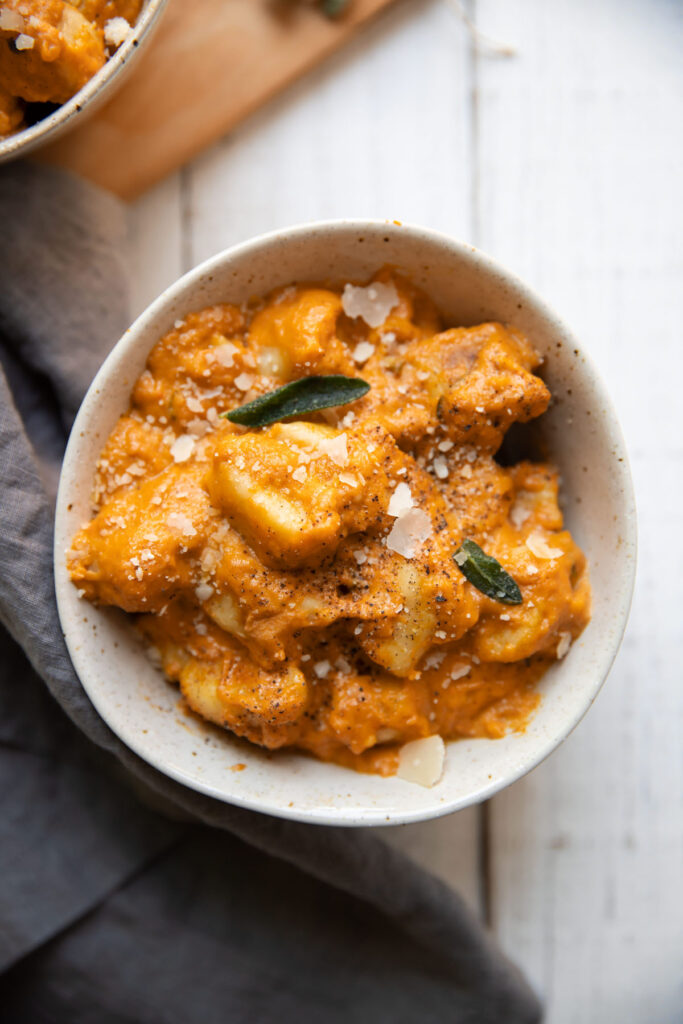 I could go for a bowl right now. Then you toss them in some butter and fresh sage. Seriously though, how gorgeous is sage? It's my favorite herb, I think it has the sweetest little leaves and it's so soft.
So if you want to grab a pre-made package then all you'll need to do is toss the already cooked gnocchi into the butter and sage and just start at that point. And when your'e short on time, that's definitely the route I would go too! But I always like to give you the option and give you my recipe for it.
If you've never had gnocchi, boy are you missing out.  It sounds intimidating.  But its basically just big puffy pasta balls (can you read that without laughing?  Me either, yikes.)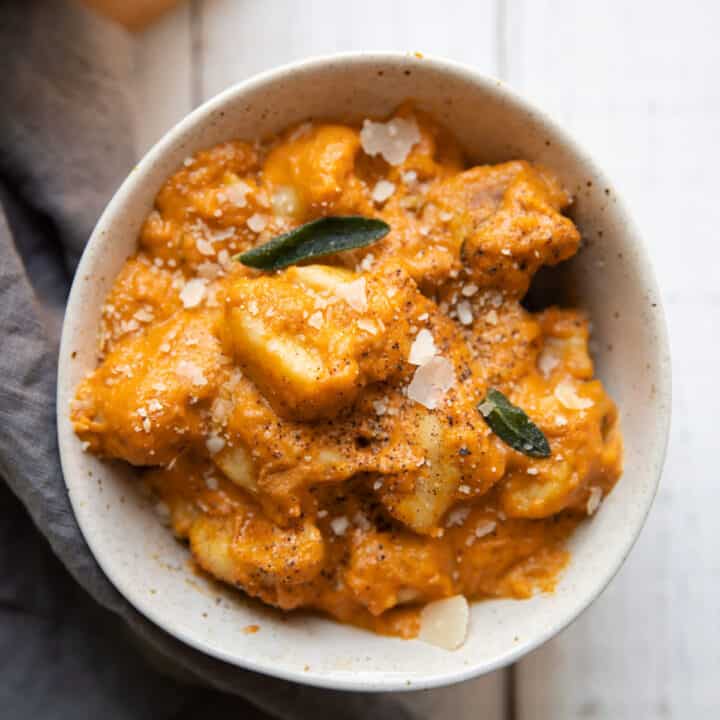 Cheesy Pumpkin Sage Gnocchi
Gorgeous homemade gnocchi tossed in butter and sage, served in a creamy three cheese pumpkin sauce.
Ingredients
20 oz gnocchi, pre-made or homemade recipe
3 tbsp butter + extra for searing the gnocchi
3 large garlic cloves, minced
½ tsp nutmeg
1 can pumpkin puree
5 sage leaves, chiffonade (sliced thin) + extra leaves left whole
½ c heavy cream
1 c milk
½ tsp salt
⅛ tsp pepper
½ c parmigiano reggiano, shredded
2 oz fontina cheese, shredded
2 oz gruyere cheese, shredded
Instructions
Heat a large saute pan over medium heat, add 1 tbsp butter and a few whole sage leaves
Add in some of the gnocchi, so they aren't crowded, cook for a few minutes until the sides start getting golden and a bit crisp
Transfer to a plate after each batch
In the same pan add the 3 tbsp butter, minced garlic and nutmeg, over low heat
Stir until the nutmeg and garlic are fragrant
Toss in the sliced sage leaves, stirring
Add the pumpkin puree, heavy cream, milk, salt, pepper, parmigiana reggiano, fontina and gruyere
Continue stirring on low until everything is combined and smooth
Add the gnocchi to the pan
Serve and enjoy!
Nutrition Information:
Yield:

6
Serving Size:

1
Amount Per Serving:
Calories:

507
Total Fat:

24g
Saturated Fat:

14g
Trans Fat:

1g
Unsaturated Fat:

8g
Cholesterol:

100mg
Sodium:

545mg
Carbohydrates:

58g
Fiber:

4g
Sugar:

4g
Protein:

16g
This information comes from online calculators. Although moderncrumb.com attempts to provide accurate nutritional information, these figures are only estimates.